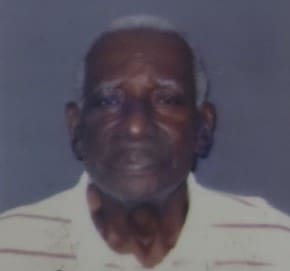 Gordon T. James, also known as "Gordon" or "Mr. James," of Estate Humbug died on Sunday, Aug. 1. He was 90 years old.
He is survived by his wife, Florence James; daughters: Claudia Creese (St. Croix) and Sandra Raeburn; son, Kenneth Forde (D.C.); and grandchildren: Kevin Creese (Calif.), Karia Creese (St. Croix), Sueann Forde (D.C.), Stacee Lashley (D.C.), Suzette Wells (Texas), Wendell Raeburn, Westley Raeburn (T and T) and Wayne Raeburn.
He is also survived by grandchildren: Zmani Francis (Fla.), J'syah Poleon (St. Croix), AJ Poleon (St. Croix), Hamoni, Popo (St. Croix), Christopher, Marques, Sydnye, Skyla (Texas), Christian, Matthew (T and T), Nicholas (UK) and Trent Witnee (Fla.); daughter-in-law, Phyllis Forde; and son-in-law, George (Hilton) Raeburn (T and T).
Other survivors include special friends: Matthew and Beulan Telesford, Mr. Hospedales, Mr. Farrow, the Est. Humbug family and Hess Refinery family; cousins and other relatives: Beverley George-Noel (T and T), Zendia George-Martin (T and T), Glenda, Kenrick, Vinton (T and T), Rhonda Luke(Fla.), Michelle Hazzard (Minn.), Gary Hazzard (Calif.), Gwen Martin (Texas); as well as other relatives and friends too numerous to mention.
There will be a viewing at 10 a.m. followed by a funeral service at 10:30 a.m., Friday, Aug. 13, at Ebenezer Methodist Church. Interment will follow at Kingshill Cemetery.
Due to the COVID-19 pandemic and public health regulations, all attendees must wear a mask and adhere to social distancing guidelines.