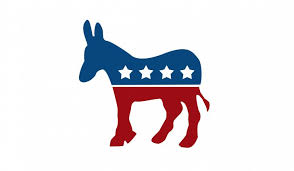 Cecil R. Benjamin, was sworn-in as chairman of the U.S. Virgin Islands Democratic Party on Wednesday, July 14, by the Honorable Jomo Meade, judge of the Superior Court of the Virgin Islands.
Chairman Benjamin is replacing Glen Smith who submitted his resignation to the members of the territorial committee on June 14. St. Croix District's Renee McAlpin-Petersen served as the mistress of ceremony.
Expressing his appreciation, Benjamin thanked God, members of the territorial committee and all Democrats for the opportunity to serve once again. He also thanked his predecessor, Glen Smith. The chairman said that he accepted the opportunity with a clear conscience, a deep sense of humility, hope and optimism.
Benjamin said, "This is about fairness, economic development and community progress. We must change the way our party relates to the community."
He briefly talked about past contributions of the Democratic Party and what it was able to achieve on behalf of the people. Benjamin noted that the party may not be all that people expect, and he challenged anyone to show him a better one. He reminded Democrats that there is much more to be done. However, it will require the collective efforts of all of us. He said this is a call to serve others.
Moreover, the state chairman reminded Democrats that the party's fundamental responsibility is to recruit and elect Democrats at all levels, from the top of the ticket to the bottom, who share the same values, who will make a difference in the community, and who will improve the lives of the people.
Benjamin noted that the focus must be on the issues that are important to the people: energy, GERS, security, health care, economy, education, jobs, housing, transportation, election reform and the high cost of living.
The following were outlined as his goals for the remainder of the term:
Fundraise to support the Democratic Party's mission and efforts. Party rebuilding and preparation for the 2022 elections
Revision of the party's bylaws
Establishment of a party platform with the Bryan/Roach agenda
Build a strong, stable and sustainable state party infrastructure
Party leadership summit – training, educating and supporting elected members of the territorial committee
Build relationships with other important organizations, individuals and all branches of government locally, regionally and nationally
Host a youth and women's conference
Expand and encourage more Democratic Clubs in various localities
Encourage revisiting and revitalizing cultural practices and norms
Implement local benefit programs for Democrat members as a means to increase membership and instill a sense of belonging and pride
Establish headquarters in all three districts
Chairman Cecil R. Benjamin concluded by saying, "These are serious times and we have a lot to do. When Democrats come together, we all win. Together, in unity and respect for one another, we shall achieve much more!"