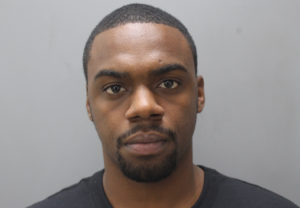 The scheduled start of trial for St. Thomas boxer John Jackson has been put on hold for now after the defendant complained that his rights to due process were being denied.
The judge heading up the proceedings sent people who appeared for jury selection home late Monday morning.
Jury selection was already underway by the time the change was announced. Once the process was completed, opening arguments in the trial were expected to begin.
Jackson, 32, is charged with federal and local offenses, including production of child pornography, rape and transporting an individual with intent to engage in criminal sex acts. Prosecutors say the alleged victim was a 15-year-old female minor and involved multiple encounters.
In a teleconference proceeding held between two courtrooms and a separate room in the Ron de Lugo Federal Building, District Court Judge Robert Molloy addressed a group of potential jurors by mid-morning Monday.
"You will not be proceeding today, and we will not be proceeding for the rest of the week," he said.
With that, those who answered the call to jury duty could be seen walking, single file, out of one courtroom. Before they left, they were advised to stay in touch with the District Court clerk's office for advisories about when to return.
The defendant has been detained at the Metropolitan Detention Center in Puerto Rico since 2019. According to court documents, Jackson sent a handwritten letter to Molloy on Friday saying he was disappointed with his legal counsel and wanted a new lawyer.
"I am not getting my due process. It's been months I have been asking them to file a motion to suppress evidence and motion to dismiss charges. Your Honor, my civil rights to have a fair trial have been violated," the letter says.
That letter was dated Friday, July 16, and was entered into the court's electronic filing system on Monday.
The defendant added that his family is now financially prepared to take on the cost of hiring a lawyer. That statement was supported by a separate letter submitted by Julian Jackson, the defendants' father, who also asked that the trial be delayed.
That request was followed by a motion filed by federal Public Defender Melanie Lark Turnbull, Jackson's current lawyer. Turnbull asked the court to schedule a hearing to review the defendant's claims. Molloy turned that task over to U.S. Magistrate Ruth Miller.