Nicholas D'Amour will represent the U.S. Virgin Islands at the 2020 Olympics in Tokyo, Japan, this month, competing in the men's recurve archery individual competition.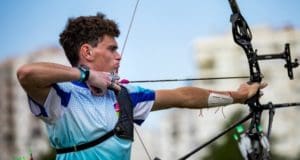 Due to COVID-19, the 2020 Olympic Games was delayed for one year but will have its opening ceremony on July 23 at Tokyo's Olympic Stadium.
D'Amour is ranked fourth in the world for the men's Olympic recurve, and he will be the first Virgin Islander ever to represent the territory in archery at an Olympics. Fairly recently, in 2014, archery became a recognized Olympic sport in the Virgin Islands.
D'Amour was born in New Jersey and grew up in the Virgin Islands. His parents are Susan D'Amour and Kevin D'Amour. He is an undergraduate at the University of the Virgin Islands, majoring in business management.
D'Amour got interested in archery as a result of hunting with his dad while growing up.
"What made me interested in archery is my dad kind of did it for fun," said D'Amour. "We'd go on trips stateside to go hunting with a bow and arrow. I learned with him shooting with a different kind of bow … I learned on a compound bow which has a system of wheels and pulleys which essentially, when you pull it all the way back, you're not holding the same amount of weight. So it's like an easier bow with more power and more precision."
D'Amour said that going to the Olympics was a dream he had since he was in middle school. He knew that since he wanted to compete in the Olympics, he would have to stop using a compound bow and train differently.
"When I was in about eighth grade, I decided that I wanted to go for the Olympics, and to go for the Olympics I had to switch the kind of bow I was using to what's called an Olympic recurve bow. Which is quite different in the sense that I hold 48 pounds on my fingers and I hold the whole weight through my shot," said D'Amour.
D'Amour says he is positive about competing at the Olympics and is not going in with many expectations. He said he is focused on the present, on himself, and taking it one step at a time.
"I feel pretty great about going to the Olympics. I feel really positive about what my outcome could possibly be. I don't really have any expectations but I know that I'm in the top four in the world right now, and that definitely gives you a lot of confidence going into the games, that I can put in a good result. And hopefully, I'll bring home our first gold medal for the Virgin Islands. So that's the goal at the end of the day," said D'Amour.
The archer said he tries to be as relaxed as possible before a competition.
"It's better if I just relax and continue my training as normal. I try to time my peaks so when I get to the competition I'm feeling my best."
When training, D'Amour goes from shooting 600 arrows to shooting 100 arrows weekly. This year he has also qualified for the World Cup Finals in September.
"Points wise I ranked number two out of everyone who did all the World Cup Series," said D'Amour.
D'Amour has been training in Turkey with his coach Angelo Ruiz. He is also training with archers from Turkey, Canada, and Iran. He has not been in the Virgin Islands for a few weeks. He will travel to Japan directly from Turkey for the games. However, he's planning a homecoming to the USVI after the Olympics to prepare for the World Junior Championships in Poland.
"I have a good group of people around me here … The facility is amazing," D'Amour said. "I miss home. The V.I. is a great place."
D'Amour trains for most of the week and handles his responsibilities with the little time that he has available.
"Sacrifices come every day. Sacrificing time, energy, really I don't have much of a social life. Just concentrating six days a week, I get one day off … It's not an easy life but I love it. I wouldn't do it any other way."
D'Amour said he is grateful to those close to him for helping him get to where he is today.
"I'm thankful for my coach, I'm thankful for my parents, thankful for the Virgin Islands Olympic Committee."
He also shared thanks to the Turkish and Spanish national teams for allowing him to train with them.
Nicholas D'Amour will journey to Tokyo to represent the U.S. Virgin Islands along with Eddie Lovett, Adriel Sanes, and Natalia Kuipers. More information about the Virgin Islands Olympic Committee's delegation can be found on the VIOC website.