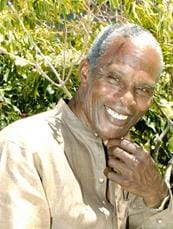 Rupert Foster, the owner and founder of East End Lumber, has transitioned from this life to be with his Lord and Savior Jesus Christ. We are indeed saddened by his passing because we are going to miss his strength, leadership and love. He meant so much to us, his church, the local community and the St. Thomas business community. We, the management and staff at East End Lumber, pledge to maintain the legacy of Rupert Foster and build upon the foundation he has laid.
He was preceded in death by his brother-in-law, James Tamar.
He is survived by his wife, Gastele Weekes Foster; brothers and sisters: Jocelyn Tamar, Fred Thomas, Freddy Thomas, Charlie George, Wainwright Belgrave and Joseph Belgrave – six siblings alive; and children: Maureen (Simon) Johnson, Jude (Florence) Foster Sr., Robert (Carla) Foster, Lucretia (Philsbert) Valentine, Rupert (June) S. Foster, Norma (Peter) Wharton, Jennifer Foster, Kennard (Tasha) Foster, Alanya Foster and Lakicia Foster – 10 children.
He is also survived by grandchildren: Keagan Johnson, Robert Foster Jr., Jude (Tonya) Foster Jr., Kara Johnson, Christine Foster, Robyn Foster, Valerie Foster, Kevin (Simon) Valentine, Charita (Marc) James, Kennard Valentine, Renee Foster, Darren Johnson, Nichole (Egas) Ngove, Jendahye Antoine, SaFire Antoine, Elijah Foster, Joshua Foster, Ossiah Foster, Jasmine Foster, Stephanie Foster, Gabrielle Foster and Abigail Foster – 22 grandchildren.
Other survivors include great-grandchildren: Nailani Foster, Asha Foster, Jeriel Ngove, Kairos Ngove and Myca James – five great grandchildren; sons-in-law: Simon Johnson, Plilsbert Valentine and Peter Wharton; daughters-in-law: Florence Foster, Carla Foster, June Foster and Tasha Foster; and sisters-in-law: Jennifer Thomas, Glenda Belgrave, Yvonne Thomas, Denise George and Sheryl Belgrave.
The first viewing will be held from 3-5 p.m., Sunday, July 11, at Turnbull's Funeral Home. The second viewing will be held from 8-9 a.m., Monday, July 12, at St. Thomas Church Assembly with a service to follow at 9 a.m. Interment will be at Eastern Cemetery, Smith Bay.