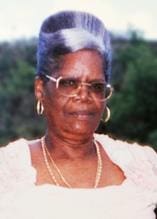 It is with great sadness and a broken heart that we announce the passing of our beloved mother Ann Xavier-Bedminster, also known as "Ama" or "Babeya," on June 18, on St. Thomas, U.S. Virgin Islands. She was born in the village of Hagley Grand Bay, Dominica, on Oct. 24, 1932.
She is survived by her children: Michel S., Maurice N., John and Ethelbert Bedminster on St. Thomas, Phillip Bedminster, Monette Bedminster-James and Jacqueline Bedminster-Blyden in Texas, Livinton Bedminster in Atlanta, Georgia, and Monique Bedminster-Drigo in North Carolina; stepchildren: Pierre Bedminster on St. Thomas, Jocelyn Bedminster in Maryland, and Margaretrose Bedminster in Florida.
Ann was preceded in death 10 years prior by her husband Francis Bedminster after 55 years of marriage; her daughter, Augustina Bedminster; son, Daniel Bedminster; parents: Ucilia St. Luce-Blaize and James Xavier; sisters: Veronica Xavier, Tarzie Blaize-Stuart and Stephanie Mathurin; brothers: Benoit Xavier and James Xavier; and stepdaughter, Yvonne Bedminster.
Her surviving siblings: John, David, Maria and Theresa Xavier, Luke, Marcel, Symla, Carmen and Ashley Blaize, Joseph Samuel, Joan Norris and Georgina Jno Baptiste; sons-in-law: Dori Drigo, Danny James and Dale Blyden; and daughters-in-law: Lauralie, Catherina, Laura, Mariana, Shernell, Dawn and Dr. Thelca Guishard-Bedminster.
She is also survived by grandchildren: Vinetta, Elroy, Shantal, Omawali (Junior), Naeshia, Marlon, Winsom, Kerwin, Makil, Talya, Odessa, Carlton, Tashia, Destiny A., Micaiah J., Shea E., Ethan E., Nathan T., Jah'Liyah, Shavon, Michelle, Misha, Matthew, Vince, Francis E., Jocelyne J., McClaude P., Olivia J., Brandon, Malcolm D. Bedminster, Dr. Mellisha Bedminster-Treherne, Nakimba Patrick, Kamilah Thompson, Dennis Val Drigo, Hugo C. Denis, Jordan D. Blyden, Russelle Johnlewis, Clyde John-Charles, Malcia Paul and Darwin Clendinen.
Other survivors include great-grandchildren: Willow Drigo, Maleahi, Kelsey and Kateiy Thomas, Caia and Mason Treherne, Shania Samuel, Jah, Kai, Elisha, Caleb, Azariah, Jordan, Hezekiah, Tashada, Jaquan, Jakeem, Jaleen, Quantaja, Quadarius, Kershell Bedminster, Derell John, Natalia Hazel, Destiny M. Denis, Marvin J. Brooks, Fatima Freeman, Nyima Gordon and Dazzlin M. Clendinen; close friends: Winifred Delsol,  Alvin Jno Phillip and family, Stephen "Balo" Fontaine and family, Rapha, Maxo and Thomas; caregivers: Clemence Merrifield and Sandra Poponne; as well as many other relatives and friends including The St. Luce families, Stuart, Norris and Blaize families in Grand Bay.
The viewing will be held at 9 a.m. followed by a funeral service at 10 a.m., Friday, July 9, at Holy Family Catholic Church. The place of burial will be in Dominica.