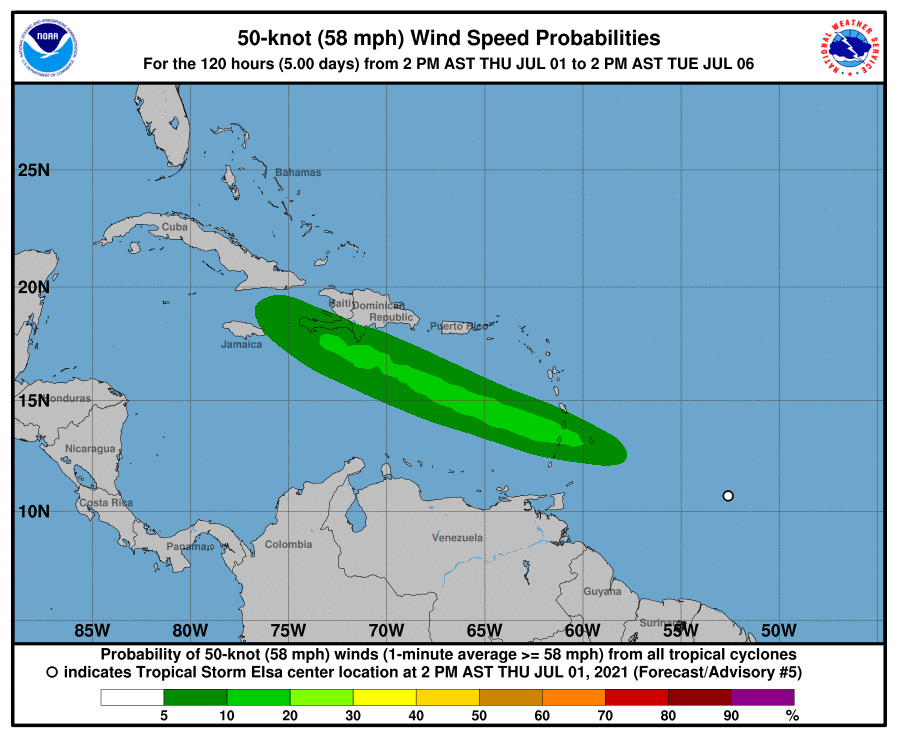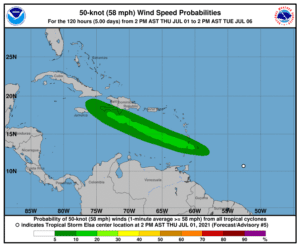 Tropical Storm Elsa intensified overnight and is nearing the Lesser Antilles. At 5 a.m., the center was located near 12.7 degrees North, 58.6 West or about 540 miles southeast of St. Croix with top winds of 60 miles per hour.
While there are tropical storm watches and warnings posted throughout the Caribbean, no advisories are in effect for the Virgin Islands.
The tropical storm is tracking to the west-northwest at 28 miles per hour and storm force winds extend out 140 miles from the center. On this track, Elsa will pass near or over portions of the Windward Islands or the southern Leeward Islands Friday morning, move across the eastern Caribbean Sea late Friday and Friday night, and move near the southern coast of Hispaniola on Saturday.
On the current track, Tropical Storm Elsa will make its closest point of approach to the territory on Friday night when the storm center passes more than 200 miles south-southwest of St. Croix. At that time, Elsa will be a strong tropical storm with top winds of 60 miles per hour. The winds and rains of Elsa are not expected to heavily impact the territory but the National Hurricane Center projects its outer bands may bring rain to Puerto Rico and the USVI on Friday.
At noon Thursday, the Coast Guard set Port Condition X-Ray for all maritime ports in Puerto Rico and the U.S. Virgins Islands, due to Tropical Storm Elsa's approach to the Caribbean region. Port Condition X-Ray means weather advisories warn that gale force winds of 39 to 54 miles per hour are predicted to make landfall at the port within 48 hours.
During Port Condition X-RAY, port facilities are currently open to all commercial traffic and all transfer operations may continue. Oceangoing vessels, 500 gross tons and above, wishing to remain in port are required to submit an application and regulated facilities are required to submit a Facility Readiness Survey in case the Captain of the Port decides to set Port Condition Yankee. Condition Yankee would mean gale force winds are expected within 24 hours and that vessels of 500 tons and more would not be allowed to enter port.
The Coast Guard advises pleasure craft owners to seek safe harbor and pay close attention to any changes in weather forecasts and small craft advisories throughout the 4th of July weekend.
Owners of large boats are encouraged to move their vessels to inland marinas where they will be less vulnerable to breaking free of their moorings or to sustaining damage. Trailer-able boats should be taken out of the water and stored in a place not prone to flooding. Those leaving their boats in the water should remove their EPIRBs and secure life rings, lifejackets and small boats. These items, if not properly secured, can break free and require valuable search and rescue resources to be diverted to ensure people are not in distress.
People in the territory are advised to stay clear of beaches until local lifeguards and law enforcement officials say the water is safe.
Boaters can monitor its progress on VHF radio channel 16. Information can also be obtained on small craft advisories and warnings on VHF radio channel 16.
According to the National Hurricane Center, Elsa is expected to produce rainfall totals of 3 to 6 inches with maximum amounts of 10 inches on Friday across the windward and southern Leeward Islands, including Barbados. This rain may lead to isolated flash flooding and mudslides.
Over Puerto Rico, rainfall of 1 to 3 inches with localized amounts of 5 inches is expected Friday into Saturday. This rain may lead to isolated flash flooding and minor river flooding, along with the potential for mudslides. The U.S. Virgin Islands are likely to experience similar conditions due to their proximity to Puerto Rico.
Seas are 12 feet or greater within 180 nautical miles of the center in the northeast quadrant, with maximum seas estimated to be near 15 feet. Elsa is forecast to continue to move to the west/northwest across the Windward Islands and enter the eastern Caribbean Friday, before moving toward Hispaniola Saturday, and eastern Cuba Sunday.