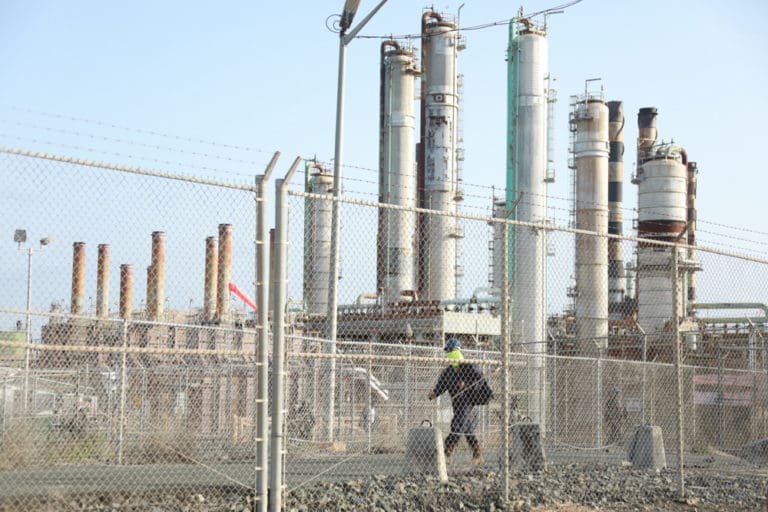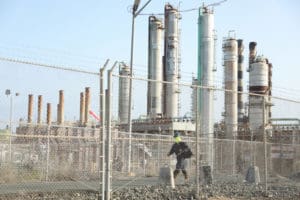 The leaders of four St. Croix community groups on Friday sent a letter to U.S. Environmental Protection Agency Administrator Michael Regan urging him to directly oversee the extended shutdown of Limetree Bay Refinery by putting expert boots on the ground, at the very time the agency announced it was removing its air quality monitoring equipment.
The letter came as the beleaguered south shore refinery announced on June 21 it will shut down indefinitely due to financial constraints; a process it said will require purging more gasses from its lines.
The groups – led by Sommer Sibilly-Brown of V.I. Good Food Coalition, Frandelle Gerard of Crucian Heritage and Nature Tourism, Jennifer Valiulis of St. Croix Environmental Association and David Bond of the Bennington College Center for the Advancement of Public Action – foresee more hydrocarbon releases and emissions on top of those that sickened hundreds of Crucians in May as Limetree began a temporary EPA-ordered shutdown.
"The past six months have been an environmental nightmare for many residents of St. Croix, and it took EPA far too long to respond to the clear and present danger of this refinery. Going forward, we respectfully insist that EPA operate independent monitoring equipment and oversee all shutdown operations at the Limetree Refinery," Bond wrote.
No sooner had the letter been sent than Bond learned the EPA is actually removing its air quality monitoring equipment from St. Croix, according to a notice on its website:
"Because the Limetree Bay refinery has completely ceased its refining operations and is not currently a potential source of significant air pollution, EPA will cease operating its monitors, effective June 29," the notice read.
The EPA began monitoring both sulfur dioxide and hydrogen sulfide emissions from the facility on May 14 after successive exceedances and oil sprays endangered the welfare of downwind neighbors. More recently, it directed the refinery to install and operate 18 air monitors in the surrounding area. Limetree stated it will install 10, and they will not be operational until September.
"Few people have experienced taking a large refinery offline," said former EPA Region 2 Administrator Judith Enck, who oversaw Limetree's troubled predecessor Hovensa and has watched the restart with concern.
"We can't have the return of flaring and oil sprays," Enck said. "Limetree should put their shutdown process in writing and have EPA approve it, and the EPA should have staff at Limetree every step of the way."
On learning of Limetree's extended shutdown plans, EPA's Region 2 Clean Air chief Robert Buettner sent an enforcement email [EPA Enforcement Letter] to senior Limetree management requiring that any removal of residual oil products from its line be conducted in compliance with EPA directives.
"EPA would like to better understand what Limetree's plans are to purge its system, and whether Limetree sees any immediate technical urgency for doing so," Buettner wrote. "Our assumption is that the purging process can wait until the air monitors referred to above are operating and EPA has agreed that flare No. 8 can be operated in a safe manner. I ask that you respond to this email message by this Monday, June 28, 2021."
Buettner's email makes clear that turning on flare No. 8 would violate the EPA's 60-day shut-down order of May 12, which the agency has the option of extending. Two refinery audits currently in process will shed more light on the plant's condition and what it needs to operate safely. The EPA has promised to share the audits with the public.
Meanwhile, Gov. Albert Bryan Jr. told Virgin Islanders during Thursday's Press Box that he's looking for ways for the refinery to continue.
"If anybody knows me and my leadership style, we're already looking for new investment and to figure out how do we reopen the refinery even before it's closed," Bryan said. "We're trying to figure out a way past these EPA regulations, figuring out how to solve them, and then looking to see if we can find some new investors and getting it done."
The Source asked the governor by email to elaborate on his agenda but did not receive a response by publication time. Among the questions:
– If Hovensa determined that it would cost $700 million in modernized equipment to make the refinery fit to operate in 2012, can it run safely in 2021 without a comparable investment?
– If Limetree continues to operate the terminal, what investor would want to own a refinery in need of modernizing without a source of income (the terminal) to do it?
– If Limetree's restructuring leaves the refinery bankrupt, what resources will the territory have to clean up the mess it leaves behind, and what are the governor's plans to assure that Limetree leaves its residents, vendors and the environment whole?
Despite the EPA's enforcement email, Bond, who has been reviewing hundreds of responses to a community health survey showing the refinery's impact is more serious and wide-reaching than expected, was agog that the federal watchdog would pack up its air monitors and go home.
"This is not the time for the EPA to retreat," Bond said. "This is the time to step into their mandate to protect people's health."
The Good Food Coalition's Sibilly-Brown called Friday "a very hard day for me" as she realized some people are still bathing their children in cistern water contaminated with oil and wondered why leaders aren't showing more care.
With over 450 survey responses and counting, "We can now say without question that something happened because of the refinery, especially in Frederiksted," Sibilly-Brown said. "We shouldn't be ignoring it or inflating it either. We should be fact-finding."
Yet it has been her coalition of groups, not the EPA, DPNR or Health Department, that has been going door to door gathering the data, she said.
"Facts, about health as well as economic impacts, will define the refinery's next iteration," said Sibilly-Brown. "If it is going to exist, how can it do so safely? If not, what does transition look like? It calls on our elected officials to hold people and let them know we won't break."
The letter from the group to the EPA administrator follows.
June 25, 2021
Dear EPA Administrator Michael Regan,
In Limetree Bay Energy's press release June 21 announcing the indefinite suspension of refinery operations in St. Croix, the company noted that this may mean additional releases and emissions into the community.
The announcement said: "Limetree Bay will begin preparing the refinery for an extended shutdown, which includes safely purging gases from all of the units and removing any residual oil and products in the lines."
Given the troubled history of this plant, including unchecked emissions without any air monitoring equipment and broken oily waste pipelines that leak directly into the islands only freshwater aquifer, we write with the urgent request that EPA be fully present on site during the entire shutdown operation.
The past six months have been an environmental nightmare for many residents of St. Croix, and it took EPA far too long to respond to the clear and present danger of this refinery. Going forward, we respectfully insist that EPA operate independent monitoring equipment and oversee all shutdown operations at the Limetree Refinery.
Our health is too important and the previous negligence of this facility too great to allow purging of gases and releasing residual oil without substantial independent oversight during the entire shutdown. Our community has suffered too much to allow any continued contamination of the island during the shutdown.
Many thanks for your immediate attention to this. As always, we'd welcome your presence on St. Croix to see just how extensive the impacts of the troubled restart of the Limetree Refinery have been for our community. The St. Croix Foundation is hosting a Town Hall on this very topic in July, and we'd welcome your participation.
We also continue to extend a warm invitation for EPA Region Two staff to join us as we go door-to-door in impacted neighborhoods and continue to gather hundreds of alarming stories and document sever health injuries from the unchecked emissions of the Limetree Refinery.
Respectfully,
Sommer Sibilly-Brown, executive director of VI Good Food Coalition
Frandelle Gerard, executive director of Crucian Heritage and Nature Tourism (CHANT)
Jennifer Valiulis, executive director of St. Croix Environmental Association (SEA)
David Bond, associate director of the Center for the Advancement of Public Action at Bennington College