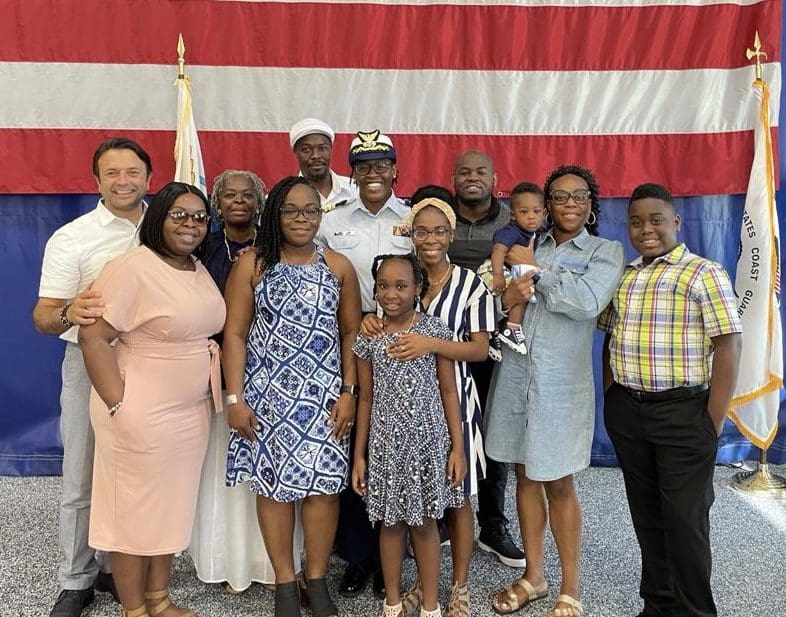 Karima Greenaway Hantal, a native of St. Thomas, has been promoted to commander by the U.S. Coast Guard – the first woman of U.S. Virgin Islands descent to achieve the rank. 
The U.S. Coast Guard's 9th District Great Lakes region announced Hantal's history-making promotion in a press release issued on June 14.
Hantal is now the most senior officer from the U.S. Virgin Islands currently serving in the U.S. Coast Guard, according to the press release. She is also the first woman from the Virgin Islands to graduate from the United States Coast Guard Academy, it said. 
"As we navigate through life's ups and downs, success might be waiting for us at the end of the road less traveled," said Hantal, who pursued lifesaving work in response to the tragic drowning of her late brother, Kenric Greenaway, when she was just 13 years old, and subsequently rose from a public housing community with her mom and six siblings with the resolve to never let anything deter her from achieving her goals.
"Anything worth achieving in life is never handed to you. You have to work hard, persevere, remain focused, and yes, sometimes you have to start over. Virgin Islands youth are leaders and achievers, and when we put our minds to something we are unstoppable," said Hantal.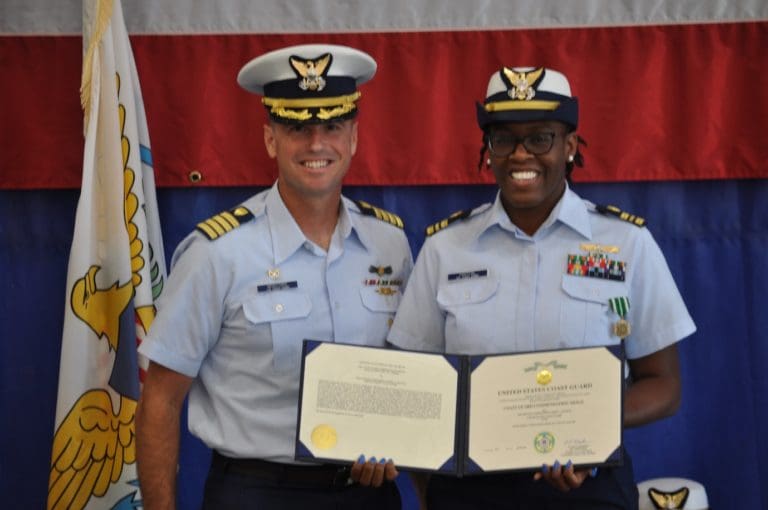 Hantal's promotion ceremony was attended by coworkers, friends, and family from the U.S. Virgin Islands. The ceremony featured the U.S. national anthem performed on the steel pan by her niece, Desiya Samuel, and the celebratory luncheon included Virgin Islands desserts to showcase her V.I pride. During the event, Hantal was awarded a Coast Guard Commendation Medal by Capt. Don Montoro, Commander Sector Lake Michigan, which recognized her outstanding achievement while serving as the chief of the Inspections Division at Coast Guard Sector Lake Michigan from July 2019 to June 2021. In this role, she provided direct oversight in the management of safety, security, and environmental protection compliance in vessel- and facility-regulated communities throughout a four-state region covering 20 ports and 14 foreign ports of entry.
After departing Sector Lake Michigan, Hantal will assume her next assignment as the Prevention Department head at Coast Guard Marine Safety Unit Port Arthur, Texas. Port Arthur boasts the third-busiest port, the third-largest petrochemical complex, and the busiest Strategic Port of Embarkation for Military Outload operations in the United States, according to the press release.
Hantal is a 1999 graduate of the Ivanna Eudora Kean High School on St. Thomas and a 2001 graduate of the Naval Academy Preparatory School. She received a Bachelor of Science in Naval Architecture and Marine Engineering from the U.S. Coast Guard Academy in 2005. She subsequently earned a Master of Science in Mechanical Engineering from the Naval Postgraduate School in Monterey, California, where she received an outstanding distinction for her thesis on a Novel Nonelectrolytic Process for Chromium and Nickel Coating.
Her previous assignments include staff engineer, Office of Design and Engineering Standards and the Office of Commercial Vessel Compliance, U.S. Coast Guard Headquarters, Washington, D.C.; apprentice marine inspector, Sector New Orleans; Type Desk manager, Maintenance and Logistics Command Atlantic; and engineering officer in training, Coast Guard Cutter Dauntless, Galveston, Texas. Her military awards include three Coast Guard Commendation Medals, one Coast Guard Achievement Medal, Marine Safety Insignia, and various unit and team awards.
Hantal is married to Ali C. Hantal of Istanbul, Turkey, and is the daughter of Judith Dawson and the late George "Keith" Greenaway.