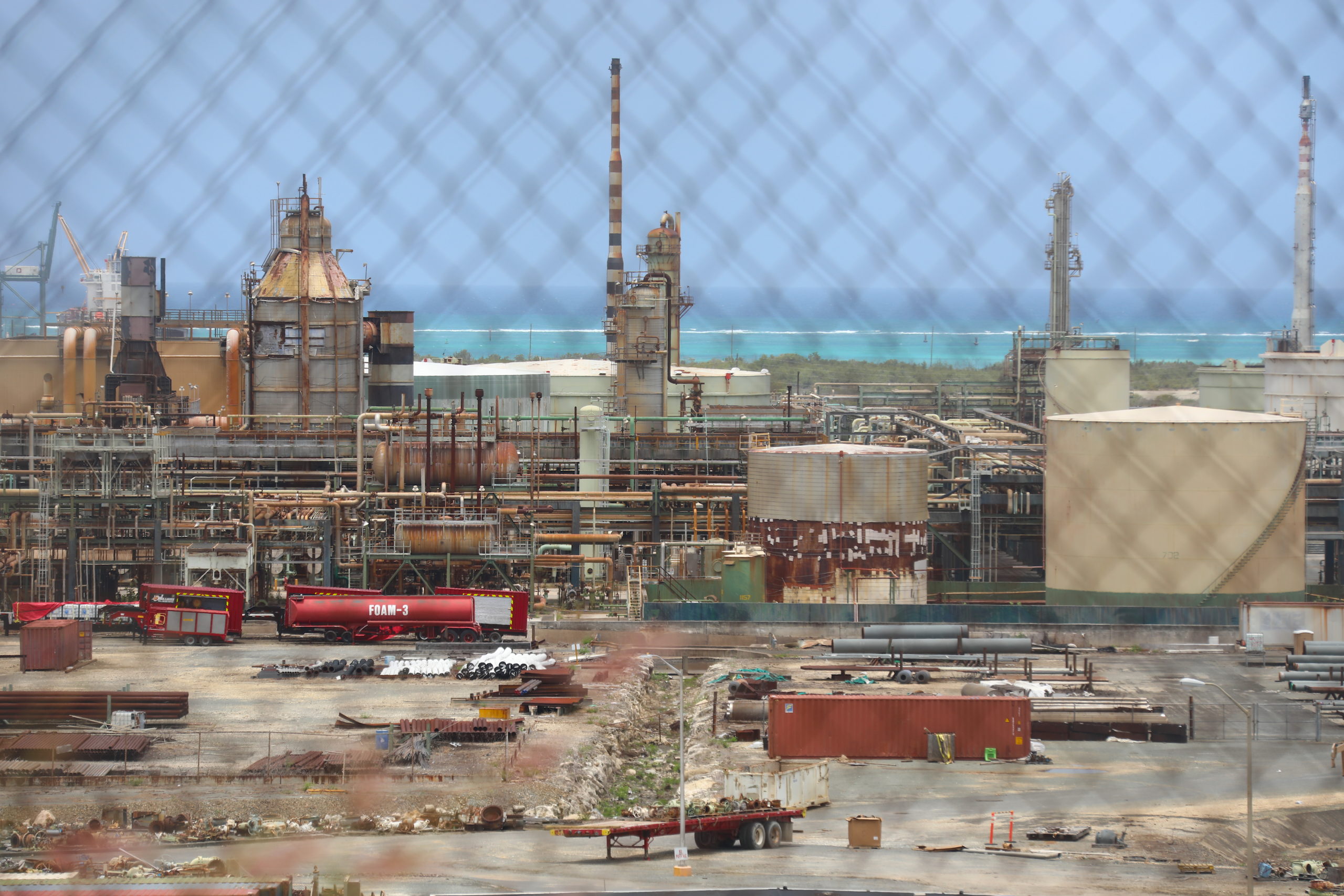 Editor's note: For many years the Source offered direct links to other respected news outlets across the globe on its front page. When several of the publications adopted pay walls, the links were removed. The Source did not, however, lose track of the importance of the U.S. Virgin Islands' connectedness to the rest of the world. Therefore, the Source offers articles from other news sources, such as the Washington Post, selected by our editors for their particular relevance to USVI matters. 
Limetree Bay, a massive oil refinery in the Caribbean, announced Monday that it is ceasing operations following a number of catastrophic errors that rained oil droplets on St. Croix, sent residents to emergency rooms after noxious gas releases and raised fears among homeowners that their drinking water was laced with toxic chemicals.
The plant, which had closed a decade ago under a previous owner after toxic spills helped push it into bankruptcy, was plagued with problems from the start after the Trump administration granted it permission to reopen in February.
"Limetree had a very high rate of environmental violations over a very short period of time," said Judith Enck, a former Environmental Protection Agency official who monitored the plant under the Obama administration. "It was an environmental catastrophe unfolding in real time."
The refinery's pollution impacts on Black and Brown people in communities that surround it quickly emerged as a priority under President Joe Biden, who made environmental justice a major focus of his climate agenda. In May, the EPA ordered the refinery to suspend operations for 60 days as it weighed whether it had become "an imminent threat" to people's health.
Now the island stands as a critical test for the president, who has promised to devote 40% of federal spending on the environment to disadvantaged communities. Even as many residents welcomed the plant's closure Monday, they questioned how the territory would recover from the harm it has already caused.
Monday's announcement suggests that the refinery, which now owes tens of millions of dollars to contractors and faces multiple class-action lawsuits from residents, might never restart. The company, which will continue to operate an adjoining oil export terminal, told all 271 refinery employees that they will be terminated as of Sept. 19. On Friday, many of the remaining contractors were sent home. On Monday, contractors moved some of their equipment outside of the plant's fence line.
"This was an extremely difficult decision for us, and we are truly saddened to announce suspension of our restart plans for the refinery," Jeff Rinker, Limetree Bay's chief executive, said in a statement. "Unfortunately, this is our only option, given the extreme financial constraints facing the company."
Enck, who's now a senior fellow and visiting faculty member at Bennington College in Vermont, said the best option would have been to leave Limetree Bay dormant.
"The Trump administration never should have allowed them to restart because they were very inexperienced. They didn't know what they were doing, and within days of restarting experienced significant environmental problems," Enck said. "I was extremely concerned when I learned that an LLC with no experience was attempting to restart a major facility like this."
In a news conference Monday, U.S. Virgin Islands Gov. Albert Bryan, a Democrat, did not mention Limetree's troubled history but called its closure unfortunate. He predicted that up to 800 jobs would be lost when indirect employment such as trucking and support services is taken into account, and that some laid-off workers could lose their homes.
Bryan, who said he met with investors last week to assure his support for the "safe restart" of this refinery, maintained that it could reopen. "We continue to work with them, their investors and the EPA to restart this important economic engine, not only to St. Croix but to the Virgin Islands."
Virgin Islands Good Food Coalition Executive Director Sommer Sibilly-Brown, whose group just started conducting a survey of the refinery's health and environmental impacts along with other nonprofit groups late last week, said in an email that she remains concerned about what it means for the people in her community – all of them. "The people who will be laid off, the people impacted by the incidents, and the people of St. Croix," she added.
"We are a community of black and brown people who have been historically burdened by the effects of the refinery and left with the aging facility, undocumented health impacts and no remediation to environmental impacts caused by refining."
Officials from EPA Region 2 have been conducting an ongoing investigation of the plant, and set up a temporary air monitoring system after officials determined the refinery had emitted both hydrogen sulfide and sulfur dioxide, which are linked to respiratory disease, above levels allowed under federal law.
Last week, the EPA gave Limetree 15 days to come up with a plan to establish a more elaborate air monitoring system for pollutants.
Walter Mugdan, the acting administrator for EPA Region 2, said in a statement Monday that the agency "is and has been focused on the health and safety of the St. Croix community."
The regional office, which is based in New York City, assigned more than 40 people to work on the issue, including two contractors and three employees in St. Croix. After they arrived on the island to investigate, one reported being overwhelmed by fumes and another had oil from the plant splattered across a car window.
BP, the main customer for the low-sulfur fuel processed at the refinery, declined to comment on the matter Monday.
Even as it remains unclear how a future cleanup would be handled, residents are continuing to come forward with complaints. The ongoing survey has already received nearly 400 responses from people on St. Croix detailing how they have struggled in the wake of several refinery accidents.
"The data we're getting is overwhelming," said Bennington College Professor David Bond, who recruited Enck to the school and helped organize the survey, in a phone interview. Bond, who is in St. Croix conducting outreach, said people are describing "impacts that often felt invisible."
In some instances, he said, "There was a fog of chemicals invading people's homes at night. . . . Children are falling out of bed, not being able to breathe."
While the plant's previous owner, Hovensa, estimated a decade ago that it would spend $700 million upgrading its equipment and cleaning up toxic pollutants it released into the island's groundwater, it placed just under $4.9 million into an escrow account for the local government. Of that, approximately $318,000 has been set on setting up a registry to track cancer rates among island residents – though the registry is not currently up to date.
Advocates on the island argue that both the companies that have reaped profits from refining oil there since the 1960s, as well as the federal government, should support economic development efforts that do not involve fossil fuels.
"The people of St. Croix are owed a great debt accruing from the historical operations of petrochemical plants on our island," said Frandelle Gerard, executive director of Crucian Heritage and Nature Tourism, who opposed the plant's restart.
A month ago, the White House Environmental Justice Advisory Council recommended that the Biden administration consult with the community on St. Croix's south shore, where the refinery is located, on how "investments can best be made to address environmental injustice, including but not limited to groundwater, air quality, and coastal zone cleanup."
Asked about these plans, the White House did not immediately respond to a request for comment.
In the meantime, several Limetree contractors are seeking tens of millions from the company for work they've performed in recent months. Altair Strickland V.I. filed suit last month seeking $4.1 million in repayment, while at least three others have filed liens with the lieutenant governor's office.
The company also faces at least three class-action lawsuits from local residents. One of the lawyers who has brought a suit against Limetree, Russell Pate, said he feared residents would get little relief in the years ahead.
"In the short term, without oil refining and its constant belching of toxic byproducts, the people of Saint Croix will breathe easier," he said. "However, in the long term, Limetree will – like [Hovensa] before it – leave the people of St. Croix with a Superfund site of massive environmental contamination that will take 10,000 years to naturally heal."