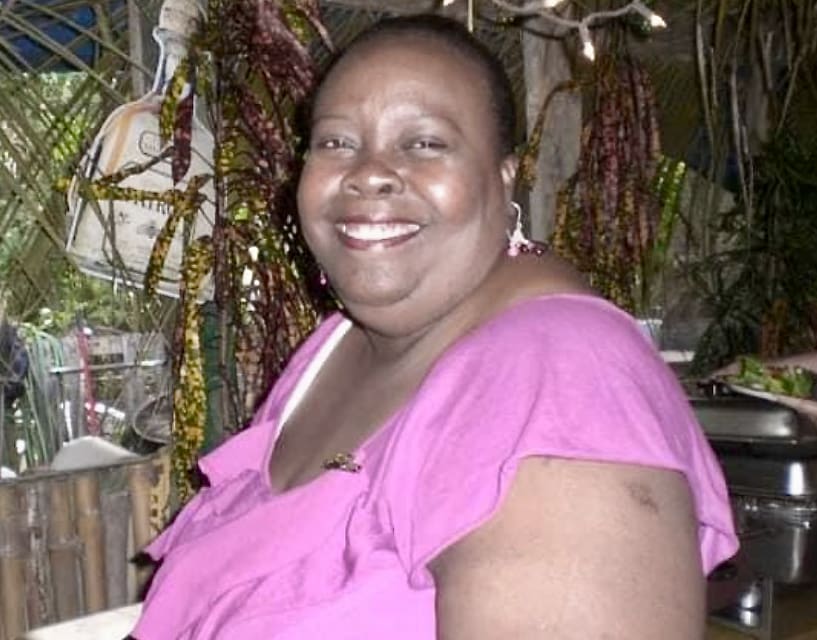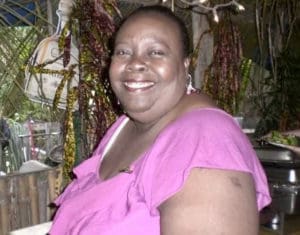 After almost 30 years as the matriarch of the Mt. Pellier Hut Domino Club, Norma George's smile and vibrant personality are noticeably missing since her death last week.
Her four-year battle with cancer ended June 7. Since then, hundreds of people have expressed their sympathies on Facebook – her page has almost 1,800 contacts in addition to hundreds on the Domino Club page. Young people wrote sadly about friendships formed after just one meeting. Others who knew her for decades called her an "angel," "legend," and "icon." Many people, young and old, called her "Mama" and the "Island Matriarch."
The Domino Club, also known as the Jungle Bar, is a restaurant and bar serving local food and MamaWanna, a one-of-a-kind concoction of rum and herbs created by George. The entertainment includes beer-drinking pigs, live music and the frequent crack of domino tiles played in fast and furious games.
The club is one of St. Croix's most popular tourist attractions. First-time visitors whoop and shout as they feed a non-alcoholic beer to the huge pigs that jump up to catch and crush the cans, allowing the foam to gush down their throats. Tourists return every year and locals visit frequently to enjoy food, drinks and entertainment.
"Your establishment was the only one I know about where every patron was entitled to a hug and a kiss," Luther Edwards, a longtime friend, wrote in a tribute to George. "Your smile and laughter were infectious. I was amazed how you remembered all our names, even if you had not seen us in years."
George managed the 50-year-old business with her husband, Rufus, until his death. She created her Trinidad-inspired recipes, including conch, chicken, beef and shrimp roti, considered by many the best on the island.
MamaWanna, a strong, sweet rum drink is a secret mixture of alcohol, roots and spices that are aged an undisclosed amount of time. MamaWanna has become so popular, it is now one of the bottles of liquor that can be sent with luggage, free of charge, on most airlines.
Despite the responsibilities of running the restaurant/bar and caring for the pigs, George supported such community causes as Queen Louise Home for Children, the Animal Welfare Center and the St. Croix Orchid Society.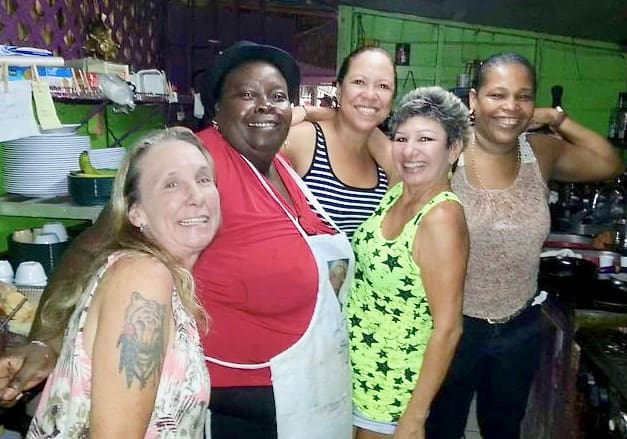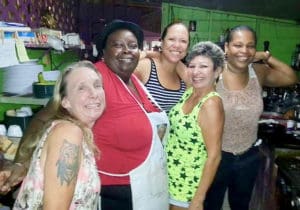 She paid for the community's fireworks for holidays and more than once for a patron's medical transport to the mainland. George sponsored parades and was honored as the grand marshal of the 2018 St. Patrick's Day Parade.
Born on Trinidad on Nov. 21, 1962, to Lawrence and Carmalita Francis, George has two sisters and one brother. Only the brother, one sister and one niece survive. She married Rufus George, who owned the Domino Club, a few years after moving to St. Croix to manage the club for him.
Nico and Jill Cherubin took over the management of the Domino Club in January. They are longtime friends, experienced in the business, and learned the recipes to ensure continuity.
"We will continue to carry on Norma's legacy," Jill Cherubin told the Source.