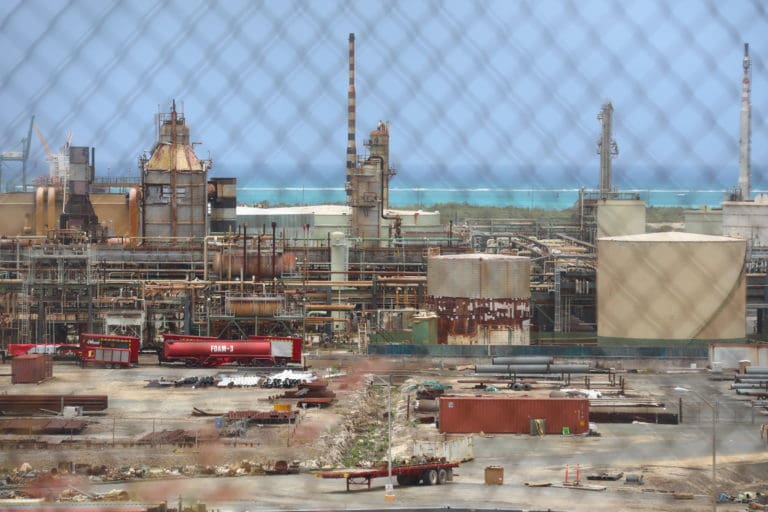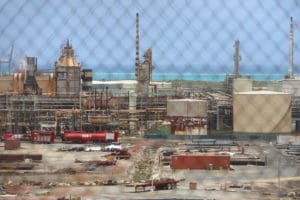 A National Guardsman and mothers with newborn children are among 22 named plaintiffs in a new class action lawsuit against Limetree Bay; the fourth filed against the refinery since a a flaring incident sprayed oil on hundreds of downwind homes May 12.
The plaintiffs are seeking compensation for property damages and medical monitoring to make sure that any subsequent illnesses that arise from refinery pollutants can be diagnosed and treated quickly down the road.
Unlike the previous actions filed in the territory's courts, the June 7 lawsuit was filed in U.S. District Court for the Virgin Islands because most of the attorneys are on the mainland. They include The Lambert Firm and Fishman Haygood, environmental law firms with refinery experience in New Orleans, as well as St. Thomas attorney Jennifer Jones.
National Guardsman Carlos Christian was one of the first Hazmat responders to arrive on the scene when a flaring incident at Limetree Bay Refinery showered oil on downwind homes for miles around — including his home in Frederiksted. Christian alleges he was told Limetree would clean his property, but one no one did.
"This case is very interesting because of the impact it has had on the island's ecosystem," attorney Hugh Lambert said. "Here you have a refinery, Hovensa, that contaminated the aquifer and maneuvered to go bankrupt to avoid responsibility, which was then recreated by a hedge fund with relaxed environmental scrutiny by the prior administration's EPA. They started up the facility without doing the minimal work that was essential for a refinery shuttered nine-plus years, and now the downwind community is suffering the consequences."
The St. Croix aquifer was polluted by petroleum hydrocarbons from 300,000 barrels of petrochemicals when Hovensa owned the refinery. Today only a small percentage of the oil release, about 306,000 gallons, remains to be recovered from the groundwater beneath the refinery, according to a U.S. Environmental Protection Agency status report.
Still, Crucians today rely on cisterns for their drinking water, and the May 12 oil spray contaminated untold numbers as well as showering gardens, roofs and cars.
Residents were offered money to pay for the cleanup themselves provided they release bodily injury and damage claims, according to the complaint as well as documents shown to the Source.
Among the defendants listed were 100 "John Does" whose identities will be among the attorneys' first challenge to discover because of the convoluted and unclear number of investors behind Limetree's limited liability companies.
Limetree Bay Ventures, the original operating LLC, was recently dissolved and resurrected as Limetree Bay Energy, LLC, according to Limetree spokeswoman Erica Parsons. Arclight Capital, which at first had an 80 percent majority stake, began winding down its ownership in the refinery last year and sold its remaining interest in April, according to a Reuters source familiar with the situation. And Freepoint Commodities, which formerly held a 20 percent stake, no longer holds any equity in Limetree, another knowledgeable source said.
How will the responsible parties be determined for the refining accidents of the four months from Feb. 1 to the present? Freepoint, for example, was invested in Limetree Bay Terminals.
"We must subpoena the information. It's called piercing the corporate veil," Lambert said. "If the terminal was getting its product from the refinery next door, for example, they were integral to one another, and we must develop the factual truth of their interdependency."
A majority of plaintiffs in the new case allege pre-existing respiratory conditions that were exacerbated by successive releases of hydrogen sulfide. Limetree has denied those releases but EPA documents support them. Two of the plaintiffs are mothers with newborns. One plaintiff was allegedly hospitalized for a week.
"This is not the first time that Defendant Arclight has targeted and exploited vulnerable communities of color," the complaint states, pointing to millions of dollars the firm has incurred in environmental penalties, with minorities accounting for 35 percent of those affected.
It alleges that Arclight "preys on communities of color where environmental laws are underenforced … on the assumption that these vulnerable communities lack the resources to seek recourse for the harm caused by Arclight's exploitation."
A Limetree spokeswoman did not return a request for comment by publication time.