Three swimmers from Puerto Rico took to the open waters along St. John's north shore to capture the 2021 Beach 2 Beach Power Swim.
An estimated 265 athletes entered the waters at Maho Bay to compete for the fastest finish times over three different courses.
First-time competitors Luis Santiago, Carlos Lomba and Carlos Berrios placed first, second and third in a race that ended at Hawksnest Beach, 3.1 miles away.
Santiago called it a beautiful swim, but choppy waters made watching the markers along the racecourse challenging.
"It was an awesome swim – beautiful beaches. If you want to do something challenging and enjoy nature; contribute to the people and help the islands, this is the way to do it," he said.
Barbara Crowder from St. John said her Sunday win in the long course was her fourth, and toughest, and her eighth or ninth time in Beach 2 Beach competition.
"It was very rough," she said.
In the overall long course, Crowder was fifth to cross the finish line, but fourth as an individual entry. Some competitors swam as part of relay teams, others swam assisted with goggles and fins.
Craig Barshinger, a former St. John resident and V.I. legislator who is now shuttling between St. John and Colorado, where his family lives, said this year was his 14th race from Maho to Hawksnest.
Fourteenth, also, for Ryan Matthews. Just before the race began he said coming back to the starting line and seeing other racers who gather every year felt like a reunion.
"It's a great event. You get to come out and see and support the park, see other people I don't normally get to see," he said.
Organizers used colored swim caps to identify the different types of swimmers and their different course designations; Maho to Cinnamon Bay, Maho to Trunk Bay and Maho to Hawksnest. Race director Tonya Lovejoy said there was greater local participation in 2021 than in years past, where before athletes from up to 20 U.S. states and five countries would travel to compete.
Berrios, the third-place finisher in the long course, said he, Santiago and second-place finisher Lomba swam up to five times a week back home. But with COVID-19 pandemic restrictions in place in Puerto Rico, they moved toward more open water swimming.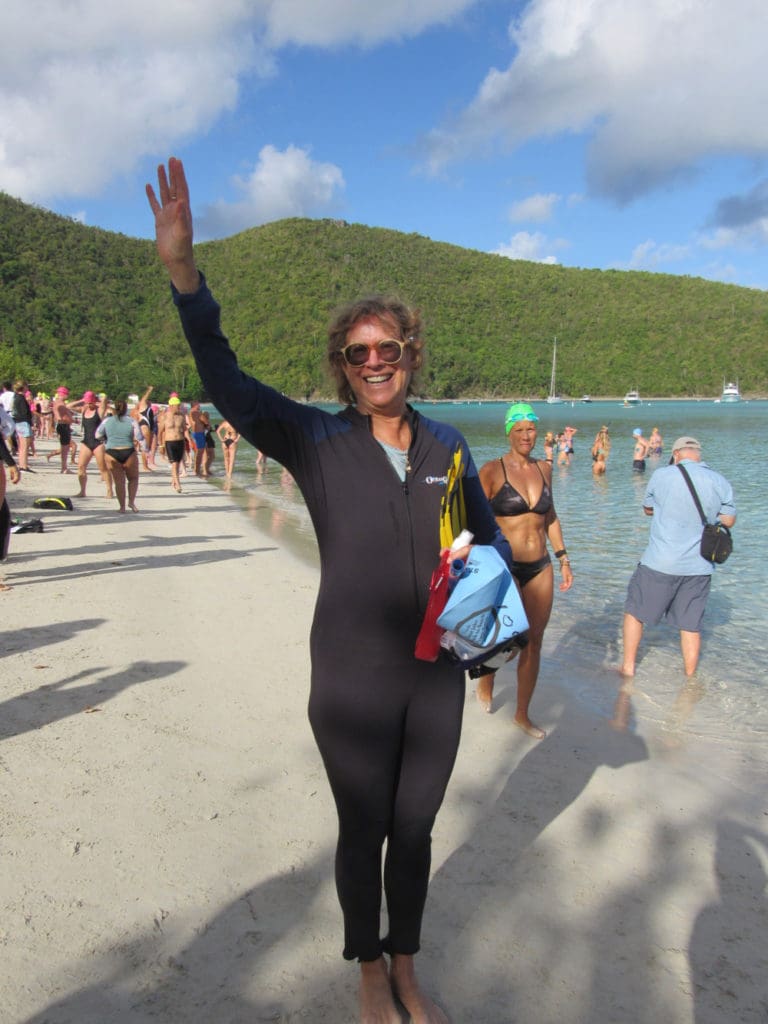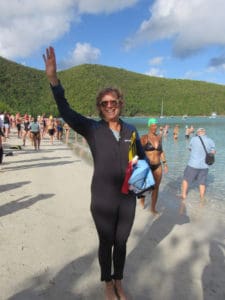 "We're doing a lot of open water swims because pools aren't available," he said.
Beach 2 Beach is staged by the nonprofit Friends of the Virgin Islands National Park, with help from dozens of volunteers, including St. John Rescue.
Lovejoy said this was her first time leading the effort. She said she wasn't sure how the event would come together by late Saturday night, but by early Sunday morning, arriving on-site at the starting line, all of the volunteers had assembled and were ready to go.
But because of social distancing protocols, organizers would forego the traditional awards ceremony and posting finish times near the finish lines. A list of final finishing times for all swimmers would take a few days to finalize, she said.
Funds raised through registration fees from the Beach 2 Beach Swim helps fund, among other things, a Learn to Swim Course for would-be swimmers of all ages.