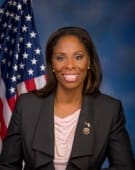 Delegate to Congress Stacey E. Plaskett released the following statement in regards to the Center for Disease Control and Prevention (CDC) awarding the Virgin Islands a $760,742 grant for its Public Health Crisis Response:
"I want to thank the CDC for this infusion of $760,742.00 to the Virgin Islands Department of Health for its Public Health Crisis Response. Departments like the VIDOH play a crucial role in preparing for, responding to and recovering from emergencies and disasters of all kinds.
"This grant will help with initiating the public health response during the first 24 hours (i.e., the acute phase) of an emergency or disaster and help with coordinating with the existing emergency response structures in specific types of incidents, such as floods, earthquakes and acts of terrorism.
"I look forward to working with the federal government and our local government to ensure that the residents of the Virgin Islands are safe and all funds like this grant are utilized to the best of their abilities."