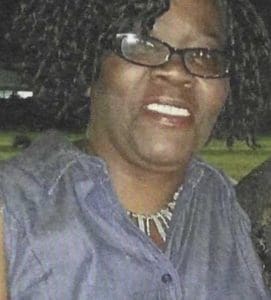 Eroda Delasie Victoria Samuel, also known as "Pal," of Estate Calquohoun died on April 30. She was 63 years old.
She was preceded in death by her parents: Ramona King and Sylvester Francis; and son, Marvin Blake.
She is survived by her husband, Joseph "Ivan" Samuel; daughters: Ann Marie Claxton, Sherriann Prince-Roberts, Josephina Bell, Almarie Deberry and Temeka Samuel; and sons: Kevin Samuel, Clifton Samuel, Jamal Samuel and Morland Folkes (adopted).
She is also survived by grandchildren: Delasie, Jada, Sakavia, LaKiyah, Kimora Samuel, Elise Bell, Jerrician Prince, Elenor Bess, Mekia and Jozirah Andrew, Jamarie Grigg, Deshaun Quinland, Azani, Azia and Azare Claxton, Dawah Bess, Janai, Kymani and Jaquomie Samuel, Carlos Bell, Demetrius Hyman, Marcus Deberry, Josiah Southwell and Mekhai Andrew.
More survivors are great-grandchildren: Valencia, Vanessa and Violet Bess and Martel Cash; eight siblings, including Rev. Eugenie Drew Carson; nieces, nephews, great nieces, great nephews and aunts too numerous to mention; uncle, Edward Jarvio (St. Thomas); sons-in-law: Fabian Claxton, Delroy Roberts, Stephen Deberry and Ronnijoe Bell; and godchild, Eurika Mason.
Other survivors include special friends: Cora Huggs (ANU), Andrea Solomon (ANU), Maudlyn Samuel (ANU), Gloria Joseph, Olive Michael, Denise Lloyd (NY), Mary Francis, Bernadine Walters, Sills Lewis, Earl Powell, Eardley Blake, Stephen Deberry Sr., Anderson Will and Lucina, Edith Santos, Eulander Carr and Christiansted First Assembly of God Church; as well as other relatives and friends too numerous to mention.
The viewing will begin at 10 a.m. followed by the funeral service at 11 a.m., Monday, May 24, at First Assembly of God Church Frederiksted, Campo Rico. Interment will be at Kingshill Cemetery.