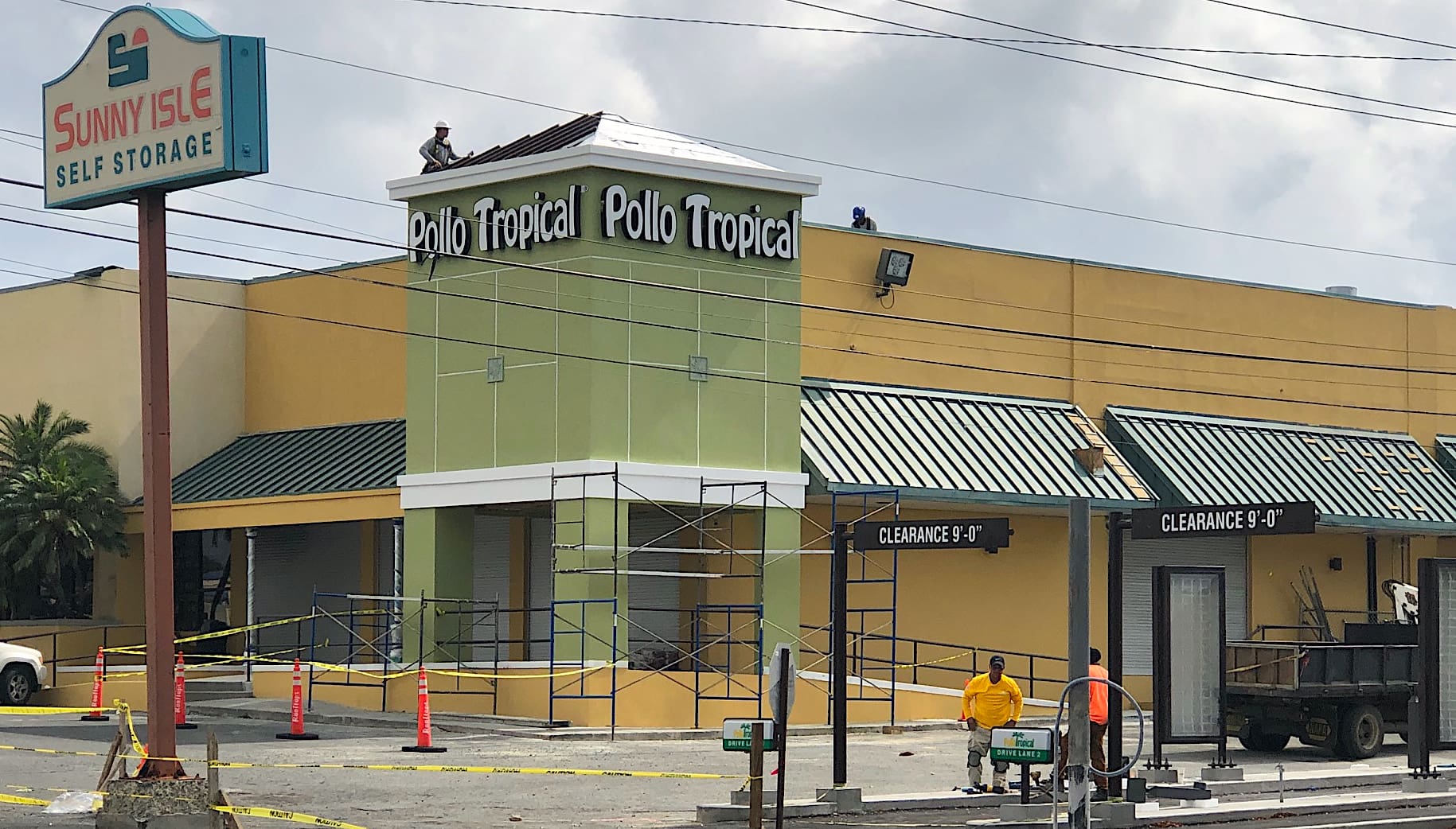 For months Crucians have been watching the lime green and yellow Pollo Tropical façade going up in Sunny Isle and wondering when it will open.
"Soon, in a few weeks," its owner Peter Kumpitch told the Source. When it does, the Miami-born chicken franchise will be the first of its kind in the Virgin Islands, but far from a first for the 79-year-old entrepreneur who's been minting new businesses in the territory since 1973.
"The Virgin Islands has been very good to me, and I'm pleased that I can reinvest here and offer a product that people want," said Kumpitch, whose Wendy's franchise in the same shopping mall does a higher volume of business than almost any other in the United States.
Kumpitch, who brought optical frames to the territory from China and Korea and leather goods from Italy, gravitated to the Pollo Tropical brand because "it felt right for the Virgin Islands. There are many chicken menus here, but there really is a paucity of this type of menu," he said.
He and his team had at first considered a Popeyes, but it lacked the rice and beans and other sides that locals want. Created by two Miami brothers in the 1980s, the Pollo Tropical menu departed from other chicken franchises with a Latin-Caribbean twist, grilled in an open kitchen with tropical fruit marinades and served with black beans and rice plus a host of sauces and sides for customers to choose from.
Especially popular, the Pollo TropiChop, a bowl customers can fill with their choice of ingredients, proved a COVID life-saver for Floridian diners during a year of enforced drive-through meals.
These are challenging times to open a chicken-themed restaurant. The price of chicken breasts and wings has more than doubled since January, according to a Wall Street Journal report, driven by a perfect storm of low supply, skyrocketing demand and labor shortages.
On top of that are challenges unique to the V.I., Kumpitch said.
For example, most Virgin Islands restauranteurs must rely on frozen chicken because, unlike elsewhere in the Caribbean, there's no local source. The shelf life for fresh chicken is five days – too short for it to be delivered from Jacksonville or West Palm Beach by boat.
This means all local franchises must use frozen chicken, Pollo's owner said. Luckily for him, frozen meat is better suited than fresh for grilling in marinade. While Miami's Pollo franchisees can provision as little as a day ahead, Kumpitch needed to install giant refrigerators to store large quantities that have to be ordered a month in advance.
Although chicken is already well represented on Crucian menus – including Pollo's neighbor KFC – Kumpitch doesn't see anyone offering a grilled product on this scale, he said.
The hugely popular La Reine Chicken Shack opposite the old La Reine shopping plaza comes closest with succulent racks of rotisserie chicken turning on spits at the back of the open-air, mid-island restaurant.
The Shack's half-roasted chicken with rice, beans and salad for $13.50 anchors its menu, with a perennial $8.50 special offering of half a chicken with two johnnycakes.
At the Shack, Crucian favorites, from salmon, tilapia and buttered conch to oxtails, round out the menu with big portions, picnic tables and a companion bar.
Pollo offers its marinated, grilled half chicken with two sides for $10.50, and a whole chicken with four rolls starting at $16.50; add your sides.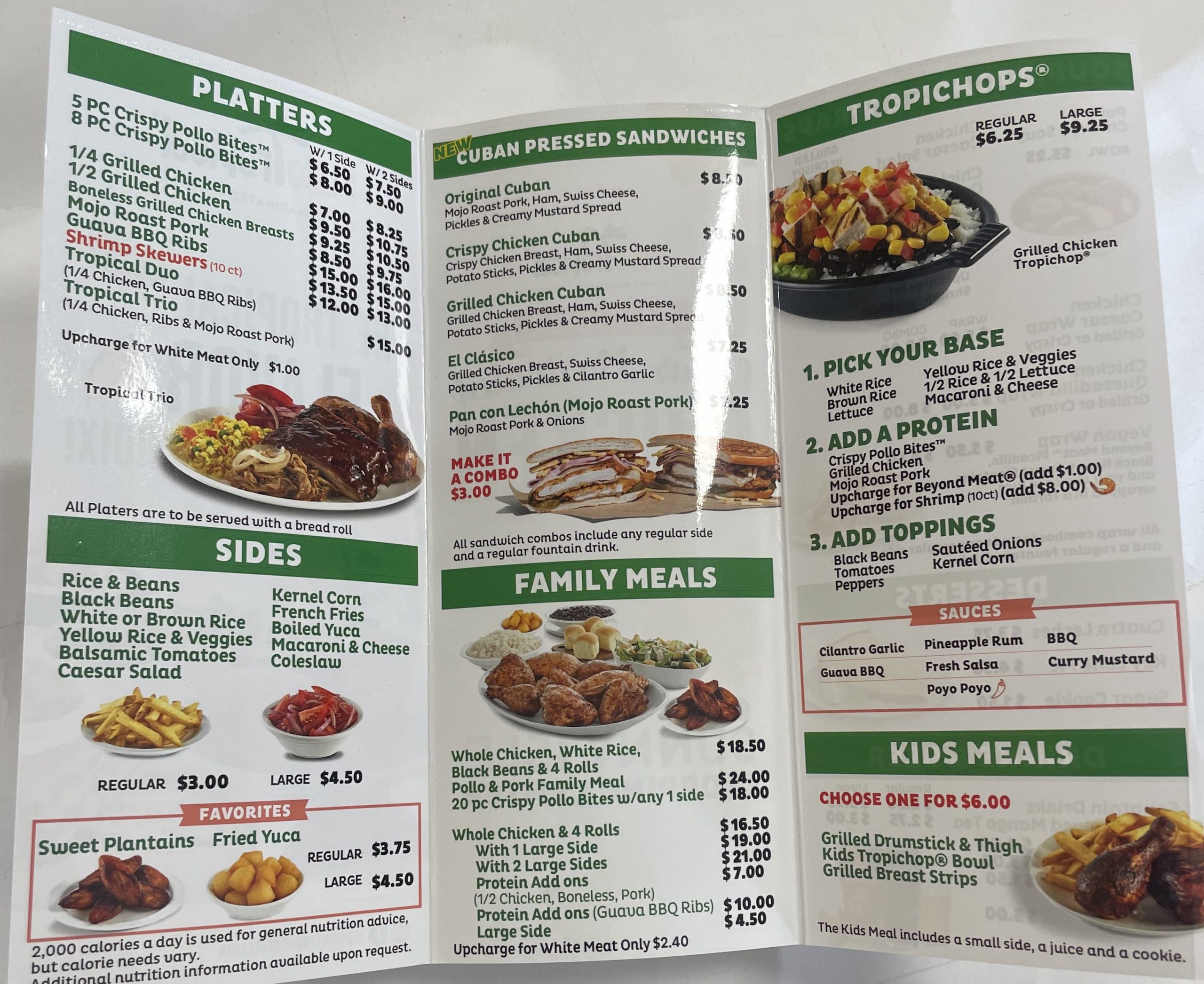 Pollo's signatures are its guava barbecued ribs starting at $15 with one side; the Cuban pressed sandwiches – choose from crisped or grilled chicken or Mojo roast pork plus a side and a drink, starting at $8.50; and the build it yourself TropiChop bowls in $6.25 and $9.25 sizes, layering brown, white or veggie rice or mac and cheese on the base, chicken, pork or shrimp in the middle, topped with black beans, corn, tomatoes, peppers and more.
With Latin roots and a nearby location, the Asado Crucian Latin Grill truck on Hess Road deserves a mention here, where the proudly Puerto Rican menu includes whole pig roasts on Saturday.
So does Centeno's Cruzan Cuisine opposite the mall, whose Puerto Rican roast pork tradition is carried on by longtime Crucians who migrated to the territory from Vieques.
Understanding what Virgin Islanders want is not easy for entrepreneurs who come from the outside, Kumpitch acknowledged. It's a matter of being there for the long term and continually reinvesting, as he has.
"The more of these things you do, the better you understand how to do them and the more comfortable you become. You need to be able to look around and see what people need," he said.
"And, I almost forgot the most significant ingredient: our management team. It's second to none."
St. Croix's Pollo Tropical is located in the Sunny Isle Shopping Center. For details, visit their Facebook page.