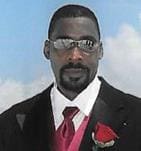 The family would like to announce the passing of Daryll E. Fleming, who was born in Brooklyn, N.Y., to Verne Fleming and Helen Hodge on March 11, 1957.
Daryll Fleming moved to St. Thomas and dedicated his life to serving the community as a corrections officer until he retired. He enjoyed dancing with his family and always had smile and jokes for anyone who would listen.
He died April 30, 2021. He was survived by his wife, Ingrid Lewis Fleming; sons: Niegel and Barryl Lewis; grandkids: Laquan Cruz, Deja Lewis, Lajani Lewis, Kieara Lewis and LaShay Lewis; niece, Tameko; special cousin, April Shneider; siblings: Stephens, Pepe, Sandra, Vernon and Verne; and extended families: the Schneider, White and Hodge families.
The family thanks everyone for their prayers and well wishes.
The viewing will be held from 5:30-6:30 p.m., followed by a service from 6:30-7 p.m., Saturday, May 8, at Blyden Memorial Chapel.
The cremation service will be at 10 a.m., Monday, May 10, at Western Cemetery No. 1.