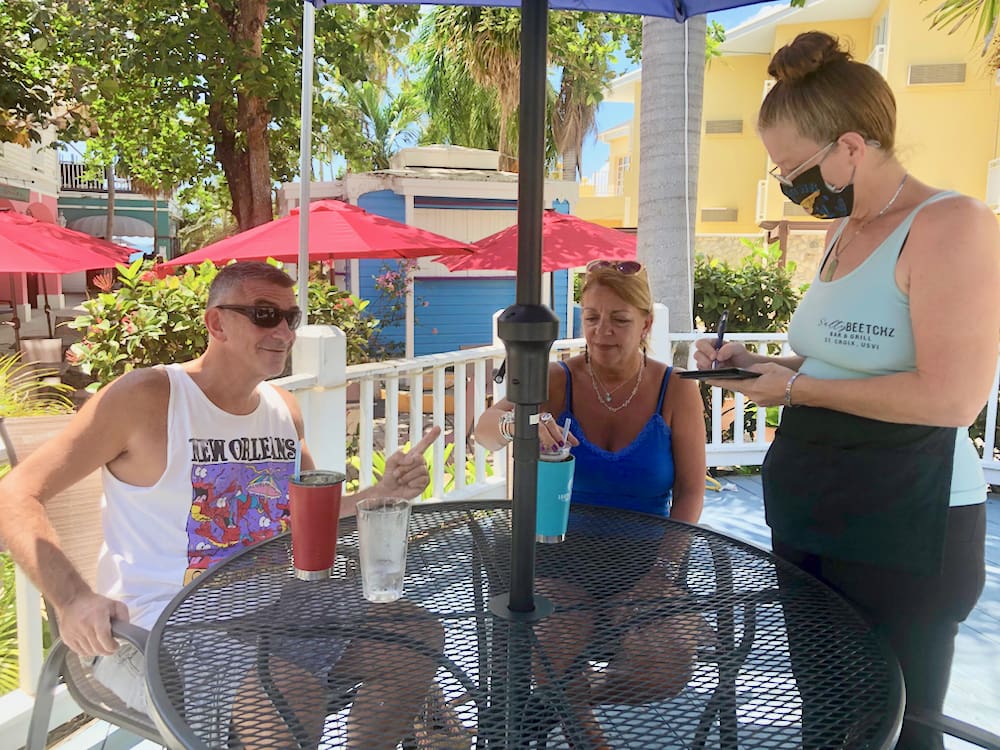 This is the first in a series about St. Croix's diverse restaurants
Just before the pandemic struck and while it raged over the world, entrepreneurs braved COVID restrictions to open restaurants and feed the people of St. Croix.
Salty Beetchz opened in the Kings Alley Courtyard in October 2019, but had barely hired staff, printed menus and announced itself when Gov. Albert Bryan Jr. announced everything but essential businesses would close in March 2020. Restaurants were not considered "essential," and the outdoor eatery didn't reopen until the end of June 2020, and then with limited hours.
Before they moved to St. Croix, Salty Beetchz owners Lori Albertson and Steve Long visited the island frequently and usually stayed at a hotel in town. They said they wanted to start a restaurant where people on foot could eat and the final check "didn't hurt the pocket," she said.
The couple loves the culture, Albertson said, and wants to merge with it. They hired high school students in the culinary programs who knew their way around the kitchen but needed to be trained in business operations. There is upward mobility – one employee started as a dishwasher and moved up to a chef's position.
"I wouldn't change a thing, right now," she said.
Long and Albertson wanted the menu to blend their stateside roots with local flavor. So banana fritters are offered for breakfast, along with pancakes and waffles. Salmon balls, boiled fish and grilled red snapper join the entree menu alongside wings, fried shrimp, pulled pork sandwiches, burgers, pizza and pasta. There is even a Danish dish with bacon and sautéed onions on buttered noodles.
The most popular items on the menu are fried shrimp in Beetchz sauce on a bed of lettuce, jumbo wings, the rasta pasta and boiled fish, according to Albertson.
The goal for Salty Beetchz is "to expand," Albertson said. Currently, due to COVID restrictions, there is seating for 45 to 50 people, and they hope someday to reach a capacity with 75 to 80 customers.
Salty Beetchz has a full bar and is open from 8 a.m. to 9 p.m. Thursday through Saturday, and from 8 a.m. to 2 p.m. Sundays. There is catering available and delivery service throughout the island. Call 340-713-8899 for reservations and information.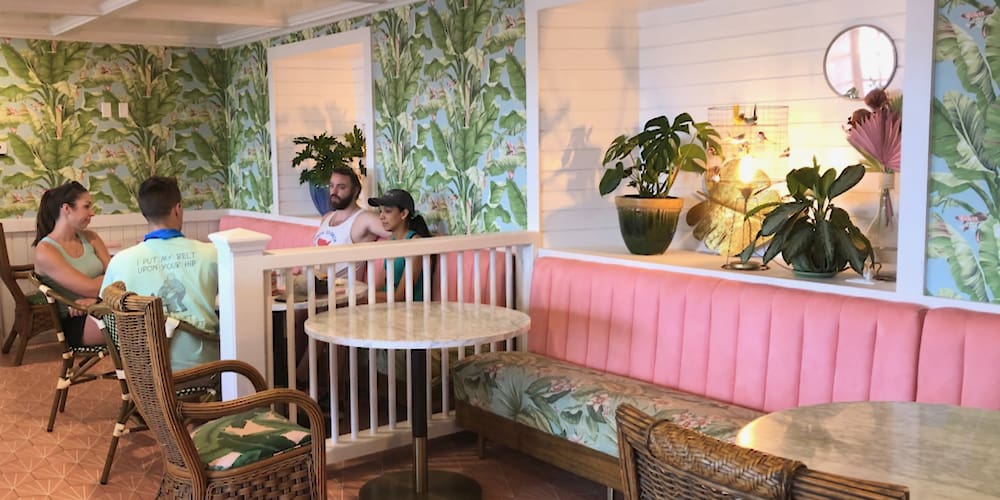 Caroline's at the east end of the Christiansted boardwalk is just one of Chris Pardo and Neighborhood Establishment's investments in St. Croix's restaurant scene and overall tourism product.
Nestled in the King Christian Hotel strip with Breaker's Roar and Tiki Bar – also relatively new eateries – Caroline's is a cheerfully decorated breakfast and lunch spot. Chicken and waffles and crepes are the most popular items, according to Ashlyn Dumas, assistant food and beverage manager.
Caroline's opened on Feb. 3 and specializes in breakfast, including surf and turf eggs Benedict, Bananas Foster crepes, fried chicken breast and mango chutney on a waffle and other favorite items. Lunch includes sandwiches, fried chicken on a biscuit and salads. Beverages include coffee, wine, beer and specialty cocktails such as lemongrass gin fizz and the Point Udall sunrise.
Cream and Co., an ice cream shop adjacent to Caroline's, opens this week and Virgin Islands Coffee Roasters, in the old Chase bank, on King street will open by next week.
In addition to the King Christian Hotel and restaurants, Pardo owns Waves and Ama at Cane Bay as well as Hotel on the Cay, which is slated for a $55 million renovation. All of the employees have been hired on St. Croix, according to Pardo.
Pardo told the Source in an email that he fell in love with St. Croix at the age of 12. He wrote letters to real estate companies in the USVI, Tahiti and Fiji requesting brochures and saw his first pictures of the island and the King Christian.
When he was 19, he visited St. Croix for the first time after earning a degree in hotel and restaurant management. He also has a master's degree in architecture.
"The King Christian, in my opinion, has always been ground zero in Christiansted, overlooking the historic fort and welcoming visitors," he said.
Pardo is an award-winning architect, with best room and lobby design awards in 2020 by Travel Weekly Magellan Gold and Travel Weekly Gold. He was named Boutique Lifestyle Leaders Association's 2020 emerging hotelier of the year.
Caroline's is open from 7 a.m. to 2 p.m. seven days a week with breakfast served all day and lunch from 11 a.m. to 2 p.m. Call 340-773-6330 for reservations.