St. Croix residents in the Enfield Green community were told not to use their cisterns Wednesday afternoon as the result of a release of oil from Limetree Bay refinery, the second since the refinery restarted operations in February.
"In response to today's incident, Limetree Bay has decided to temporarily suspend production activities until further notice. All processing units will be brought to a safe, stable condition," the company said in a press release.
According to Limetree, an upset at Flare Unit #8 resulted in the release of oil droplets; the same flare that previously spewed oil onto 130 homes and contaminated 60 cisterns in the Clifton Hill neighborhood in April. As it did for those residents, Limetree will distribute water to the affected residents of Enfield Green.
The accident, allegedly related to a problem with the refinery's coker, is one of several in recent weeks that have affected downwind residents, twice closing schools because of noxious odors and resulting health effects ranging from headaches and nausea to watery eyes and breathing difficulty, according to resident reports.
"These repeated incidents at Limetree Bay are unacceptable," the Environmental Protection Agency said in a statement Wednesday evening. "EPA has a team onsite and is coordinating with the USVI government to investigate this and other recent distressing incidents. EPA is committed to ensuring that this facility operates properly and in a manner that is protective of the community."
The message was repeated on EPA Administrator Michael Regan's Twitter feed.
Limetree, which has not been independently monitored since it restarted, is under investigation by the EPA for possible Clean Air Act violations and process issues. The agency deployed an emergency response team to the island on April 30, but its monitoring equipment had only just arrived on Wednesday and was still being charged, according to a spokesman, when the oil spray occurred.
The refinery has already been cited with a Clean Air Act violation because it was not operating five community sulphide dioxide monitors as it was required to do. Although Limetree disputed the requirement, it agreed to "voluntarily" repair and restart them.
Meanwhile, until the EPA establishes a permanent monitoring regimen, the territory's environmental watchdog, the V.I. Department of Planning and Natural Resources, which has no monitoring system of its own, is relying on portable sensors provided by the Virgin Islands National Guard.
"I would say we were notified about 3:30 p.m. of an incident at Limetree," VITEMA Director Daryl Jaschen told the Source. "They asked us to put out the message. We contacted the V.I. Fire Service chief and talked with the Limetree Bay fire chief inside the fence. He said no individuals were injured at this time."
Earlier in the day, VITEMA had alerted residents of gaseous fumes in the Frederiksted and mid-island areas and advised residents to stay indoors and seek medical attention if they felt sick. The second alert at 4:15 p.m. warned of a fire on the refinery site.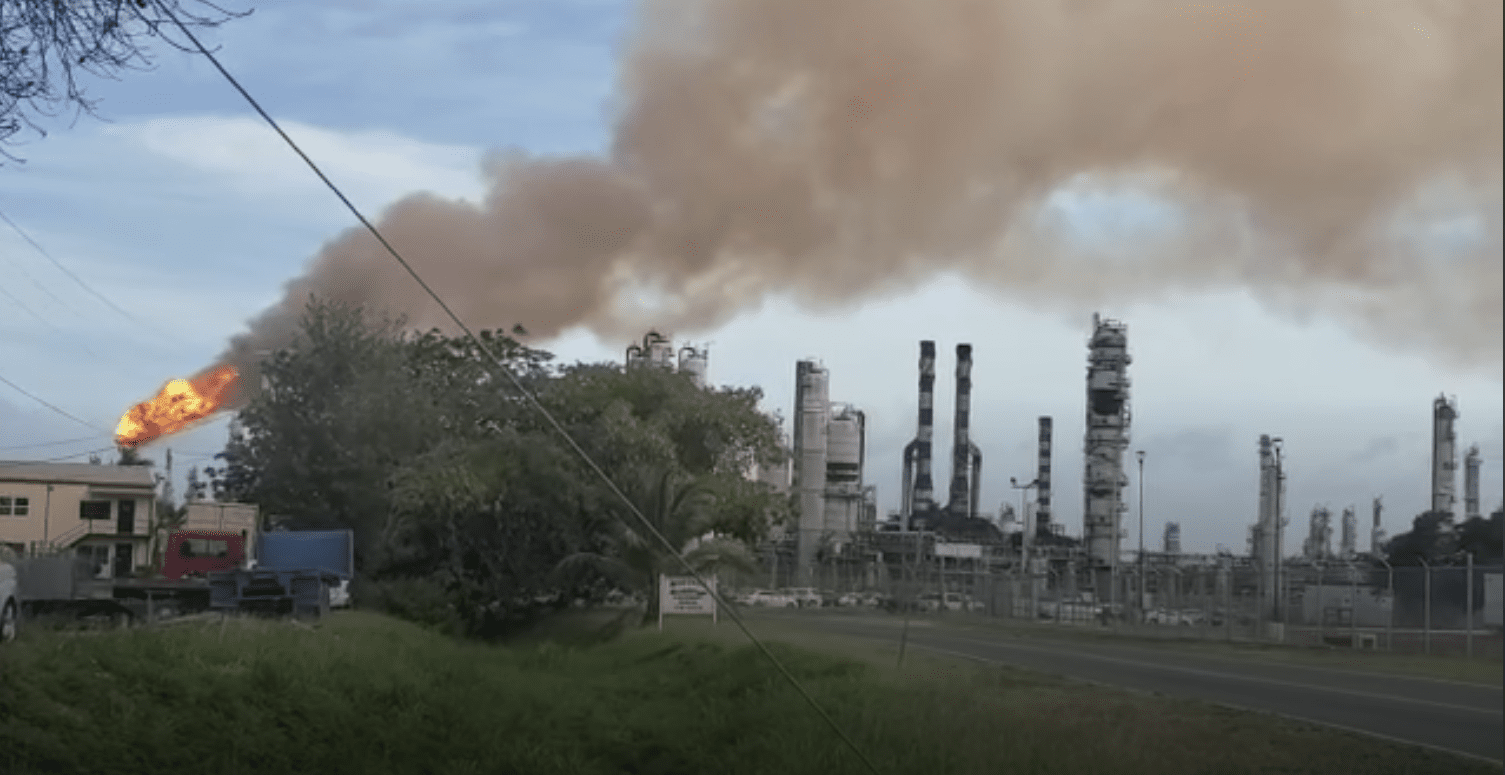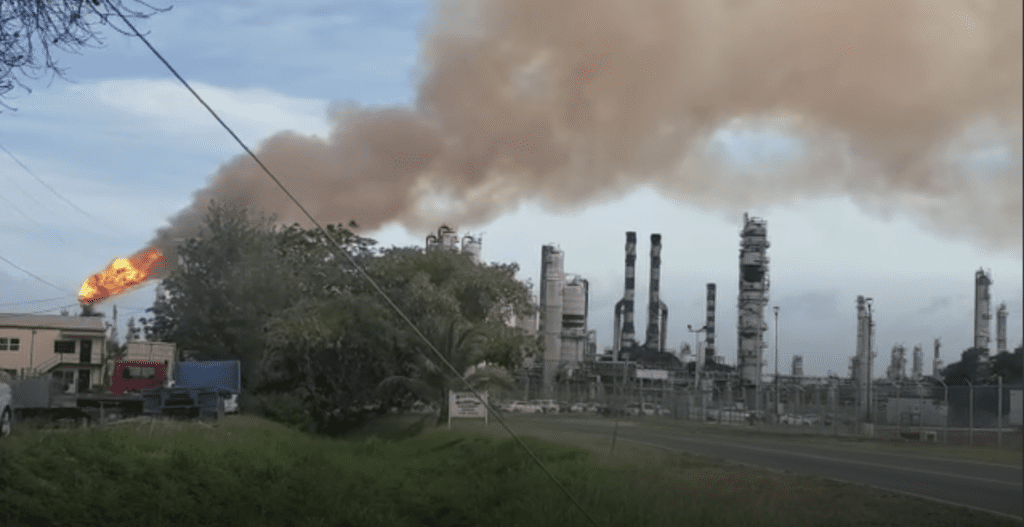 At Limetree's request, the V.I. National Guard blocked off Container Road to check for a possible dispersion of heavy oil and associated contaminants, but none was found, Jaschen said.
VITEMA's director acknowledged that spot-checking for elevated chemical emissions after the fact handicaps the team.
"Part of the challenge of not having these detection monitors set up is that, although the National Guard's Civil Support Team is out and about, it's a little like we're chasing things," he said. "We have an array of sensors out there, you see something happen, but can we detect at the level that it's a risk to the community? That's a main concern."
The National Guard's multi-gas detectors can measure a spectrum of chemicals in parts per billion. The data is being checked against OSHA standards to make sure nothing in the air exceeds health safety standards, Jaschen said. Although the support team hasn't picked up anything so far that exceeds OSHA's levels, it was unclear whether the equipment would pick it up if it did.
According to California Communities Against Toxics Executive Director Jane Williams, it can't.
"The EPA's air quality monitors are 100 times more powerful than what the National Guard is currently using," Williams said. The EPA's hydrogen sulphide sensor can detect levels at 1 ppb, while the sulphur dioxide sensor can detect to 10 ppb."
The EPA expects its monitors will be operational within two days, a spokesman said.
Jaschen said he's looking forward to Thursday's Engage V.I. Environmental Town Hall where, in addition to a full complement of elected officials and representatives from the unified command set up last week by Governor Albert Bryan Jr. four EPA staff will be available to answer residents' questions and concerns.
The virtual town hall will be held from 6 to 7:30 p.m. and is free. Those who want to take part can register online at Eventbrite.
The EPA has set up more points of contact for Virgin Islanders to report chemical odors and health effects:
– A toll-free number, 1-866-462-4789. EPA staff on this line will answer questions and log information from 8 a.m. through 6 p.m. seven days a week. After-hours calls will be responded to promptly the next morning.
– An email address, stcroix@epa.gov, invites community comments, tips, referrals and complaints. The EPA's Limetree Bay website has current permitting and enforcement information.
– Health concerns or questions can be addressed by the V.I. Department of Health's Environmental Health Division at 340-718-1311, ext. 3709.
– To report an environmental emergency or major release, call the EPA's National Response Center at 1-800-424-8802.