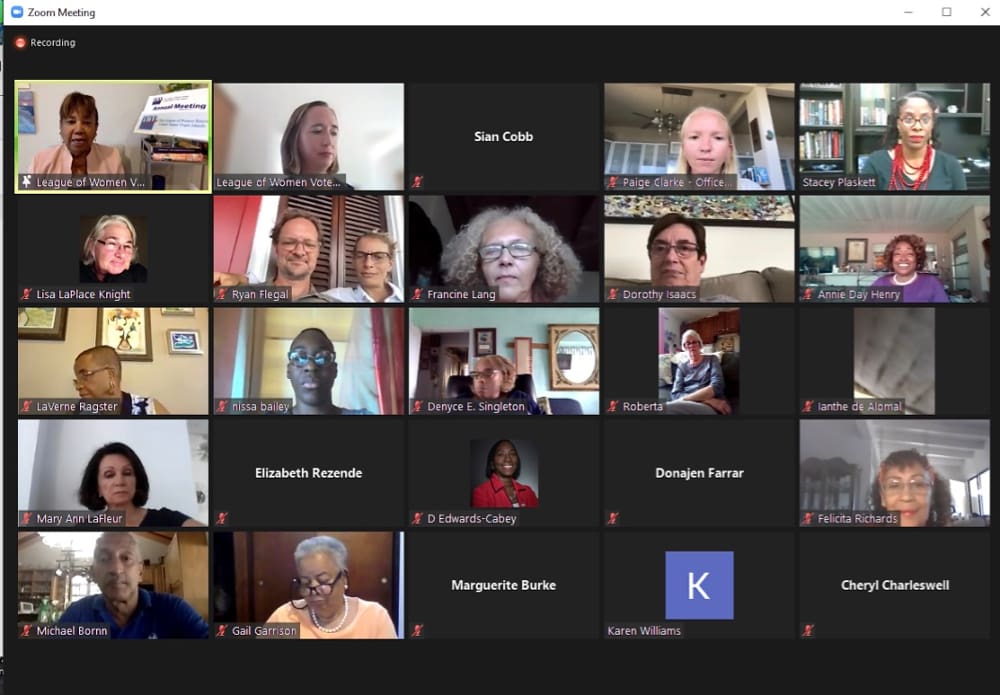 Delegate to Congress Stacey Plaskett addressed the annual meeting of the League of Women Voters of the Virgin Islands for nearly two hours on Saturday, speaking on an array of legislative issues – including the proposed $2.3 trillion American Jobs Plan and $1.9 trillion American Rescue Plan, a possible veterans' wing at Gov. Juan F. Luis Hospital and her work to secure federal voting rights for U.S. territories.
Plaskett – the first territorial representative and only the fourth African American woman to sit on the powerful House Ways and Means Committee – touted the legislative strides made in the months since President Joe Biden's inauguration.
Amid the economic devastation of the COVID-19 pandemic, the so-called American Jobs Plan proposes a $2.3 trillion investment in the country's long-neglected infrastructure, including $100 billion in broadband connectivity – "the new electricity," as Plaskett called it – to close the digital divide that saw USVI schoolchildren parking outside of fast-food restaurants to be able to attend school when classrooms closed at the start of the pandemic, she said.
"It's now a moment to reimagine and rebuild a new economy. During times of crisis, societies have unique opportunities to reimagine themselves, right their wrongs and improve, as we have seen in the past. The 1917 pandemic led to the Roaring 20s. The aftermath of the Civil War brought railroads, canals and bridges, connecting the United States, to move from 'these United States are,' to 'the United States is.' The Great Depression gave us the New Deal. After World War II, we had the Marshall Plan in Europe," said Plaskett, speaking from her St. Thomas office to the Zoom meeting.
"We recognize this is not just an infrastructure plan that we're working on, but we want to focus on it being a jobs plan as well as a wealth equality plan, bringing equity to wealth gaps that have existed in this country, to create millions of jobs, rebuild the country's infrastructure and our global position as a country to out-compete China and other nations," Plaskett said. "The American Jobs Plan will invest in the United States in a way that we haven't seen since the construction of the interstate highways and the victory in the space race."
Her role on the House Ways and Means Committee – she was nominated to the seat of the late civil rights leader Rep. John Lewis in January and estimates the committee will write 60 percent of the American Jobs Plan – gives her a strong platform to lobby her fellow members of Congress and the Biden administration to correct such inequities as the territories' exclusion from the Supplemental Security Income program, and the tax burdens on investment in the territories, such as those created by the 2017 Tax Act, Plaskett said.
She also has lobbied for coronavirus vaccine support for Caribbean nations – collectively America's eighth-largest trading partner, but also a region that is increasingly turning to China, Venezuela and countries in West Africa for investment – and disaster relief for St. Vincent after its recent devastating volcano eruptions that displaced 20,000 people.
How the American Jobs Plan will aid in the reform of the V.I. Water and Power Authority remains to be seen, but it targets 40 percent of the benefits of climate and clean infrastructure investments to disadvantaged communities, which includes the U.S. Virgin Islands, Plaskett said. She also hopes "the discussions that the president had with regard to climate change and fossil fuel reductions will further accelerate the desire of Washington to support us in creating some reliability in our electricity system."
Her office also has lobbied the Biden administration to use the U.S. Virgin Islands as a microcosm for efficiencies and solutions regarding the climate change threat to the country's southern border, she said.
Under the $1.9 trillion American Rescue Plan the U.S. Virgin Islands government will now, for the first time, receive permanent federal reimbursements for the Child Tax Credit and Earned Income Tax Credit to the tune of about $40 million per year, Plaskett said.
The plan also modifies the Child Care Entitlement to states to guarantee U.S. territories $75 million annually in child care funding; extends the federal unemployment supplement and support through Sept. 6; includes an increase of the supplement to $300 per week; and provides $2,000 in direct assistance with checks of $1,400 per person following the $600 down payment in December, said Plaskett.
Thanks to her efforts, the U.S. Virgin Islands government also has received $567 million under the plan for unrealized revenues due to the pandemic, Plaskett said. "That money is very, very broad in scope, and I have discussed with the governor that one of the areas it could be used for is law enforcement," she said, including hiring more officers with an emphasis on community policing, raising salaries and incentivizing the job by providing down payments for homes for young officers, for example.
In the last two of four bills dealing with the COVID-19 pandemic, Plaskett said she and her staff also were able to secure $100 million in funding for the V.I. Education Department to support programs "to ensure that our young people have supervised, directed work, study, training and trades building – after school and on weekends, during the summer – to negate and try and thwart some of the issues we have related to crime as well and to give them a future."
As for issues facing U.S. Virgin Islands military veterans, Plaskett said the Gov. Juan F. Luis Hospital on St. Croix is "almost at yes" to creating a veterans' wing in the hospital as it rebuilds from hurricanes Irma and Maria.
"Which would mean that our veterans do not have to go to Puerto Rico to get many of the services that they had to get previously. It also would provide support to Juan F. Luis by having those services at the hospital there, because those services would have full payment to them," bringing additional income to the facility, she said.
Plaskett also has hired an individual through the Wounded Warriors program whose primary objective is to support local veterans and has had numerous conversations with the Veterans Committee in Congress, whose chairman has held virtual town halls with USVI veterans and whose staff has visited the Virgin Islands and the VA hospital in Puerto Rico to determine and fix any issues, she said.
However, "one of the things we need from our veterans is to register," said Plaskett. "Part of our problem is that all of the individuals who are veterans in the Virgin Islands do not register as veterans, and so our numbers do not look as large as they are," said Plaskett. "Veterans here will say, 'Well, I'm not going to get the benefits, so there is no need for me to sign up.' But if we were able to demonstrate larger numbers, it would drive the argument that it would be cost-effective for Veterans Affairs to provide many veterans services here."
Plaskett also is advocating for federal voting rights for U.S. territories through H.R.1, the For the People Act of 2021, which passed the House of Representatives on March 3.
The bill would establish a congressional task force to make recommendations to Congress on providing U.S. residents living in U.S. territories with equitable voting representation in Congress, voting rights in presidential elections and full and equal treatment under other federal voting and election laws, said Plaskett.
The Senate version of the bill is currently in committee and, if released, will be debated and voted on, with a simple majority of 51 out of 100 needed for it to pass, Plaskett said. A conference committee of House and Senate members would then work out any differences in the versions of the bill and return it to each body for final approval. It would then go to the president, who would have 10 days to sign or veto it, Plaskett said.
"There needs to be common ground on the way forward for resolving our disenfranchisement in U.S. territories, which leaves open the possibility this may include a different path for different territories," said Plaskett.
However, without a referendum, the way forward for the U.S. Virgin Islands is unknown, she said.
"For the last three Congresses, I have requested that the Virgin Islands Legislature pass legislation to educate Virgin Islanders on the laws, on paths of either full inclusion, independence, commonwealth status, incorporated territory, statehood, etcetera. Let Virgin Islanders know the pros and cons of each, through organized, sustained, pervasive education, and then bring a referendum by which I or whomever is the member of Congress at that time, should have to take that up with Congress," said Plaskett.
Following her role as a manager in the second impeachment trial of former President Donald Trump, people have repeatedly asked her whether the U.S. Virgin Islands wants to be a state, Plaskett said.
"I have avoided the question because I cannot say with certainty what the people of the Virgin Islands want, and I believe as your representative it is incumbent on me to know what the people want and not give my personal opinion as to what you should be," she said.
"The time is now. We are almost at 175 years from our ancestors emancipating us from chattel slavery, 100 years from being a part of the United States. Our maturity level is such that we should and must self-determine what we want to be," said Plaskett.
Beyond her legislative agenda, Plaskett offered a glimpse of life on Capitol Hill, and her thoughts on issues affecting the U.S. Virgin Islands. Following are some excerpts from the congresswoman's wide-ranging talk, in her own words.
– On convening a 6th Constitutional Convention, which voters supported in a referendum in the 2020 General Election:
I have difficulty with the Constitutional Convention, just looking at the sheer number of Constitutional Conventions we have created. Additionally, because individuals have not created a clean constitution, one that does not contain federally unconstitutional provisions within it. And so I have been in favor of the adoption of the Revised Organic Act as our constitution so that then is passed by the federal government, by Congress and that affords us the ability, after we have our own constitution, to make whatever amendments and changes we want to it.
– On her appointment in January to the seat of the late civil rights leader Rep. John Lewis on the powerful House Ways and Means Committee:
The House Ways and Means Committee, as some of you may know, is the oldest committee in Congress. It is the only committee whose functions are mentioned in the Constitution, and it is the most exclusive committee, being the oldest. It is there that so much of the work and support for the people of the territory will be accomplished.
In this Congress, I became the first member from a territory and only the fourth African American woman, to serve on the House Ways and Means Committee. House lore has it that in the 1970s, members of the leadership got together and, in a discussion about committee assignments, agreed that no individual representing any of the territories could ever sit on Ways and Means. It was their belief that that was a committee with too much responsibility for the territories to have, since we did not have full voting rights on the floor and because we represented not only such a small portion of people, but individuals … who did not vote for president nor had economic power. So, my sitting on this committee is really a tremendous leap for the people of the territories.
– On her relationship with her fellow territorial representatives:
All members of the territories, both Republicans and Democrats, meet monthly to try and come up with priorities that we can agree on to support the people of the territories. We have so many things in commonality that cut across our party lines. So, we work with each other sharing information, indeed even sharing secret discussions that our parties have, among ourselves, when we believe it's going to support the people of the territories. We understand, sometimes, that it's us against them and that transcends our party affiliation.
– On her newfound fame as a manager in the second impeachment trial of former President Donald Trump:
It's so interesting that now people really recognize me for being an impeachment manager. Just this morning I had breakfast with my son outside at Emerald Beach. There were guests who came up, visiting from New York, visiting from Europe, who came up and said, 'I wondered if when I came here if I would see you. I saw you as we were glued to the screen as you were presenting.' I thanked them and asked them if they were having a good time here in the Virgin Islands and welcomed them to our islands. Afterward, my son, who is a senior at Antilles, was like, 'How does that make you feel?' And I was like, it makes me feel kind of weird because I do not think of my work in Washington as being an impeachment manager. I think of my work in Washington as representing the people of the Virgin Islands and being a legislator, working on bills, working on co-sponsorship, debating on the floor, attempting to present equity and lowering the disenfranchisement of the people of the territories, and indeed for many communities who are underrepresented or lack representation or lack a vote in Washington.
Plaskett's talk was slated to be posted in full on the League of Women Voters of the Virgin Islands website and YouTube.