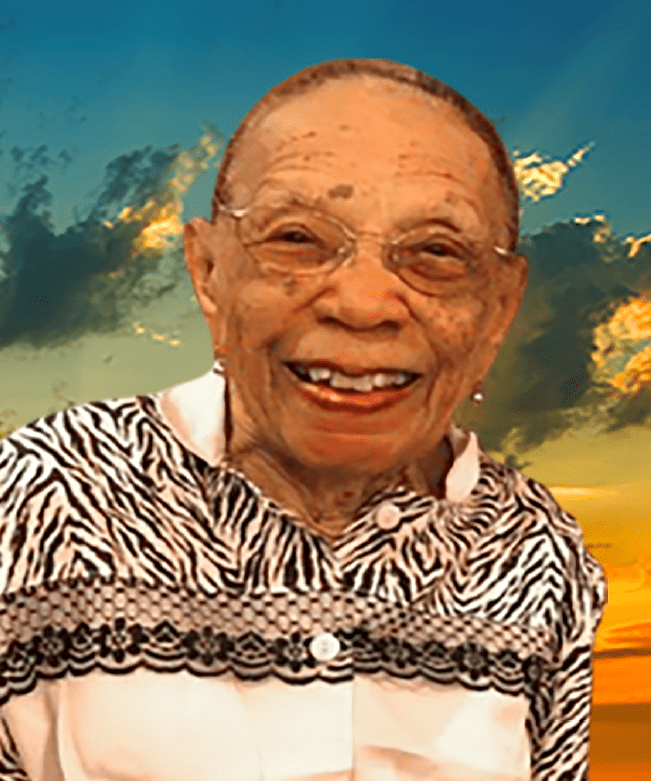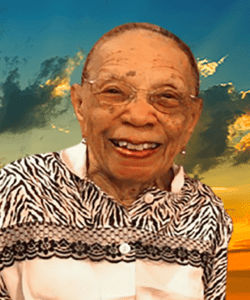 Family and close friends gathered to celebrate the life of Adeline Elizabeth Leonard on Friday, March 12, at the Road Town Methodist Church.  She departed this earth on Feb. 11.
She was preceded in death by her husband, Edwin Harris Leonard, and her sister, Lillian Romney. Officiating Minister Reverend Dr. Keith B. Lewis led the ceremony, which included reminiscences from her family, prayer and song.
She is survived by her son, Robert Leonard; daughter, Diane Leonard-Drayton; grandchildren: Alyssa Tishan Solomon, Chelsea Solomon and Terrence Leonard; great-grandson, Micah Kendall; brothers: Egbert Creque, Milton Creque and Gene Creque; sisters: Audrey Todman, Hyacinth Amaro, Ivy Vessup and Annetta Amaro; sisters-in-law: Doris Braithwaite, Irma Creque, Virginia Creque and Vielka Creque; and brother-in-law, Reuben Vessup.
She is also survived by nephews: McWelling Todman, Jose Amaro, John Amaro, Andres Amaro, Dr. Luis Amaro, Hipolito Amaro, Egbert Creque Jr., Milton Creque Jr., Damian Creque, Orlando Amaro and Craig Creque; nieces: Cyntelia Doswell, Debra Romney-Hodge, JoAnn Romney, Linda Romney, Marian Romney, Patricia Romney, Angela, Amaro-Haynes, Michelle Neille, Alicia Creque-White, Selina O'Neal, K.C. Ann Creque and Kristi Creque.
On Dec. 26, 1929, Adeline Elizabeth Leonard was born, the first of what would be nine children to come from the union of Cynthelia Thomas and Henrique Creque, on the island of Tortola. The family lived on Main Street in a house that was just up the street from where her mother ran a guesthouse called the Social Inn. She was looked up to and admired by her siblings, who affectionately called her 'Tikka.'
After completing her primary education, Adeline entered the then Virgin Islands Senior School — the first high school in the BVI. In fact, she was in the class of the first attendees and graduates of the school.
Thomas Green, the first principal and supervisor of education in the BVI, opened the school in 1943 and was instrumental in advancing Adeline's teaching aspirations. Upon completing the Senior School, she immediately started teaching and so excelled in the profession that she was selected to attend Spring Gardens College in Antigua from 1948-1950, a prestigious teaching institution at the time. She returned and continued teaching for several years. Her many, many pupils today still respect and recall her fondly as 'Teacher Adeline.'
During those years as a teacher, she directed and staged several English plays that would be the highlight of that social year. She would persuade members of the community to act as characters in the play, including McWelling Todman and her sister, Hyacinth, and even play a part herself. One production she often recalled with delight was the staging of "HMS Pinafore."
She eventually met her husband, Edwin Leonard, who was a pupil teacher at the time. They were married on Dec. 18, 1953, and later moved to St. Thomas, where Edwin worked at Bluebeard's Castle Hotel, and she taught for a short time at the St. Peter and Paul Catholic School.
The couple decided to continue moving onward to New York where Edwin worked as a carpenter/builder, and Adeline worked as an office administer at Roosevelt Hospital. It was there that her two children were born, Robert and Diane. Having the children grow up and be schooled in the big city did not appeal to her, so in 1965, she moved back to St. Thomas. Edwin stayed in New York to finish a contract and then followed her.
Upon her return, Adeline sought employment with the U.S. Virgin Islands Government at the Department of Commerce as an accountant where she became known for her meticulous accounting practices. She and her husband bought their first home in Tutu Estate and joined the Wesley Methodist Church where they were loyal and dedicated members. Along with teaching Sunday school, she became one of the founding members of all female singing group, The United Sisters. The United Sisters and the Wesley Brothers, of which her husband was a member, combined to host concerts with plays she directed that were taken to Tortola during Easter and August celebrations and as far down the island chain as St. Kitts.
After her retirement in 1990, Adeline moved back to Tortola with Edwin to live on the hills of Todman's Estate where he grew up. She continued to live there after her husband's passing in 2002 and did not leave until her home was destroyed in the hurricanes of Irma and Maria in 2017.
To all her friends, family, pretty much anyone who met her, Adeline was gracious, warm and kind to all with a smile that was infectious and welcoming. She was small in stature, but with a heart of gold, and a love of God that was unceasing. She lived a life that one can only admire and emulate. As one friend said, "She is one that will not even be questioned at Heaven's gates." The Lord will then say, "Well done my good and faithful servant. Enter into the joy of your Lord!"