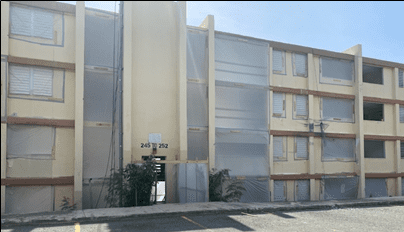 Beginning Monday, roads will be closed through the battered and abandoned Tutu Hi-Rise from the community center straight through to the housing community buildings 10 through 22, also known as "Ras Valley," to allow demolition to begin three and a half years after the housing community was devastated by Hurricanes Irma and Maria.
The road adjacent to Building 14 leading to Holy Family Church will remain open for motorists, the V.I. Housing Authority said in a warning to residents of Estate Anna's Retreat.
Pedestrians will continue to have access to their homes and businesses by controlled walkways, the authority's statement said.
Demolition activities will take place from 7:30 a.m. to 5:30 p.m., Monday through Saturday. V. I. Waste Management Authority will continue door-to-door waste collection service for residents in the surrounding Annas Retreat area, the announcement said. No additional dumpsters will be available for non-residents.
The fencing and road closure will remain in effect until all five buildings are demolished and the area is safe for public transit. The authority asked people passing through the area to adhere to all safety controls and precautions.
"Your patience is appreciated as we continue our hurricane recovery efforts," the news release said.
Questions or more information are available by sending an email to George Silcott at gsilcott@vihousing.org or calling 340-244-6606.
The map below shows the closures, fencing, gates and other fixtures planned for the demolition.