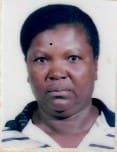 The family of the late Eileen Davis is saddened to announce her passing on March 8, 2021. Eileen Davis, formerly of St. Kitts and who resided in St. Croix was preceded in death by her Mother: Mary Rose; Father: Theophilus Penny; Sister: Margaret A. Rose; Brothers: Hugh Rose, and Sir Lee L Moore.
She is survived by her Daughters: Rosemary L. Davis-James; Ann Marie Claxton (adopted daughter) and family; Sons: Winston O. Davis Jr.; Grandchildren: Rasheeda M. Davis, Djemila M. Davis, Jabari J. Davis, Owen C. James, Jahzara N. Davis; Brothers: Norman A. Rose, Conrad Brooks, Wendell Brooks, Trevor Walters; Sisters: Hyacinth (Gloria) Garvey, Marilyn Ryan, Bernicia Agard, Emmeline Stewart.
Nieces: Carol Webster, Noreen Rose-Dyer, Janice Rose, Tellie Rose; Nephew(s): Everade Rose, Gavin Rose; Cousins: Kate Pemberton, Annette Penny, and Fredrick Garvey; Special Friends: Judith James and family, Henry Smith, Winston Solomon, Vida Garnette, Grouby family, Rupertha Browne and Kimberly Matoo; and many other relatives and friends too numerous to mention.
The funeral service will be held on Tuesday, April 20, 2021 at Divine Chapel, 129 Peters Rest, Christiansted. Viewing: 9:00 AM Service: 10:00 AM. Interment: Kingshill Cemetery
Due to social distancing, all guests are encouraged to wear face masks at the viewing, church, and cemetery.