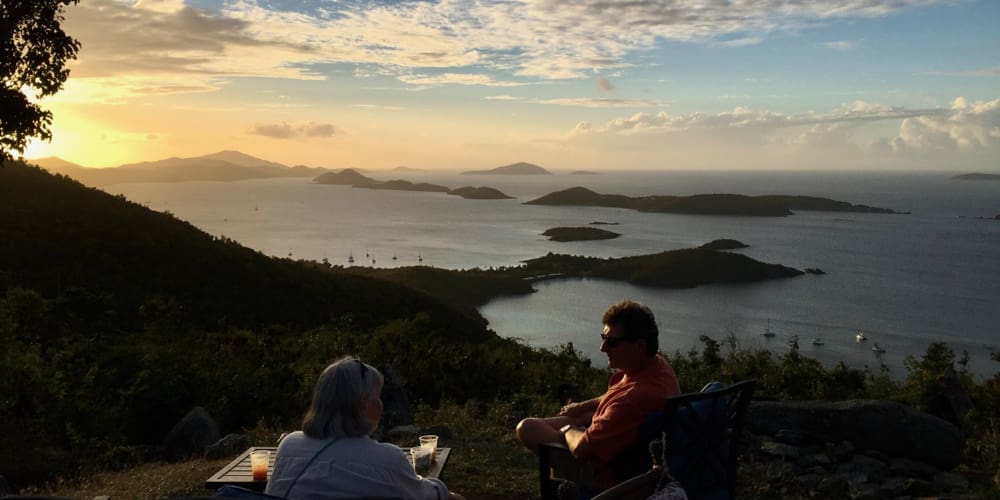 This is the second in a series of stories on St. John's bustling restaurant scene.
Without a doubt, the place to take in the sunset on St. John is the Windmill Bar in Susannaberg.
Located on Centerline Road about three miles east of Cruz Bay, this outdoor venue with an intact windmill has become a gathering spot for music, drinks, food and a jaw-dropping view.
The Windmill has become so popular customers may have to wait to get in. It might seem that there's infinite space on the hill overlooking Hawksnest Bay, with St. Thomas and the British Virgin Islands in the distance, but COVID restrictions apply. Right now, only around 100 patrons are allowed to gather at the half-acre site at a time, so owner Ronnie Jones has had to monitor crowd size during peak hours.
Sundown is not the only time to come. Visitors can drink in the view and a beverage from 11 a.m. to 8 p.m. Live music and food (temporarily provided by a vendor) are generally available only between 5:30 p.m. and 7:30 p.m.
That may soon change, however. Jones is waiting on government agencies to complete their inspections to allow a restaurant to open onsite. Chester Mingo, the proprietor of Chester's Getaway, a popular nearby restaurant that closed down a couple of years ago, is getting ready to dish up local food momentarily.
The Windmill opened in November 2020, then had to close down almost immediately because of COVID restrictions affecting bars during the holiday season. It reopened on Jan. 7, 2021, and has since been drawing in tourists and locals through word of mouth and social media.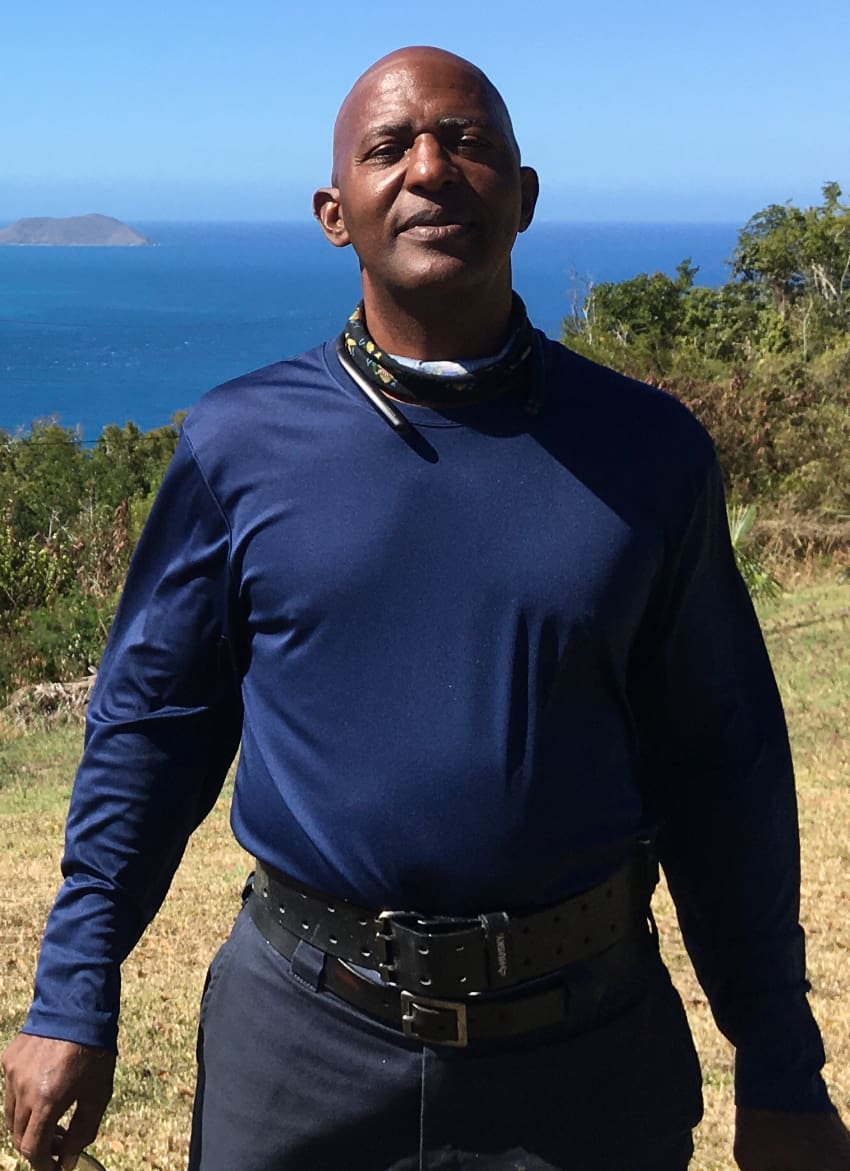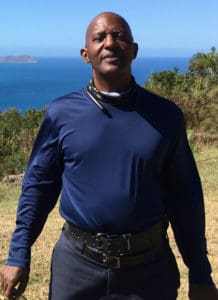 When people say to Jones, "I've lived on St. John for years. How come I never knew there was a view like this?" he's quick to answer, "I never did, either." The view from the ridge was blocked by a wall of vegetation that was torn away by the winds of Hurricane Irma in 2017.
"Irma helped me clear me it out," he said.
Even before the hurricane, Jones had teamed up with local music promoter Christie Register to produce a series of events on the site, including Jam Fest, a three-day music festival held most recently in early March 2021. Register and Andy Peter now manage the bar, book the entertainment and supervise the Camp at Neptune's Lookout, one of the island's few camping spots.
Neptune's Lookout is named for the St. John patriarch that made the entire operation possible, Halvor Neptune Richards, who was born in 1896. Richards' grandfather and great-grandfather were born into slavery, Jones said, but within two generations, he managed to acquire almost 250 acres of property in Susannaberg and used it for farming and raising livestock.
And a patriarch he was. Richards had 18 children, including eight with his wife, Florence Chinnery Richards. Unlike many landowners in his time, he was careful to craft a will to provide for his family when he was diagnosed with prostate cancer. Upon his death in 1978, he left property to all 18 children and three grandchildren whom he adopted.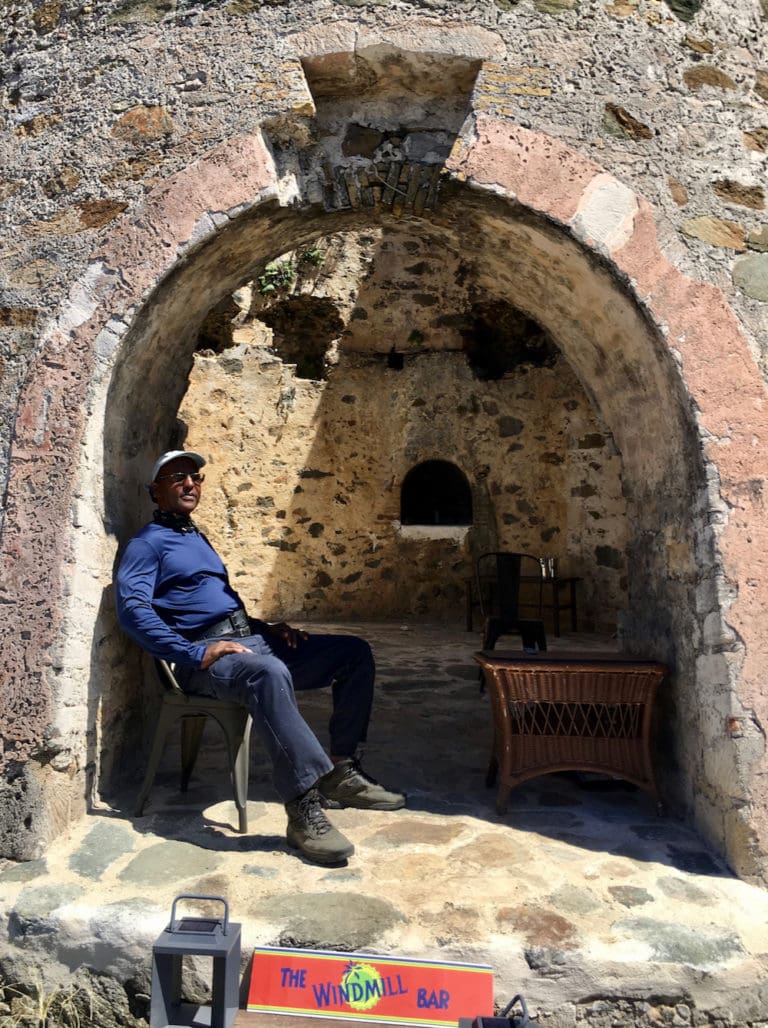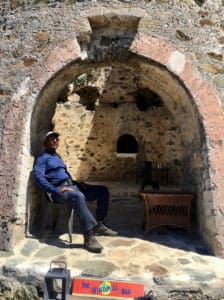 Ronnie Jones, along with his brother Fermin Jones and cousin Iva Moses, were the three grandchildren who inherited property from Richards. (Moses, well-known for his many businesses and rambling herds of cattle, died in 2018.)
Richards deliberately left three acres of land at the top of the ridge at Susannaberg – which included a windmill built in 1732 and a great house – in common to his eight children by his wife.
"Why would my grandfather do this? He knew this was an heirloom to stay in the family, and the thought of selling it would seem too complicated," Ronnie Jones said. "He knew someone would see its potential and turn the mill into a working instrument, just as the mill had been a tool for the plantation. His hope was that someone would have the vision to maintain it, pay the property taxes."
Jones, who left the island and spent 22 years on the mainland working in accounting and communications, returned to St. John in 2004. He taught for a short time at the Julius E. Sprauve School – named after Richards's brother – and then worked as the administrator of the Morris de Castro Clinic from 2005 to 2009.
It was around that time that Jones first tried to develop some of the property at Susannaberg, diving into a contentious battle that would allow him to rezone the property and build six villas and a campground. Fatefully, his business partner who was in charge of the construction died of a heart attack just as it seemed they'd get the rezoning. Jones decided to put the project on the backburner.
Jones tried his hand at politics, running unsuccessfully for the position of senator-at-large in 2010, 2012 and 2014. Since then, he's been working to find a way to capitalize on the property.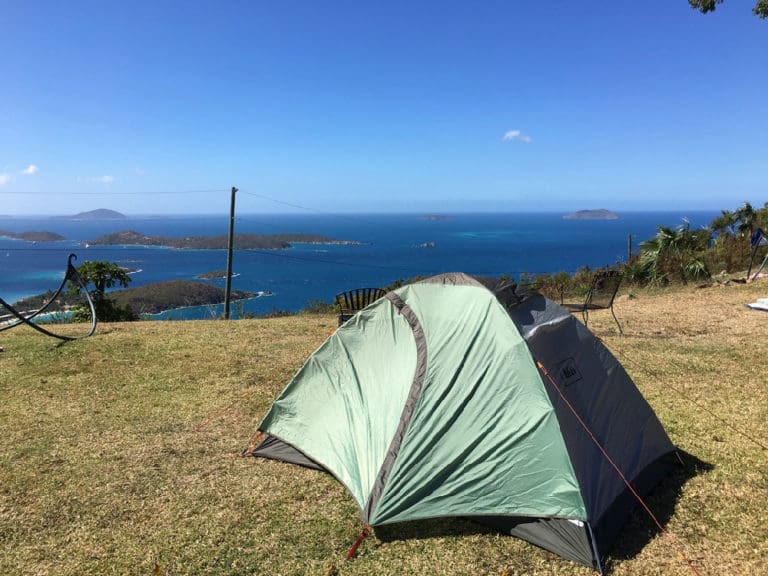 Campers have been coming to Neptune's Lookout since 2018. Jones said they marvel at the beauty and are grateful to have a place to camp on St. John. (Maho Bay Campground closed in 2014 and Cinnamon Bay Campground, which is now being rebuilt, was demolished by Hurricane Irma.)
More recently, Jones has been restoring portions of the windmill, a structure that makes for a stunning stage for musicians who come to perform.
For a while, Jones' wife Janice sold snacks and local drinks from a converted container along the roadside near the entrance to Windmill Bar. That site has now evolved into Island Breeze, another new restaurant and a subject of the next article in the series.
Editor's Note: Janice is the name of Ronnie Jones' wife. This article has been updated to correct the name. 
Also in the Series
– STJ Restaurants, Intro: St. John Restaurant Scene is Bustling
– STJ's Restaurants, One: Shaibu's Garden Oasis Blends Local and Global