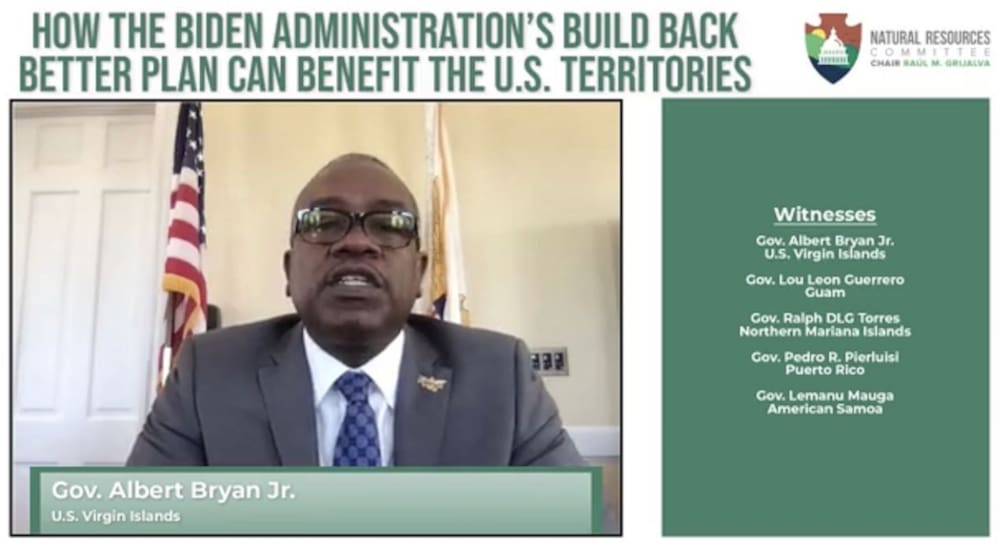 Saying that the U.S. Virgin Islands is "no stranger" at having to build back after decades of natural disasters and now a global pandemic, Gov. Albert Bryan Jr. told the U.S. House Committee on Natural Resources that the best support the federal government can offer now is its financial backing.
Bryan joined governors from other U.S. territories on the virtual committee meeting on Wednesday and offered his perspective on how President Joe Biden's anticipated Build Back Better plan can support the U.S. Virgin Islands. The federal initiative is expected to total between $3-$4 trillion in a quest to create five million new jobs, restore others lost during the past year, and fund physical improvements to roads, bridges, rail lines, ports and the electric grid, among other things.
"A major continuing problem is our financial inability to maintain our roadways, our power plants and all the infrastructure, to train our workforce and to constantly adapt to these ever-changing threats," Bryan said, referencing the damage and negative economic effects caused by hurricanes spanning Hugo in the 1980s to 2017's Irma and Maria, followed by the blow of the pandemic, which he said "devastated" the territory's cruise industry and caused $198 million in budget losses.
"Securing our infrastructure under the 'Build Back Better' plan will be crucial for the territories in order for us to be able to build back," Bryan said. "We hope that the Biden administration continues to support us and help us develop comprehensive plans that address resilience."
In the midst of continued recovery, Bryan also intimated that the federal government has simultaneously been the biggest help and hindrance.
"Restrictions between FEMA and HUD [Federal Emergency Management Agency and U.S. Department of Housing and Urban Development] have created impossible hurdles to rebuilding," the governor said. "They simply have to understand that we cannot wait 10 years to build back. The Bipartisan Budget Act was passed to help us rebuild our residences and our infrastructure to 100 percent but still, we quibble with FEMA over simple dollars and cents, which is what that would be in any other another state."
Bryan urged Congress to back the full debt of the territories.
"This would give us the ability to borrow money at the one percent that is being issued today and would free up millions of dollars of capital that we now pay in interest," he said.
Build Back Better dollars would also boost the local marine industry, supporting projects such as the dredging of both St. Thomas and St. Croix harbors and efforts to attract and maintain charter vessels, Bryan said.
"It is also an opportunity to invest in our people," Bryan said. "As we recently celebrated our 100th anniversary of being an American territory, you can ensure that we are prepared for the next 100 years, strengthening our infrastructure and eliminating federal policies that undermine our ability to attract investment that will give us a fighting chance to make our second century as Americans better than the first."