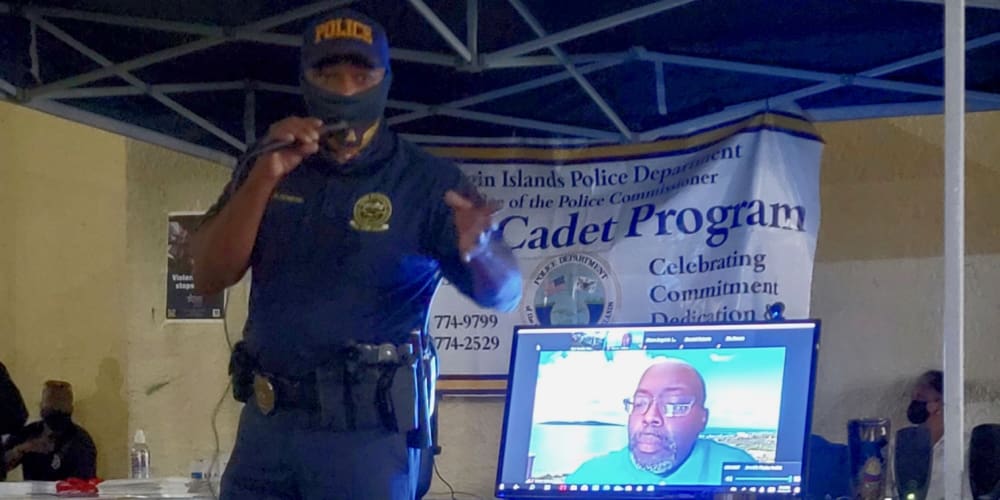 Years of unabated violence and death in and around the Bovoni housing community, home to 800 people occupying its 363 units, have led to repeated attempts – the most recent Tuesday night – by law enforcement agents and others to focus attention on and offer support to its residents.
The unremarkable beige, three-story buildings cling to the side of a steep hill overlooking the island's landfill on St. Thomas's south side.
What is remarkable is the number of headlines that have tragically shouted out the troubles plaguing the neighborhood: "One Man Killed, Two Injured in Bovoni Shooting," "29-Year-Old Shot to Death At Bovoni Housing Community," "Assault Rifle Found in Bovoni Housing Community," "Man Injured by Gunshot in Bovoni Housing," "Bovoni Shootout Leaves Three Injured," "Man Shot in Estate Bovoni," "Man Injured in Bovoni Shooting Sunday," "One Killed in Bovoni Shooting," 14-Year-Old Hurt in Bovoni Drive By," "Three Injured in Bovoni Shooting," "Man Shot to Death in Bovoni."
While the headlines all numbingly begin to sound the same, each one tells a unique, albeit brief, story of a family member or neighbor caught up in a deadly cycle. What they never speak to are those left behind.
Following two more tragedies in October 2019, a vigil was organized by Capt. Sandra Colbourne of the V.I. Police Department, St. Thomas-St. John Victim Advocate Desiree Lambertis and Pastor Samuel Weekes of Paradise Covenant Ministries with support from Bovoni property manager Chantal Greene.
Tuesday night was a call to action, not a time to mourn, though there were mourners in the small group of mostly middle-aged women who sat on the lawn in front of the community center in aluminum folding chairs hastily set up as the meeting began.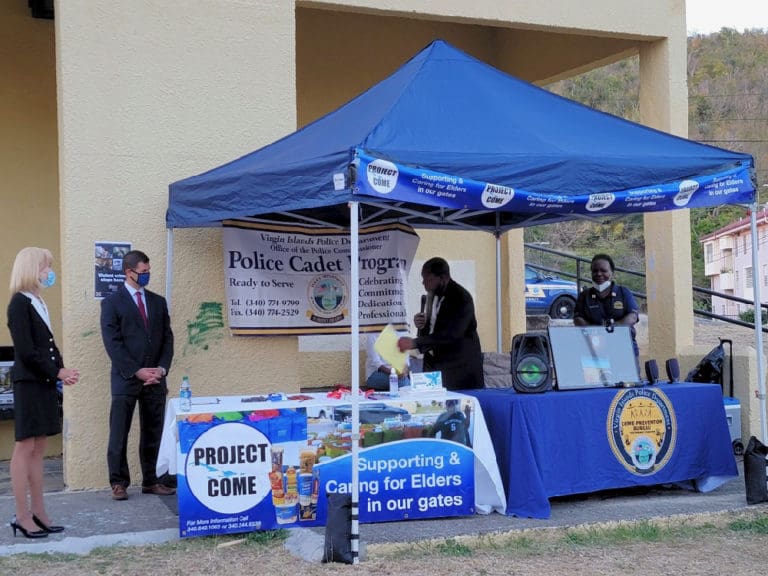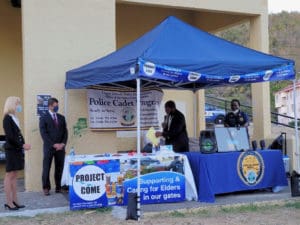 In the news release issued from her office announcing the meeting under the aegis of Project Safe Neighborhoods, which operates out of her office, U.S. Attorney Gretchen C.F. Shappert, said, "During the coronavirus pandemic, PSN has continued to support efforts to make our community safer, but we have not had as much community engagement as we have had in the past. Now it's time to reopen the conversation – socially distanced and online – so that we can hear from Bovoni residents about the public safety issues confronting their community."
The much more pronounced theme, however, was "if you see something, say something." The law enforcement officials in attendance, who numbered nearly as many as residents, each took their turn at the microphone to repeat that phrase, their frustration with trying to stop the crime and violence without witnesses or informants willing to talk, lightly tinting their remarks.
Top brass from the U.S. Attorney's Office – including Shappert and Deputy U.S. Attorney Juan Albino – V.I. Police Department, FBI, the U.S. Marshal's office and Homeland Security attempted to comfort, cajole and connect with the Bovoni residents – in some cases by sharing that they, too, had grown up in places like the Bovoni community and understood the challenges. Homeland Security agent Alicia Blyden said, "We're not just federal agents; we're part of the community."
But crime and its cure were not openly addressed by the two residents who eventually got the microphone.
Monica Carter said she did not have hot water in her apartment and also raised concerns about the state of the grounds, particularly around trash cans that seem to attract, but not actually contain, trash tossed toward them by residents. She described the sounds of glass bottles crashing to the ground when residents try to throw them into the trash receptacles from upper-story apartments – never quite hitting the mark.
"They just break on the ground," she said.
The other resident, a man, who came forward, asked what had happened to the Weed and Seed Program, which was once headquartered at Bovoni.
The answer, which was not provided Tuesday night, is Weed and Seed, a U.S. Justice Department community-based crime and gang prevention initiative that was launched initially through the V.I. Housing Authority, no longer operates out of Bovoni's community center as it did for years.
However, the director of Caribbean Centers for Boys and Girls, O'Neil Canton, was on hand to assure the gathered residents that the program he leads would be available for summer participation, but repeatedly stressed that parents had to get information back to him and the center if they wanted their children to be eligible to participate. He explained, "We are required to have certain information to satisfy our granting requirements."
Despite understanding and assurances from Shappert and other officials that resources were available to those who might have information and come forward privately to most any of the law enforcement personnel in attendance on Tuesday, and a statement from Capt. Colbourne that no one who had given information to Crime Stoppers had "ever been harmed," residents remained mum, at least publicly.
After the meeting broke up, one resident, still sporting a deep emotional wound from losing a son, said what no doubt many feel, considering how anxious public officials are for information.
"I am afraid to say anything."
Crime Reporting Contacts
Crime Stoppers USVI: 1-800-222-8477
Project Safe Neighborhoods: 1-202-702-7219
Caribbean Centers for Boys and Girls: 340-778-8990
Information on Weed and Seed is available by calling Jacqueline Freeman at 340-344-4516.