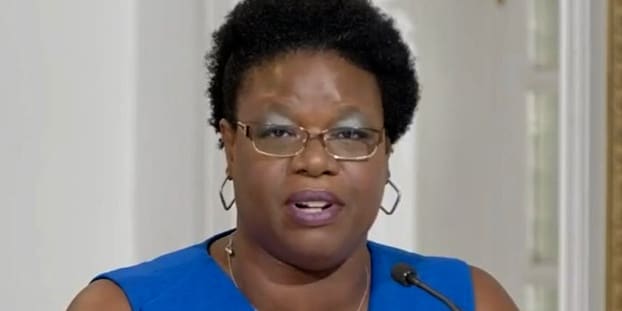 When COVID-19 vaccines became available in the United States in December, Monife Stout had laser focus on one goal – to make sure that the U.S. Virgin Islands received its fair share of doses along with the rest of the nation.
As the director of the Territorial Immunization Program for the V.I. Health Department, Stout is charged with the regulatory oversight of vaccine delivery for children and adults in the USVI. In coordination with the Centers for Disease Control and Prevention, she also was responsible for reestablishing the Virgin Islands Immunization Registry System, a data generating system that had been inoperable for two years after it was damaged in the 2017 hurricanes.
"We were really excited to receive the vaccines along with the rest of the nation," Stout said in an interview on Tuesday.
According to the CDC, the territory is now eligible to receive 1,100 each of the first and second dose allocations of the Moderna vaccine each week, and 2,430 each of the first and second doses of the Pfizer shots.
The Johnson & Johnson single-shot vaccine also is now available in the territory, but in limited quantities – just 900 doses – and is being strategically deployed by mobile health teams that are targeting the USVI's more vulnerable populations, including homebound seniors, the disabled and the homeless – people for whom it might be difficult to deliver a second shot, said Stout.
While DOH followed federal guidelines for the rollout of the vaccines in December, focusing first on health care professionals, nursing homes, those older than 65, first responders and front-line workers, a key difference was that USVI officials also factored in how much responsiveness there was in these priority groups in deciding to proceed to mass inoculations well ahead of most of the nation, said Stout.
"We have been ahead of the curve since the beginning because we already had our plan," said Stout. "We chose not to hold out longer than necessary. We needed to move on" and offer vaccines to more people.
"We didn't have major hesitancy, but we were not going to hang on and on and on," said Stout.
On March 1, free public vaccination clinics for everyone older than 16 opened at the University of the Virgin Islands campuses on St. Thomas and St. Croix – months ahead of President Joe Biden's May 1 target date. Only Alaska, Arizona, Michigan and Mississippi have achieved the same, according to a New York Times report.
According to the CDC, a total of 28,115 vaccine doses have been administered in the USVI as of Wednesday, though it does not break down how many of those are first shots and how many are fully vaccinated with the booster.
The goal of DOH is to fully vaccinate 50,000 people by July 1. Residents can book an appointment at one of the territory's clinics online or by calling 340-777-8227.
To combat any remaining hesitancy, the DOH communications team has focused on a campaign of "familiar faces and voices," Stout said.
"We are a community that is definitely about familiarity," she said, adding that the department has made a point of listening to people's concerns about the vaccine, and answering their questions through radio shows, town halls and presentations to groups and organizations.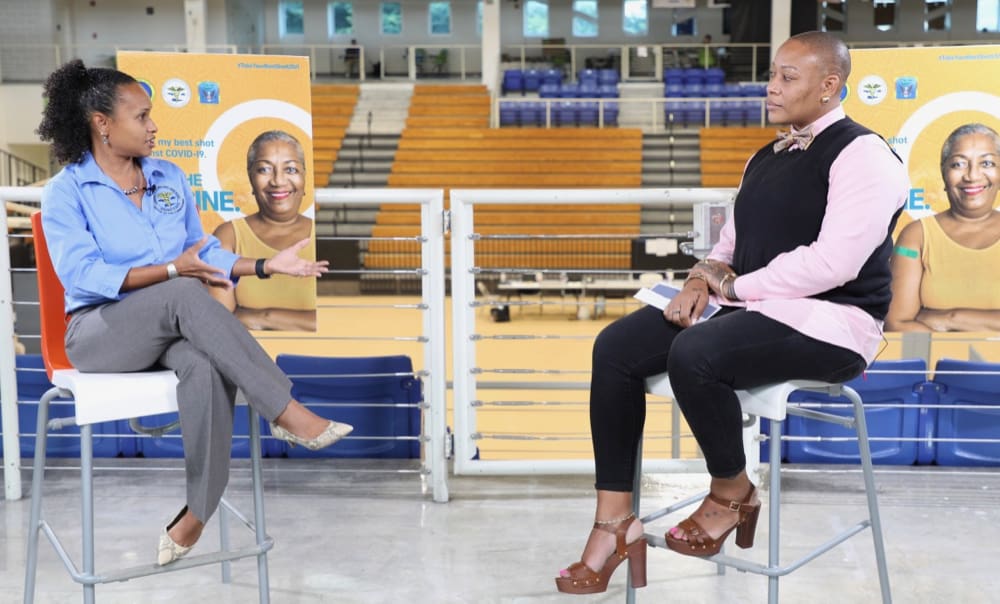 As part of that effort, DOH launched a "Take Your Best Shot" vaccine campaign in February, enlisting residents for short promotional videos about receiving their inoculations without adverse effects. The ads featured prominently at the March 11 Press Box – the virtual town hall produced biweekly by Government House and streamed live on Facebook – held at UVI's Sports and Fitness Center, the site of the St. Thomas clinic.
During that broadcast, DOH Medical Director Dr. Tai Hunte-Caesar stressed the importance of getting whatever vaccine is available, noting they all are 100 percent effective at preventing severe illness, hospitalization and death from COVID-19.
"The bottom line is that all three vaccines really achieve the same effect and the goal, which is to prevent you from dying and prevent you from going to the hospital. We want you to get whatever vaccine is available to you," said Hunte-Caesar.
"Weigh the difference. You have COVID-19, you have the potential of being on a ventilator and dying, or you get the vaccine, which helps you, but it also helps others around you as well," said Health Commissioner Justa Encarnacion, speaking with Assistant Commissioner Dr. Nicole Craigwell-Syms at the virtual town hall.
Looking back on a year spent fighting a deadly pandemic, Stout said on Tuesday that her greatest lesson has been the realization that, "I don't have to know everything. I can trust my partners and their expertise," which has fostered a cohesive working relationship and allowed her to broaden her knowledge, she said.