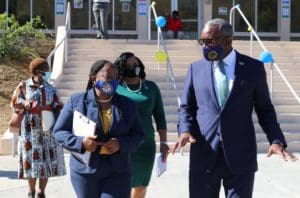 Education Commissioner Racquel Berry-Benjamin and St. Thomas-St. John District Superintendent Dr. Stefan Jurgen hosted Governor Albert Bryan Jr. and other officials on a tour of the Yvonne Milliner-Bowsky Elementary School on March 16 to mark the district's return to in-person instruction.
During the hour-long tour, which was streamed live on the V.I. Department of Education's Facebook page and led by Principal Daphne Thomas, the delegation visited Pre-K and Kindergarten classrooms, which showed a variety of safety signage, desks arranged six feet apart in compliance with Centers for Disease Control and Prevention social distancing protocols, floor markings indicating boundaries around student desks, and student/teacher desks outfitted with Plexiglas partitions.
A highlight of the morning came with the walkthrough of the all-new Sugar Apple Preschool, where preschoolers were seen at their desks engaged in a variety of activities.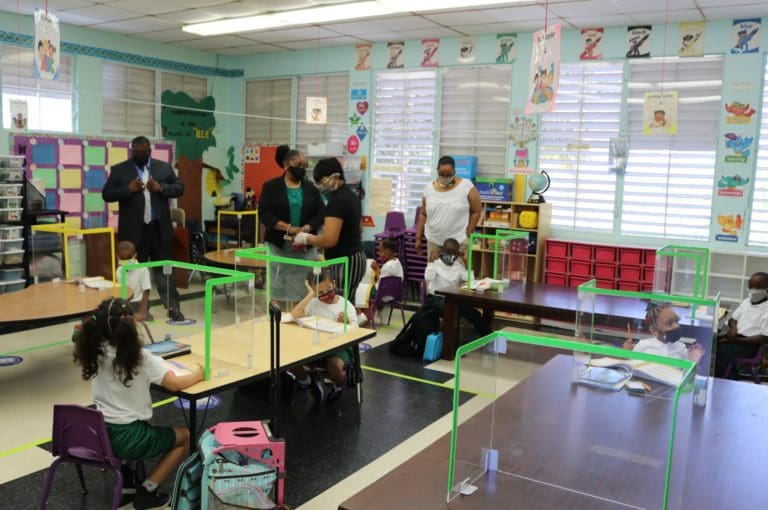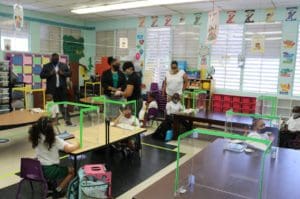 The governor greeted teachers and students in the classrooms and those online, even stopping to sing the National Anthem and Virgin Islands March with one Kindergarten class. He congratulated Bowsky's administration for the opening of Sugar Apple Preschool — a first for public school campuses in the district.
"Even with COVID, you've made a tremendous leap today, ensuring our students can begin learning at an earlier age and ensure their development," Bryan said. "It is a tremendous responsibility to take care of children, but even more so in a time of COVID, when we're unsure of what happens next, it is beautiful. I think [the opening of Sugar Apple Preschool] is the beacon that shines bright at the end of COVID."
Jurgen praised the return to in-person instruction and expressed his need for the community's support.
"We are asking for the public to continue to remain patient as we bring our students back to school on a staggered schedule," he said. "We are doing everything we can to ensure we have a safe rest of the school year."
Berry-Benjamin congratulated the district team for reopening schools safely.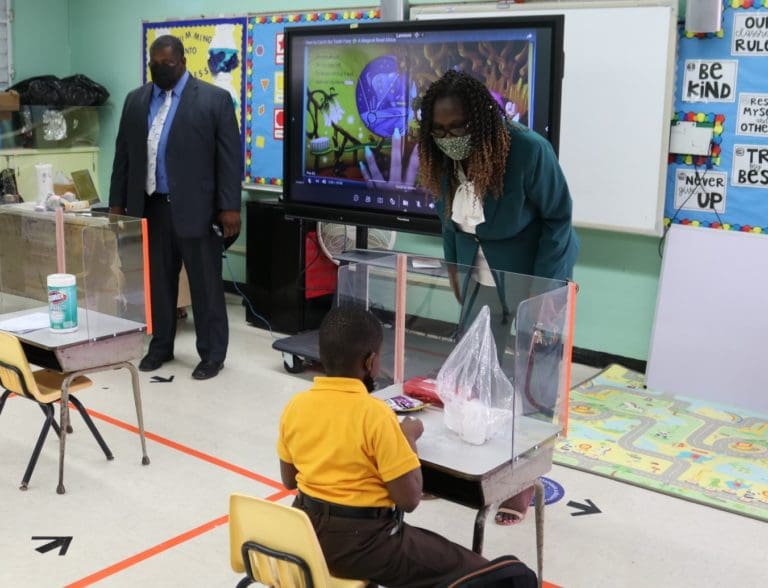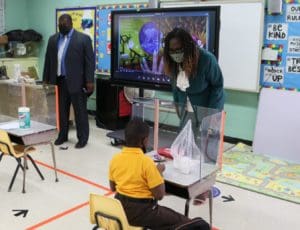 "Congratulations to Dr. Jurgen and the district team for leading our system of schools in the St. Thomas-St. John District and opening our doors for the first time since COVID for in-person learning," she said. "We are excited to get them back into an environment where they learn best, and where all of the resources and supports are available for them."
Following the Bowsky tour, the group visited classrooms at Joseph Gomez Elementary School, Joseph Sibilly Elementary School and Lockhart Elementary School.
On March 22, first and second grades, special education (self-contained), and Career and Technical Education high school seniors will return to campuses; on March 29, third grade students will return. Parents may also choose to have their children continue learning from home.