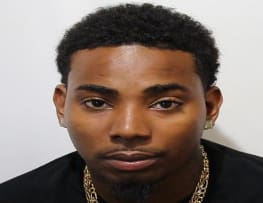 The Virgin Islands Police Department is looking for 23-year-old Tarik Babrow in connection with a shooting incident that occurred Tuesday, March 2, on Veterans Drive, near Cancryn Bridge.
Babrow is a Black male, 5 feet 9 inches tall and weighing approximately 180 pounds. He frequents Hospital Ground. Police described him as being "armed and dangerous."
According to the VIPD report of the incident, a witness reported that someone in a black vehicle fired shots at his vehicle, causing damages. The black vehicle then fled the scene, according to the report.
Police urged anyone who has seen Babrow or has information about his whereabouts to contact police by calling 911, Det. Sgt. Dwight Griffith of the Criminal Investigation Bureau at 340-774-2211 ext. 5640 or the anonymous tip services, Crime Stoppers USVI at 1-800-222-8477 (1-800-222-TIPS).