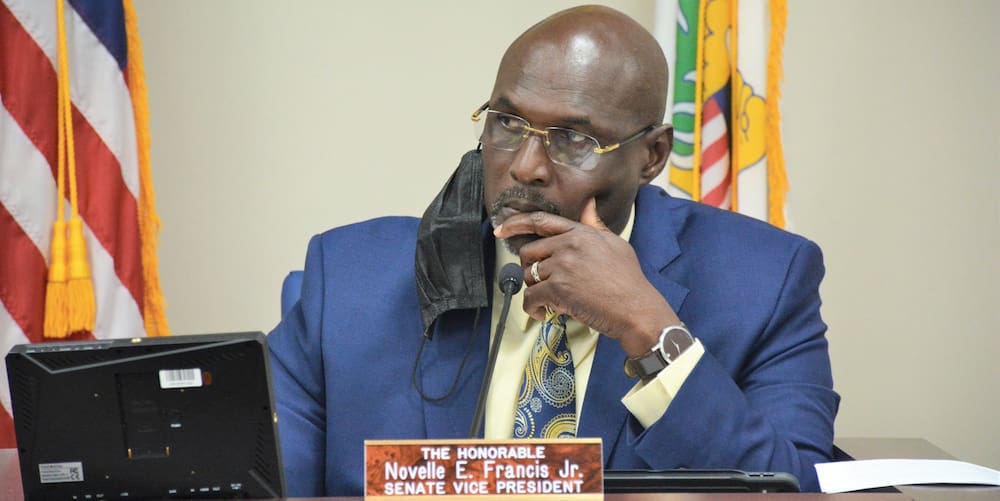 Members of the Senate Committee on Health, Hospitals, and Human Services on Friday began reviewing legislation submitted by Gov. Albert Bryan Jr. to establish the U.S. Virgin Island's first facility for behavioral health, neuro-developmental disorders, alcohol and drug dependency, and substance abuse.
The committee did not vote on the Behavioral Health and Developmental Disability Act during Friday's hearing, the first of two planned for the measure. But Sen. Novelle Francis Jr. noted the importance of acting expediently to reform the territory's mental health system by enhancing services for residents "to address this age-old issue."
The bill, which Bryan announced during his 2020 State of the Territory address, a year ago, attempts to change how mental and behavioral health, including alcohol and substance addiction, are treated in the V.I. It aims to address gaps in services to residents who suffer from behavioral health challenges, mental health disorders, developmental disabilities, alcoholism and drug addiction.
According to Government House, the legislation would establish the territory's first government-run behavioral health, mental health, developmental disability, and alcohol and substance abuse facility. The details of the legislation do not specify whether the facility would be funded out of existing Health Department or Human Services Department funds or some other source.
Funding and moving forward with the legislation has become a matter of urgency, Bureau of Corrections Director Wynnie Testamark said in testifying before the panel of lawmakers.
"The mental health state of emergency in the Virgin Islands means that the Bureau of Corrections is now one of the largest providers of mental health services in the territory," Testamark said.
Roughly 40 percent of all inmates at bureau's facilities receive some form of mental health treatment, which reinforces what the National Alliance on Mental Illness estimates – that between 25 and 40 percent of all mentally ill Americans will be jailed or incarcerated at some point in their lives.
"This mental health state of emergency has had and will continue to have a substantial impact on the bureau's operations. Because of the mental health crisis nationwide, prisons and jails are now the largest institutions housing adults with serious mental health disorders. In fact, the largest mental health hospital in the country is a jail," Testamark said.
The "harsh reality" of the situation is that those suffering from a neuro-developmental disorder and charged with a minor infraction or petty offense, "are brought to bureau facilities by default since there is no long-term treatment facility for the mentally ill in the territory," Testamark said.
"The harsh reality is that those who need mental health treatment the most, especially those who are homeless, don't get that treatment until they commit some offense that lands them in jail," Testamark said.
Inmates who severely suffer from a disorder must be sent off the island to a treatment facility that accrues heavy costs, $475 or more a day depending on various needs, he added.
"Providing adequate treatment and facilities for the acutely mentally ill is a territory-wide problem which manifests itself in bureau facilities," Testamark said.
This problem is hardly new to the Virgin Islands. It existed before the 2017 hurricanes bombarded the territory; in 2016 former Gov. Kenneth Mapp declared a Mental Health Care State of Emergency.
"The topic of behavioral health and the corresponding community needs in respect to this arena has been a major topic of concern for several years. While there have been significant steps to assist in remedying the issues … there remains much work to be done. This bill provides the framework to continuing the work that has already been initiated," Department of Health Commissioner Justa Encarnacion said.
Sen. Samuel Carrion appealed to the public for compassion when encountering people in the territory suffering from a neuro-developmental disorder.
"People are photographing and filming individuals in our community that clearly have some mental health issues. I want to plead, let's stop sharing these images on social media. I know that at times people can find them interesting and shocking and others might find them entertaining. But the truth is that it is cruel." Carrion said. "Not only cruel but it is exploiting people with disabilities in a way that we shouldn't do."
While action on the measure wasn't taken on Friday, Francis said, "We'll circle back as we continue to further this. We are hoping that we will be able to move a comprehensive legislation with all the funding and everything else it requires to address this age-old issue."
Sens. Novelle Francis Jr., Janelle Sarauw, Marvin Blyden, Samuel Carrion, Kenneth Gittens, and Alma Francis Heyliger were present for the hearing, while Sen. Kurt Vialet was absent. Non-committee members were also present.