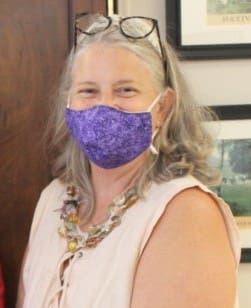 The newly selected chairwoman of St. Thomas/St. John Historic Preservation Committee is encouraging residents to apply for grants to repair historic properties.
Pamela Montegut was named the committee's chairwoman, replacing former chairman Felipe Ayala effective Jan. 12. The committee is part of the Historic Preservation Commission, which is within the V.I. Department of Planning and Natural Resources. Her selection was announced in a news release issued on Feb. 17 by DPNR.
Montegut, who spoke recently to the Source, is also board president for the St. Thomas Historical Trust. She said her passion for history began at an early age under the tutelage of her parents, who were "avid history fans." Under their tutelage, Montegut became a devoted history student. She earned a bachelor's degree in political science.
As the new chairwoman of the committee, Montegut said the position is an opportunity to serve the community, where she has lived for 13 years.
"This has been a wonderful place to have lived," Montegut said. "I feel it is a real privilege to serve the people of the Virgin Islands. I am going to do my best to do that in as fair a way as I can, and I hope to do my best by them."
The purpose of the committee is to spearhead preservation initiatives to maintain historical landmarks for future generations of Virgin Islanders. Montegut said Charlotte Amalie is one of these "unique and historic gems."
Montegut said she is focused on creating awareness for the Emergency Supplemental Historic Preservation Fund's disaster recovery reimbursement subgrant program, which can be applied to through the Department of Planning and Natural Resources website. Clicking the link will download the application.
"I would love to see people apply for that grant," Montegut said. "It is not a hard grant to write and if someone is unable to use it themselves, I hope they would make an effort to approach their neighbors who might be able to benefit from this."
The U.S. Department of the Interior National Park Service has funded the program and the subgrants will be issued for "the preservation, stabilization, rehabilitation and repair of historic properties eligible or listed on the National Register of Historic Places within the Virgin Islands that were damaged by hurricanes Irma and Maria," reads the application.
The program is prioritizing properties located within the National Register Historic Districts of Charlotte Amalie, Christiansted, Frederiksted and Cruz Bay. There are no match requirements for the grant and eligible applicants can see an award from $10,000 to $200,000.
"It is a really meaningful chunk of money that someone can use to fix up their property," Montegut said. "It is a great grant, available right now. I would really like to see some of that grant money go to families who need it a lot, that are in the historic district but have not had the opportunity to fix their homes due to lack of funds."
The application deadline for the grants is March 31 at 5 p.m.