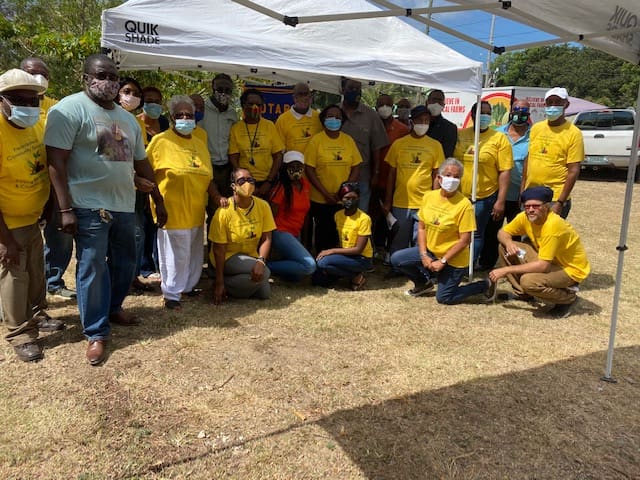 Two community gardens on St. Croix are flourishing thanks to work by the Rotary Club of St. Croix West and other Rotary Clubs who helped secure a substantial Rotary International Global Grant in 2018. The organization awarded the $46,000 grant in 2018 to the two gardens. They released it over three years in an effort to promote and increase knowledge of the benefits of higher crop productivity and increase the community's use of locally grown produce to improve the quality of life.
Rotary Club of St. Croix West and the Rotary Club of Cape Carol, Florida, sponsored the grant. Monday, Rotary of St. Croix West gathered at the Frederiksted Community Garden to celebrate the success story.
President Cheru Ross of Rotary West gave opening remarks and expressed how proud she felt to be a representative of all the past presidents who initially put this action plan into motion to encourage better health practices for St. Croix's people. "As a result, today, we can honestly say that this project has come to fruition," Ross said.
Peppers, greens, tomatoes, lettuce, tea bush, berries and more produce can be found at the market on Fisher Street in Frederiksted.
Agriculture Commissioner Positive Nelson and Sens. Kenneth Gittens, Franklin Johnson and Samuel Carrion gave remarks at the ceremony, supporting the concept of growing food locally and supporting agriculture as a means of helping to improve the lives of the people in the Virgin Islands.
Frandelle Gerard of Frederiksted Community Gardens and Wilfredo Boulogne of Young Bloodz Market and Community Gardens spoke about how the money was used and the positive impact it has had with them being able to plant and produce a variety of crops.
Deborah Howell, a nominee for district governor for Rotary Club, said although the grant is at its end, members of the community should continue to support the garden and go there for fresh produce.
Rotary Club of St. Croix West meets at 6 p.m., every Tuesday, at the Rotary West Community Center in Frederiksted. For more information on the club's initiatives or to join the Rotary Club of St. Croix West, please visit www.rotarystcroixwest.org or like their Facebook page at www.facebook.com/rotaryclubstcroixwest.