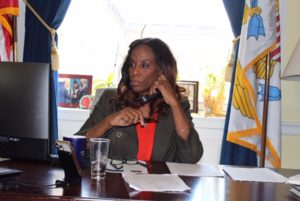 Congresswoman Stacey E. Plaskett announced her appointment to the House Budget Committee:
The Budget Committee's chief responsibility is to draft an annual concurrent resolution on the budget that provides the other congressional committees a framework for spending and revenue levels, the federal surplus or deficit and public debt.  The budget resolution can contain reconciliation instructions directing authorizing committees to change laws in their jurisdiction to change revenues or mandatory spending levels as well as being able to provide mechanisms that aid in enforcing budget procedures in general or for particular purposes.  Democratic Budget Committee members are primarily appointed from exclusive committees and leadership of the Democratic Caucus.
Plaskett said, "I am honored to be chosen to serve on the House Budget Committee in the 117th Congress. I intend to work with my colleagues to craft a budget that strengthens our national security, rebuilds our nation's safety net, reduces income inequality and puts our nation and the people of the Virgin Islands on the path toward a more just and sustainable future.
"As we face a global pandemic, a budget with the right priorities is more important than ever to lift millions out of poverty and reinvest in the needs of our communities. Those priorities include creating millions of new jobs by rebuilding and modernizing our nation's infrastructure, improving education and opportunities for every child, responding to the climate emergency, and building a sustainable green economy future. The work of the committee is incredibly crucial during the beginning of the Biden Administration.
"I'm excited by the opportunities to work hard in these positions of leadership.  At the end of the day, for me, these appointments are about having a seat at the table to advocate for the people who sent me to Washington and who I fight for – the people of the Virgin Islands."