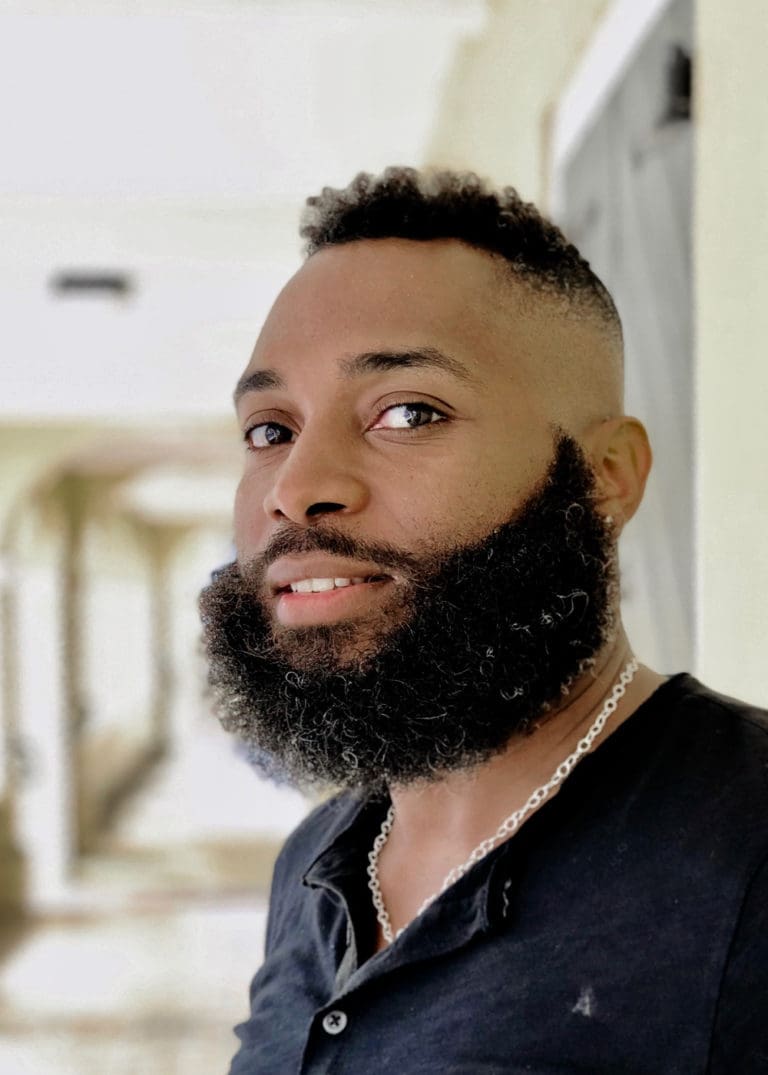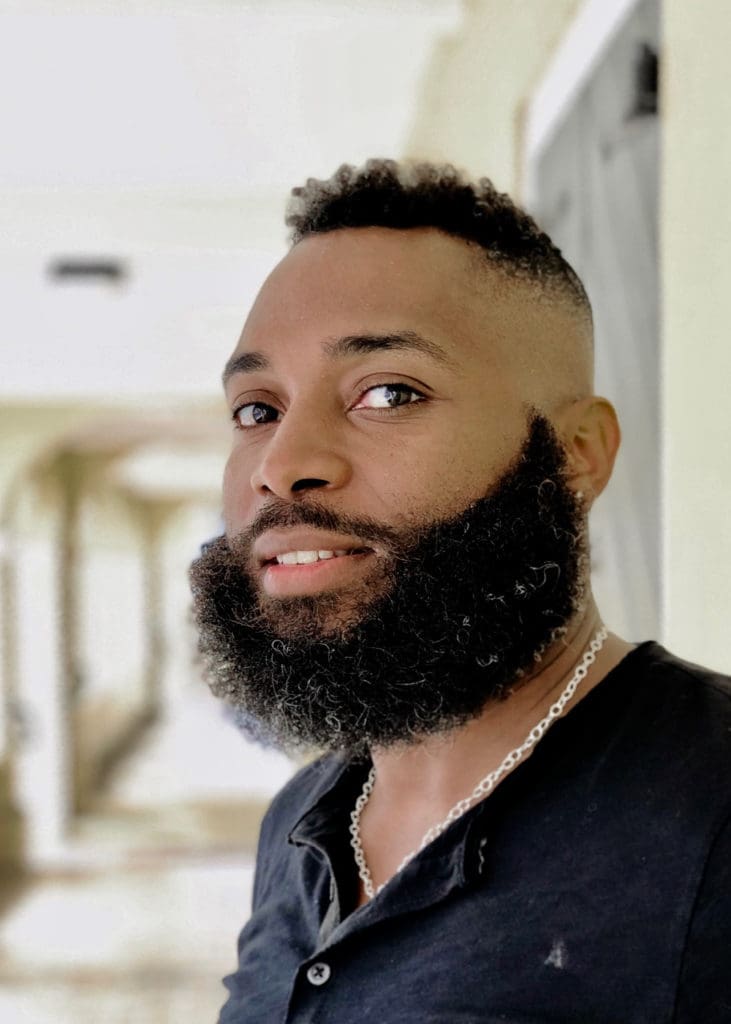 Kemit-Amon Lewis has defied the odds after suffering from a rare medical condition, again becoming a productive citizen of the universe.
"I'm making some pretty good lemonade out of the lemons that were tossed at me summer of 2019," he said.
A marine scientist and dancer, Lewis has worked on projects from restoring coral reefs to turtle conservation, educating fishermen and chefs with his Reef Responsible program to choreographing dance compositions at Caribbean Dance Company.
Lewis' most important project was to survive the rare bacterial infection that has rendered him a quadruple amputee. Determined to live life to the fullest, he has amazed the Broward Health medical team that worked with him "from day one."
After feeling groin pain on July 26, 2019, Lewis developed a fever and had difficulty breathing, which led him to seek medical help. A visit to Gov. Juan F. Luis Hospital and Medical Center emergency room confirmed there was a bacterial infection. When his vitals began to plummet, he was air-lifted to Broward International Health in Florida.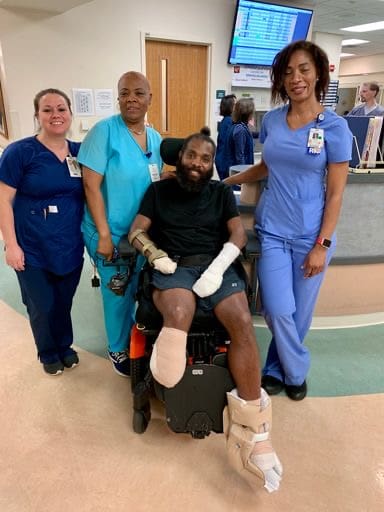 Broward Medical Director Dr. Maxine Hamilton spoke of her first meeting with Lewis.
"We run an international program and take patients from the Caribbean and provide service. We received a call that there was a young person with probable sepsis," Hamilton said.
Lewis was already in an advanced stage of organ dysfunction. This happened within 24 hours of the request at Broward. He was intubated and taken to the intensive care unit.
"That's the condition in which we found him," Hamilton said. "We got to work with all the different abnormalities. He was completely sedated because that was the need for his respiration."
"Kemit and I did not actually meet until he was here four weeks. I got to meet his family, but he was in a medically-induced coma during that initial period."
The first two to three weeks were difficult, Hamilton said. Fortunately, though he was in a coma, Lewis was in the right place, the doctor said.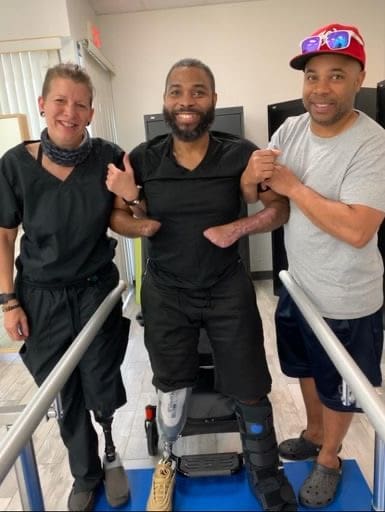 "Our hospital is quite high level," Dr. Hamilton said. "Especially in the ICU and the Cardiac Intensive Care Unit, we rate very, very high level – almost to the point of being able to get you prepared for heart transplants," she added.
Hamilton said she is the medical director who takes care of the hospital's patients.
"I am an internist by training, and we work with multiple specialists besides myself and with critical specialists."
Lewis also had nephrologists, because he was in kidney failure. He had a cardiologist because there were some issues regarding his heart when he first came in, Hamilton said.
"There was a multidisciplinary team. The way it works – we have these medical people on the team to take care of the patient from day one," she said.
"Kemit has exceeded every expectation that we had," she added.
Lewis put it the opposite way, giving the credit to the medical staff that helped him.
"It speaks to Broward more than anything, and to Dr. Hamilton. It's the best of the best that went into the thought, given the fact that I would have to proceed with amputation. … Hamilton and her team insisted that we save as much as we can," Lewis said.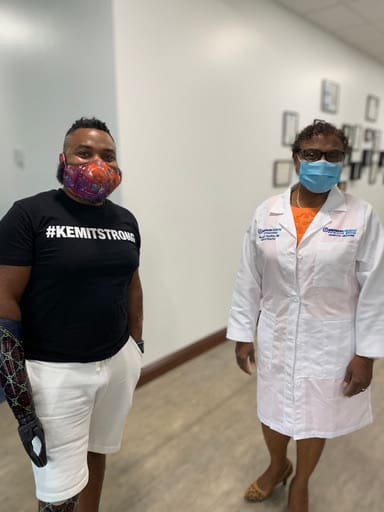 "I am able to drive right now because of the care and thought they put into it. I am convinced that if it wasn't for Broward, I would not be having this interview right now. They see me a lot because I come around. It's out of love and appreciation that, not knowing me, they did as much as they could for me," Lewis said.
Lewis was discharged from Broward on Sept. 14, 2019, and spent two weeks at Broward Health North, their rehabilitation facility, and went to his brother's home only 20 minutes away.
"I'm getting there – I'm doing a dance workshop – doing more choreography than dance but doing a lot of what I did in the past," Lewis said.
It's a lot of figuring it all out, he said, and making it work out as it did in the past.
"One of the things Dr. Hamilton did when I first woke up was to assure me that I would be back in the water, back on the tennis courts and dancing again," Lewis said. "I'm moving in that direction now."
Lewis makes things work, he said. If he needs help, his brother is not too far away. There are also people close to help.
"We see each other every Sunday and one or the other of us will cook dinner. We rotate between my mom Maria, my aunt Carmen, my brother Antonio, his wife Leah and me."
Broward's Public Relations Specialist Fara Arca spoke about the hospital's international program, which played a key role in Lewis's story.
"We do have a dedicated, international team. Broward Health is one of the 10 largest U.S. health care systems. We have five facilities. We are the international division for the entire system. We have a 24/7 team, actually located in the most advanced technical place for the system," Arca said.
"What that means is we can provide a response as quickly as possible. So when we received that first call for the need for Kemit to be transferred, we were able to respond in less than an hour." That is critical, Arca explained.
"Timing is key in this type of situation where we are able to contribute to saving someone's life. In this case, our team was very quick to respond, able to bring Kemit to our facility," she said.
"We have a dedicated team. Not just a clinical team that Dr. Hamilton leads, but we have an entire team of hospitality representatives and case managers that follow the patients throughout their journey. So for Kemit and his family, that played a very important role for the support we can provide," Arca said.
"You can imagine being from somewhere else and then suddenly you wake up here in South Florida and this is not your home. Our team tries to do its best to make both the patient and the family members feel at home. It's all about the patient's experience. It's all about those details and the communication that happens on a daily basis."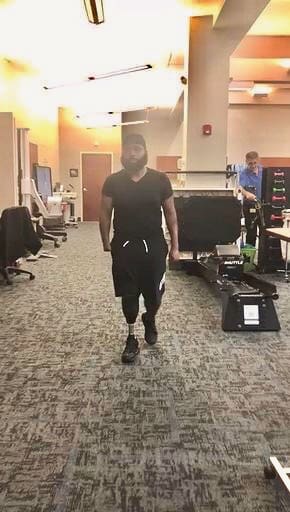 "Thank you, thank you, thank you Dr. Hamilton and the team at Broward Health, to Cristina Cardona and Fara Arca and all the others that are helping to share the story," Lewis said. "Hopefully it will encourage others. I've said it before but I'm making some pretty good lemonade out of the lemons that were tossed at me summer of 2019. Thanks to a lot of different people – including Karisma Elien, and Nadia Bougouneau, Christiana Williams and Jendayi Setorie-Collingwood, the entire island of St. Croix and the network of people I have around the world sending good wishes and love and prayers and good energy. That played a big role in me being here and doing what I'm doing now."
Attitude is important, Hamilton said, crediting Lewis for his spirit.
"Kemit's spirit is very bright," she said. "When we, as the treating team and treating physicians, realized that he might have some disabilities associated with the outcomes, although there were good outcomes, there were some things we were not happy with. His positivity led us to be confident and to push and to try to also work with him to limit any disabilities that might have arisen."
"So we tried, and as the obstacles came up, we tried to find the best solution. We were moved by his input and his spirit. He wanted to do well, so we wanted him to do even better. And then he wanted to do better, so it was a team effort. As physicians, we treat the patient and sometimes the treatment and the medications take you this far, but there might be the human interaction, as Kemit said, 'We should not underestimate the power of the spirit and the spiritual.' So that complements the physical that we do, and that's what led to this profoundly positive outcome that we're seeing today," Hamilton said.
Arca added that it wasn't the Broward team acting alone.
"What's important, as well, is the partnership we have with the providers in the islands," she said. "We work with them all the time. It's important the collaboration, the partnership we have with the islands. We are sisters to St. Croix and St. Thomas. We're pretty close and we're here to help. That's what has helped us to forge our relationship," Hamilton said.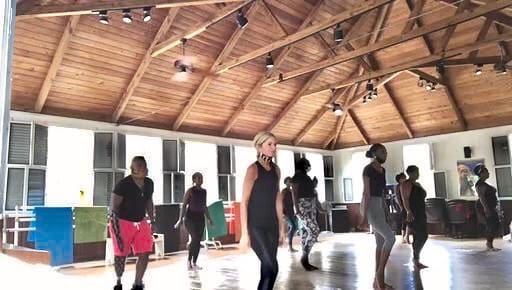 Lewis has been busy working on a project with Paloma McGregor's "Building a Better Fishtrap." It's more than just dance, he said.
"It's connecting individuals from different places in the world. The fish traps that her father built on St. Croix, that allowed him to bring fish home, is the background for this project," Lewis said.
Lewis also launched his in-person/virtual art show on Nov. 19, which was seen through Dec. 18 at the Cafe Christine Gallery. The "silent" auction of 12 photographic prints of Lewis' Egypt trip was on display and for sale. The proceeds will go towards a new prosthetic left hand for Lewis to replace the hook he presently uses.
Although the fundraiser was successful, the proceeds of $3,500 did not come near the amount that Lewis will need for the prosthetic that will allow the change in the grip pattern.
"Additional funds are necessary. There's a possibility that vocational rehabilitation might assist with some of the costs," Lewis said. But right now, his attention is focused on returning to work and continuing in his field.
"I've been doing job searches online. I'm tossing my hat in the ring," he said. He wants to be able to contribute to the $96,000 cost for his left hand.
Lewis started 2021 celebrating his 38th birthday on Jan. 12. He is optimistic.
"I'm feeling like I'm really productive," he said.
Lewis can be reached by email at kemitamon@yahoo.com. He also is on Facebook.