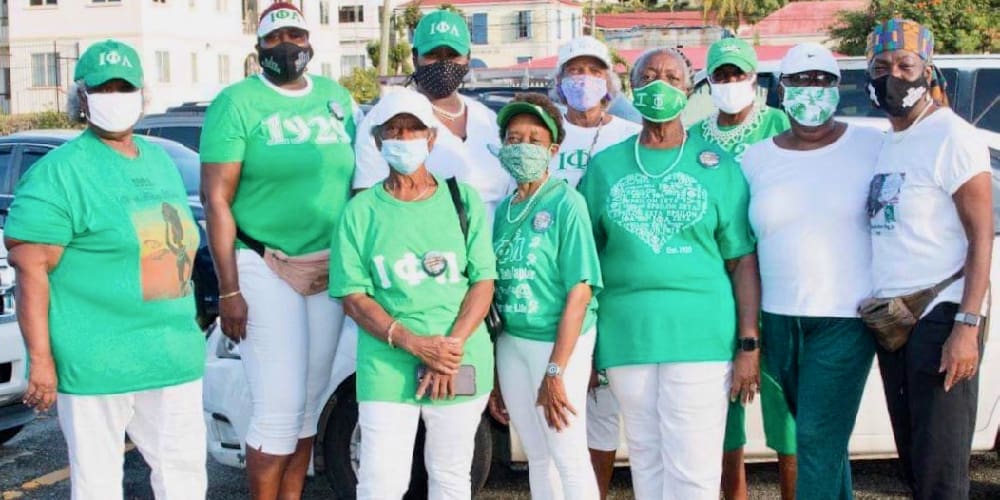 The walk is an annual event held in remembrance of Martin Luth King Jr.'s legacy, and it frequently accompanies other service and commemorative events held in observance of Martin Luther King Jr. Day, which was first acknowledged as a public holiday in the U.S. Virgin Islands in 1970, making the territory the first in the nation to do so.
The walk was organized by Leniese Mercer, the Black History chairwoman for the Iota Phi Lambda Sorority Epsilon Zeta Chapter and director/instructor of the Ulla F. Muller Bamboula Dancers and Drummers.
This year's walk began in the Fort Christian parking lot, with a prayer and ceremonial conch shell blowing by Mercer and guest Jamie Mills. Afterward, participants maintained a safe distance between each other as they walked to Havensight and back to Fort Christian. Many of the walkers came dressed in emerald green and white, the colors of the Iota Phi Lambda Sorority.
Mercer has been the sorority's Black History chairwoman for three years, directed the Bamboula Dancers and Drummers for seven years and been an elementary educator for 26 years.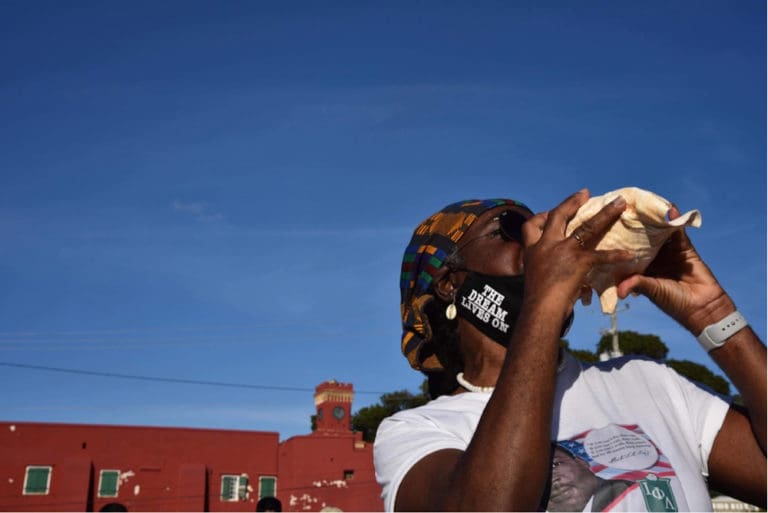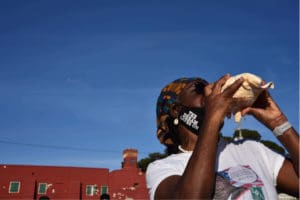 Previous marches have had more than 100 participants, with many of those participants being students at Ulla F. Muller Elementary School and members of the Bamboula Dancers and Drummers. In consideration of the student's safety during the ongoing pandemic, Mercer forewent encouraging their participation and made additional changes to protect the safety of the adults who participated.
"Planning was challenging because I usually include the children from the school. For their safety, they could not participate, and so I had to plan it in a way where we could still continue the walk. This year it is also dedicated to the students who wanted to participate," Mercer said.
Since the start of the pandemic, many adjustments have been made to protect the students' safety while still granting them opportunities to practice and perform Bamboula. Dancers and drummers alike have participated in virtual events such as the Dollar fo' Dollar tour.
Previous walks have continued despite other major obstacles. In 2018, a Freedom Walk was planned and held despite the recent Hurricane Irma and Hurricane Maria.
"We will have to wait and see what things are like next year with the pandemic, but we still plan to have the walk. The goal will be at least 15 people. The walk will continue so long as I am at Muller School and with the sorority," Mercer said.