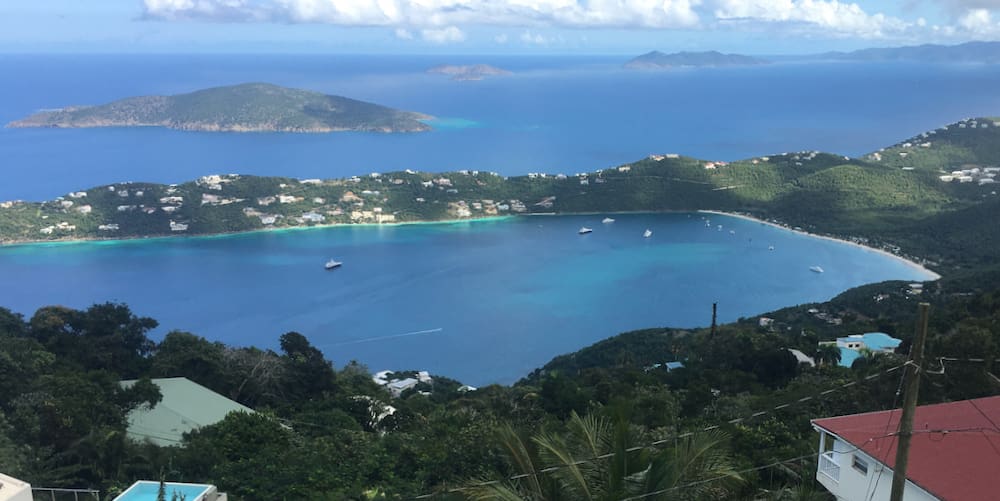 As more and more charter yachts seek harbor in Magens Bay during the COVID-19 pandemic that has prevented them from traveling to neighboring Caribbean destinations, the authority that governs the beach park is facing new headaches.
Not least among those is how to monitor exactly who is aboard those vessels and perhaps coming ashore, the Magens Bay Authority board of directors heard at its monthly meeting on Friday, held via Zoom.
Other issues included how to monitor the yachts' garbage disposals and how to collect the $5 admission fee when their passengers come ashore to use the park's bathroom and shower facilities, General Manager Hubert Brumant said.
With the exception of local fishers, Magens Bay is not a designated long-term anchoring or mooring area, even under Gov. Albert Bryan Jr.'s executive order that granted boaters safe haven under U.S. flag protection when pandemic shutdowns first began last March, according to the Department of Planning and Natural Resources, which regulates boaters in the territory.
As the pandemic drags out, however, more and more yachts are anchoring short-term in Magens Bay, creating issues for the park's security personnel and its lifeguards, who are tasked with explaining the rules and regulations to boaters, including the fees for garbage disposal and facility use, Brumant said.
The general manager said he has contacted U.S. Customs and Border Protection after growing concerns about passengers coming and going with luggage, and DPNR to ensure that the vessels and their passengers are indeed registered.
Under DPNR's pandemic rules, all vessels currently anchoring or seeking to anchor in USVI waters must obtain a short- or long-term anchoring permit, register through the government's travel screening portal and produce a negative COVID-19 test, just like air arrivals.
Brumant said Customs and Border Protection told him to call any time he suspects a problem, and DPNR assured him that it keeps a list of vessels and their occupants and visits bays weekly to make sure boats are on the department's manifest.
However, Brumant said DPNR is not necessarily equipped to make spot visits, in part because of staffing or because they do not always have a vessel available, but also because the boat trip from Crown Bay to Magens Bay is time consuming. He said the department has floated the idea of purchasing a jet ski to store at the park that would also help it monitor other bays on the North Side of St. Thomas.
As Brumant sought guidance from the board, Secretary Elliott "Mac" Davis questioned whether under maritime law the authority can levy beach entry fees on people who arrive by sea.
"As long as they come in a dinghy, we are charging them because they use the facilities," said Brumant.
"Let's not forget, Magens Bay is being used as a marina," said Chairwoman Katina Coulianos, who suggested the park consider creating a new, short-term pass just for yachts to help alleviate the issue of collecting fees every time a passenger comes ashore to use the facilities.
Or, as Davis pointed out, missing out on fees entirely because some wait until dark to dispose of their garbage to avoid paying at all.
The authority is close to launching a new online payment system, which should go live in February or early March, which would make it easier for boaters to comply with the rules, Coulianos said.
Board member Barbara Petersen also reminded everyone that the V.I. Police Department has a vessel and is responsive, recalling a recent incident when a boat came ashore at Magens Bay, dropped off passengers and left. "We should reach out to them as well. They do have a unit in the water," she said.
In the end, the board agreed to invite DPNR Commissioner Jean-Pierre Oriol to its February meeting to develop a memorandum of understanding regarding boaters, and also to discuss whether the authority can receive a weekly manifest of the yachts in its bay.
The board also passed a motion by member Dayle Barry, delineating its policy of charging fees to people who arrive at the beach from vessels anchored in Magens Bay to use the park's facilities, until such time as a legal challenge is successful in striking it.