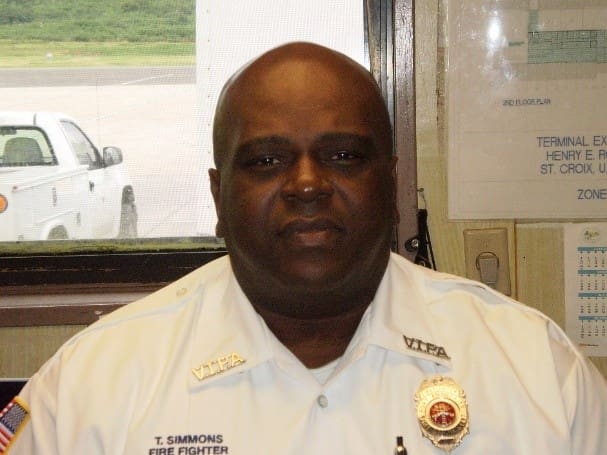 Tyrone A. Simmons, also known as "T-Bone," of Estate Cane Carlton, Frederiksted, died on Dec. 21, 2020.
He was preceded in death by his father, Orman A. Simmons; and mother, Cecilia C. Benjamin.
He is survived by his fiancé, Brenda Durand; daughter, Subbrina S. Vazquez; son, Tyrone A. Simmons Jr.; brother, Edgar Simmons; sister, Saadia Simmons; grandchildren: Saiah Vazquez, Ty'Onna Simmons, Grace Williams, Ty'Asia Simmons and Tyrone Simmons III; uncles: Roy Oliver and Mark Oliver (cousin); niece, Anaadia Simmons; and nephews: Denzel Simmons and Daisjon Boykin Edgar Simmons Jr.
He is also survived by his honorary brothers and sisters (Airport Fire Fighters and Ramp Controllers): Susan Stevens, Sarah Perez, Raheem Samuel, Roger Lamothe, Rumina Laurencin, William St. Louis, Allan Mathurin, Mavin Mclene, Curtis Sigobin, David Clarke Jr., Lionel Williams Jr., Arnold Payne, Sophia Albert, Jerell Lewis, Cheyenne JnBaptise, Fitzroy Tutein (Ret.), Bevon Nicholas (Ret.), Corbin Webster (Ret.), Shawn Sutton (Ret.), Vidal Fuentes (Ret.), Glynn Theodore (Ret.), Phillip Ruiz (Ret.), Juan Encarnacion (Ret.), Robert Bryan (Ret.) and Keith Garcia.
Other survivors include special friends: Connie LaVille, Candido Elias Jr., Scholastic Stoute Donaie and Leslie Hawkins; as well as other family and friends too numerous to mention.
The viewing will take place at 9:30 a.m. followed by a funeral service at 10 a.m., Friday, Jan. 15, at the Henry E. Rohlsen Airport Fire Station. Interment will be at Kingshill Cemetery.