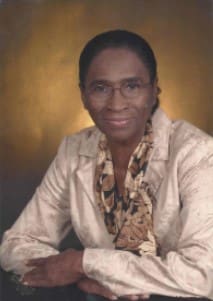 Iona Agneta Jackson, Ph.D., was born on the beautiful Caribbean island of Anguilla on Oct. 9, 1940.  Iona passed on to her peaceful rest on Dec. 3, 2020.  She was the second child of seven children to the late Charles Harvey Hodge and Beatrice Adothia Fleming Hodge.
She was preceded in death by her loving husband and best friend, Franklin E Jackson Sr.; brother. Osward Hodge; and sisters: Lilian Kathleen Flaharty and Clorisia Nibbs.
She is survived by her six children: Derry Jackson, Carol Cress, Franklin Jackson Jr., Sheryl Thompson, Sherna Martin and Dr. Shernette Kydd.
At an early age, Iona professed her faith in Christ and lived every day in full commitment to her Lord and Savior.  It was her desire to reflect and reveal Christ to the world.  Her passion was service; her desire was to introduce to Him anyone who came into her life.
It was also at a youthful age when Iona demonstrated her career interests in being a teacher.  In 1980, she went on to earn a Bachelor of Arts in Elementary Education at what was then titled the College of the Virgin Islands.  Iona taught in both the private and public sectors of education.  She also taught adult basic education to those seeking their GED certificates.  Iona enjoyed watching the eyes of her students light up with excitement as she brought life to the images her students read about in their daily lessons.
She was excited when her students' passion to learn was ignited so much so that they didn't want to ever leave class and go home.  Many of those students today are professionals who span a variety of disciplines and industries: political, medical, business, financial, legal, education, engineering and social care, just to name a few.  She also taught piano to many, some of whom are now accomplished musicians.
In June of 1999, having served in the community for 37 years in the area of education, she retired from teaching in the public education system. However, her retirement was not to one of sitting around her home.  Instead, she continued teaching; only this time she focused on her piano studio and investing her time in building a Kingdom Life, one focused on humanitarian acts and bringing the knowledge of Christ to all.
To be closer to her children and their families, she relocated from the Virgin Islands to Arlington, Texas, in 2001 and immediately continued with her interests in piano teaching and humanitarian opportunities.  Giving of herself, her time and her resources brought her great joy.  While in Arlington, she helped sponsor the construction of a church and the Christian education of many children.
To witness first-hand the life of a woman, a mother, a faithful warrior was one of the many blessings her children experienced.  The transformative effect of her legacy is one that many will continue to experience.  We now prepare to learn to live day to day with her memories.  She will be greatly missed.
The first viewing will be held from 3-5 p.m., Monday, Dec. 21, at Turnbull's Funeral Home and Crematory Services. The second viewing will be held at 9 a.m. followed by a service at 10 a.m., Tuesday, Dec. 22, at Shiloh Seventh-day Adventist Church. Interment will be at Western Cemetery No. 2.