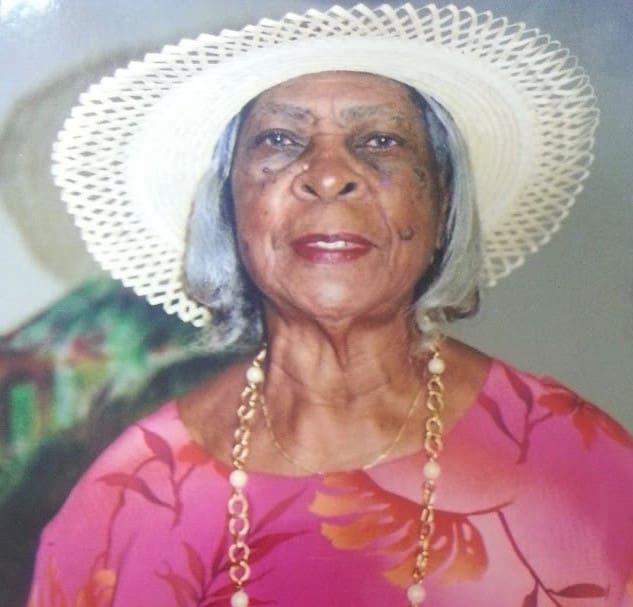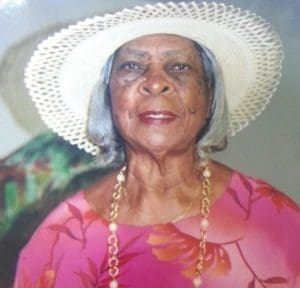 Leona Maria Garvey of Frederiksted. St. Croix, died on Nov. 17. She was 96 years old.
She is survived by her daughter, Gloria Garvey; son, Lloyd Garvey (Cynthia); man of business/great nephew, Alvin M. A. Milligan; grandchildren: Che' Lugo (Tonya) and Ristan Trim; great-grandchildren: Micaiah Lugo, Byrum Scribbner, Kahil E. Garvey Evans, Zharya Calhoun-Lugo and Zahir Calhoun-Lugo; godchildren: Alvin M. A. Milligan, Kiture Burke Jr., Theresa Scott, Paul Williams, Reuben Krauser Jr., Yancy Barton, Lionel Barton, Karima Javois, Marvin Lawrence and Errol Garvey; spiritual daughters: Lynell Barton, Blondell Baltimore, Jennell Petersen, Janet Liburd, Cheryl Thomas, Janiece Todman, Patricia Wilson-Christian and Mary McIntosh; spiritual grandson, Terrell Shaw; nephews: Henry Sr., Kenneth A. and Granville Milligan Jr.; nieces: Marcia, Germaine, Marjorie and Florette Milligan, and Patricia Smith-Hicks; cousins: Norman Carr, Debbie Reese and Mildred Jackson-Petersen; adopted sisters: Maria Samuel, Meryl Maynard, Rita Powell and Josephina Nieves-Munoz; and special family members/friends: Shania, Aleeyah and Amadeo Milligan, Miriam Milligan, Henry Milligan Jr., Kenneth G. Milligan, Trinisia Milligan-Jones, Halik Milligan, Hanif, Kamal and Kenoy Wathey, Thema and Themal Lake, Roy Vialet Sr. and Roy Vialet Jr., Senator Kurt and Wanda Vialet, Shakirah and Jelani Ritter and Sherika Ritter-Bartley,
She is also survived by other special family/friends: Raynisha Ritter, Howard Milligan, Maureeke Greenidge, Jason and Jahlequah Forde, J'Niequah Graham, Joyce Stanford, Ethel-May Mulligan, Tylon "TJ" Evans, Albert and Maria Schuster, Josephine B. Hector, Dorothy Williams, Bill Lindsay, Lynton and Josephine Bruce-Wiltshire, Bernard Brunn (man of business No. 2), Shirley Clendinen, Bradley and Patricia Christian, Paula Farrell-Powell, Nellie Williams, Louise James, Mae-Louise Williams, Isabel Prince-Tuitt, Valerie Greenidge, Inez Williams, Icilma Christian, Florabel Miller, Agneta Bailey, Debra Ross, Rev. Dr. Dion and Eulencine Christopher, Almira McIntosh, Ineatha Greene, Sister Florine Bailey, Father Patrick Lynch, Father Boniface Blanchard, Millennium 2000 Choir, Doreen Depusoir, Rose-Ann Taylor, Therese Duval, David and Palmyra Benjamin, Charles and Audrey Farrell, Jose "Papo" Lopez,  Corinne Milligan, Mario Richardson, Emile Henderson III, Marlene Henderson, Richmond Senior Center, Department of Tourism staff, Ruth Barton, Rudy and  Edna Abramson, Anastasia Doward, Curtis and Magnolia Williams, Mildred Senthill, Agnes Lang,  Jeanne Garcia, Gerry Doward, Dutchelle Drummond, Clarissa Messer-Petersen, Gloria Joseph, Maude Roberts, Inez Harris, Dee Harris, Norma Allick and St. Patrick's Catholic Church.
Other survivors who are special family members/friends  include: Father Michael McGee of Holy Family Catholic Church in Brooklyn, New York, Friedensberg Moravian Church family, Elizabeth Dawson, Eleanor Sealey, Sister Mary Desari, Sister Claina Letang, Bernadine Christmas, Sisters of Charity (Holy Cross Parish), Arlene Abrahams, Vincent and Esther Urgent, Ann Liebert, Whim Gardens staff/ Residents, Wendy Mathurin, Ruth Lang, Laurelleen Edney-Knight, Justina Edney- Rawlins, Bernadette Williams, Betty Lynch, Betty Wilson, Patricia Browne, Louisa Joseph, Naomi Osorio, Bernadette Williams, Ruby Adams, Thelma Springer, Mary Henderson, Loretta Belardo, Pearl Seales-Miranda, Violet Chapman, Mary Abbott, Jeannette Rouss-Cochrane, Sandra Heywood, Sylvia Gibbs, Sheila Gotha, Michelle Hurley, Barbara Lancaster, Roy and Joy Williams, Debra Ross, Four Season Nursing Home/Rehabilitation Center 2nd and 3rd floor staff, Nurse Carl, Apostle Anna B. Thompson, Pastor Crystal Franklin, Pastor Joyce McLaurin, Michael Vanderpool-Garvey, Deacon James Losey Jr., Susan Charles, Ettiene Derricks, Marilyn Christian, Gene "Spanish" Anderson, Elwood "Woody" Canton, Antonio Acevedo, Lucy Carty, Sarah Gordon, Henry Weis, Gwendolyn Lucas, Daphney Davis, Dorothy McCoy, L. Augustin and Dianne Henderson, Michelle Hurley, Vertilee B. Daniel, Anselmo and Joyce Heyliger, Ann Doute, Patricia Sackey-Dublin, Julia Pankey, Jacqueline George, Venetia James, Maria-Joy Thomas-Lewis and Iona Williams; as well as other relatives and friends too numerous to mention.
A viewing will be held from 4-6 p.m., Thursday, Dec. 3, at James Memorial Funeral Chapel.
The funeral service will be held at 10:30 a.m., Friday, Dec. 4, at St. Patrick's Church (St. Gerard's Hall). Interment will follow at Frederiksted Cemetery.
The family respectfully requests that attendees wear a face mask and adhere to the social distancing requirements.