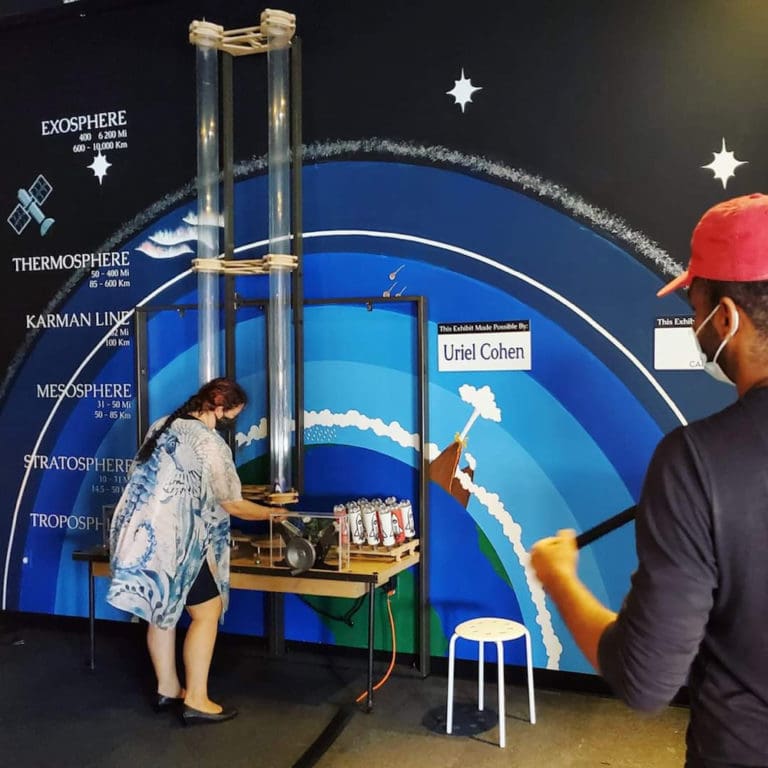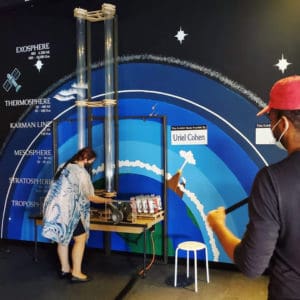 From the covered entrance of the V.I. Children's Museum on St. Thomas, visitors can see the near-empty Havensight shopping mall and the barren West Indian Company cruise ship dock, a reminder of how COVID-19 has made its presence known in the territory.
But at the top of the stairs, looking toward the mall, a colorful pinwheel spins – a sign that a children's discovery space is alive and well, in part because the museum has adopted the concept of travel pods to deal with the pandemic.
Since the museum reopened in September, following Gov. Albert Bryan Jr.'s COVID-19 shutdown August stay-at-home order, 272 people have passed through the entry doors, according to Executive Director Chantel Hoheb. Programs Director Amber McCammon said planning helped to accommodate those visitors.
"We developed this phased timeline of reopening," McCammon said. "I'm not expecting to see as much tourist traffic this year. We're not talking walk-ins, so that might affect how we interact with tourists."
Instead, the museum turned to travel pods, a concept which was explored in an April article in Forbes Magazine as the COVID-19 pandemic got a foothold in the U.S. mainland.
The article describes a system by which small groups of travelers – related or unrelated – agree to follow pandemic safety guidelines, then join group excursions to book yacht trips, villa stays, guided tours and exhibits.
To arrange visits to the V.I. Children's Museum follow the travel pod protocols outlined on the VICM website.
Members and non-members can book a time slot with a 20-person (including children) limit per scheduled pod.
WHAT TO EXPECT WHEN YOU ARRIVE:
– You will need to ring the bell or call 340-643-0366.
– Be sure to give the name of the person that booked the visit.
– Be prepared to show your valid membership card.
– Be prepared to have your temperature checked.
– Please use the hand sanitizer at the entrance or wash your hands before play.
"All group visits must be scheduled on our website; groups are limited to 20 people. After each visit, our staff does a thorough cleaning in preparation for the next group," the description says.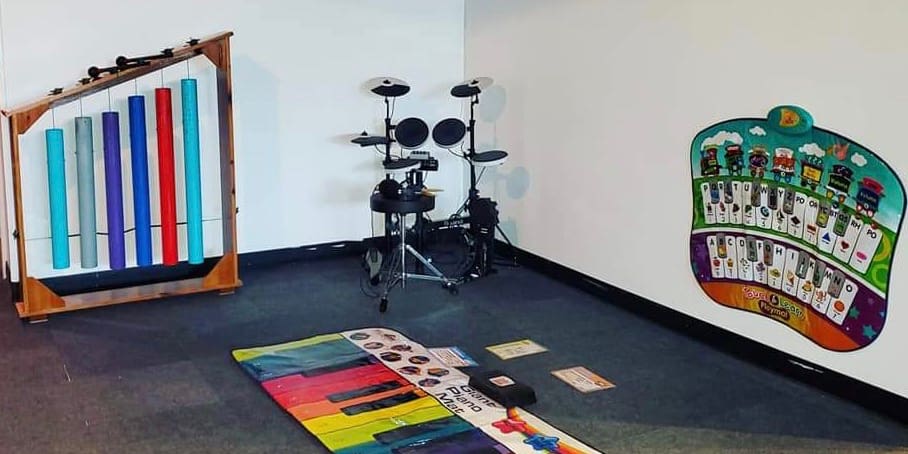 For St. Thomas parent Katrin Braddel, the phased timeline visits have been "a real lifesaver" through the social distancing restrictions brought on by the pandemic.
Braddel said she and her 2-year-old joined other mothers with kids to form their pod and enjoy 90 minutes of interacting with the museum's exhibits. Her daughter, she says, likes the music station.
Since September, she said, the mother and toddler team have made it there five times.
"We booked the time around 10:30 and they're running around. Parents are calling each other and saying the kids had a good nap because they got all of that energy out," Braddel said.
McCammon and Hoheb add that the experience is not limited to museum members. Families using SNAP cards or who are enrolled in the Electronic Benefits Transfer program are eligible for discounted admission – $2 instead of the usual $8 per person for a family of four.
Besides the hands-on exhibits, including an air rocket demonstration, the museum has partnered with outside groups promoting citizen science and other activities. In time for Halloween in October, there was a Bat Week Art Challenge. Earlier in the month, museum visitors and others were invited to join the Great V.I. Frog Count.
Both activities were carried out with help from V.I. Wildlife Research.
And for children who cannot make the trip, the museum partnered with the Community Foundation of the Virgin Islands this year to produce and distribute home discovery kits. The first set of kits, released in July, promoted concepts related to water science, with lessons geared for early learners. In September, there were kits designed for use by middle school and high school students.
Distribution of enhanced learning kits on St. Thomas, St. John and St. Croix has been aided by groups like Catholic Charities and the Boys and Girls Club.