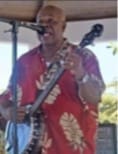 Mahlon Pickering has died.
The first viewing will be held from 9-10 a.m. on Saturday, Nov. 7, at Nazareth Lutheran Church on St. John with a service to follow at 10 a.m. Interment will be at Cruz Bay Cemetery.
He is preceded in death by his parents: Ovilda Henley and Albert Pickering; his sisters: Doris Samuel and Daisy Callwood; and his grandson, Kelvin "KJ" Pickering Jr.
He is survived by his brother, Elroy Henley Sr.; sister, Patria Thomas; children: Kelvin, Tonya, Antonio and Leah Pickering; grandchildren: Ky'Laine Rogers, Ky'Metri and Ky'Mona Pickering, Rashaad Lanclos and Monyae, Dominique and Antonio Pickering Jr.; as well as many nieces and nephews too numerous to mention.