The Virgin Islands Children's Museum is an interactive educational space where dynamic play inspires a love of learning outside the walls of a classroom. As a result of the COVID-19 pandemic, the museum was closed for seven months but is now open to the public. To maintain the safety of its staff and visitors, visits must be scheduled on its dedicated website page at https://www.vichildrensmuseum.org/book-online.
Children are especially inspired to learn and explore when their parents take part. Most exhibits appeal to children ages 2-12; however, older youth and people of all ages benefit from quality time with family in unique environments that allow them to expand critical thinking skills while engaging with each other in a fun, immersive learning experience.
The VI Children's Museum is a 501 (c)(3) non-profit organization located on St. Thomas in Buccaneer Mall (next to Urban Threadz). The museum is wheelchair accessible and parking is available.
Visits can be scheduled between Tuesday and Sunday; available time slots are 10 a.m., 1 p.m. and 3 p.m. Each group has 1 1/2 hours to enjoy the museum until the staff performs a deep clean in preparation for the next group. When visitors book a visit, they are securing private playtime for the family and friends that come with that visitor (your pandemic pod); no other groups will be allowed into the museum during that scheduled visit.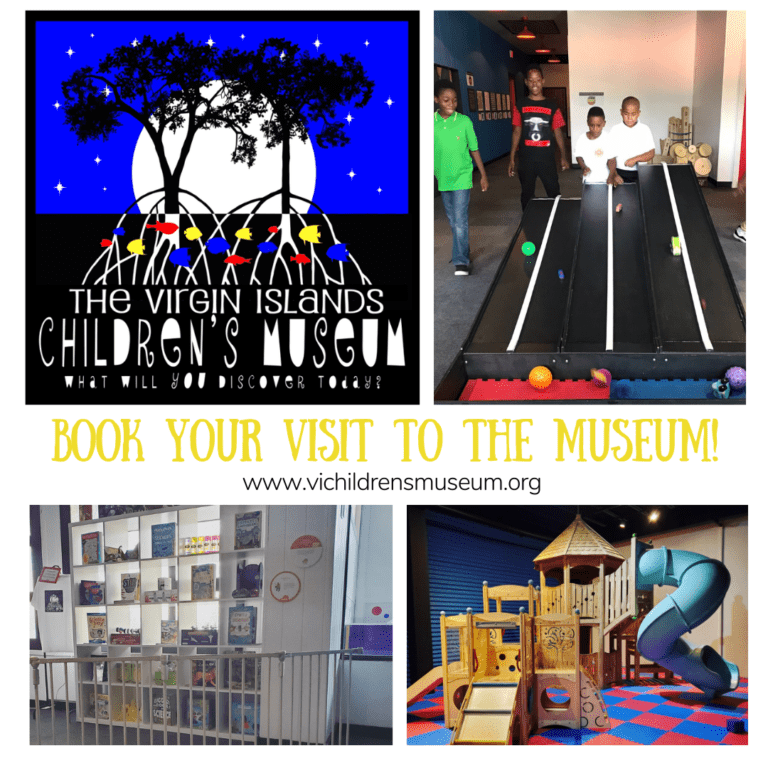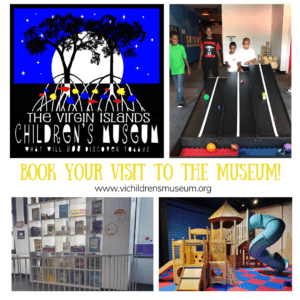 "The safety of our staff and visitors are our top priority," said Chantel Hoheb, the museum's executive director. The number of visitors in the museum has been limited to 20 people at a time. "Although we are still in the middle of the pandemic with so much uncertainty, it was important for us to open for members of the community who wanted a safe space for their family to play and explore together. It was also important that we get our staff back to work so they can help support their families."
As before, current members don't pay each time they visit the museum, and non-members pay the regular admission rate of $8 per person for everyone over 2 years of age. What's new is the cleaning fee that the museum has implemented to help offset the cost of disinfecting cleaning supplies.
"This is all still so new, and we're trying to find the right balance between remaining accessible to everyone and being able to cover our expenses. Even in department stores, the demand for cleaning products has skyrocketed and so have the prices," said Hoheb.
At first, the VI Children's Museum charged a flat-rate fee for each group that booked a visit. Due to no shows and cancellations, the museum will now be requiring a deposit of $10 to book a visit, which will be applied towards the cleaning fee. Groups of five people or less will be charged a $10 cleaning fee. Groups that are 6-20 people will pay the balance of the cleaning fee at $2 per person up to $20. For example, a group of eight who have already paid their $10 deposit will only have to pay a balance of $6 when they arrive at the museum.
As a member of the Association of Children's Museums, the VI Children's Museum encourages all Virgin Islanders to experience the museum regardless of their economic status. The Museums for All program, currently supported by the Community Foundation of the Virgin Islands, offsets the cost of entry for lower-income households.
Visitors that receive food stamps (EBT cards) can visit the museum at an admission rate of just $2 per person (up to four people) once they present their card and ID (cleaning fees apply at this time). Everyone deserves an opportunity to learn through play!
Wondering how to support the VI Children's Museum?
1.) Supporters can purchase a membership for their family or gift one to a family in need. Click here for more info on memberships, https://www.vichildrensmuseum.org/membership
2.) Invite friends and family to visit the museum and support the gift shop.
3.) Visit the website and click the DONATE button at the top of the page.
4.) Supporters can visit GlobalGiving and donate to one of the museum's projects; https://bit.ly/3jCr1pS  or https://bit.ly/3jCOG9Y
5.) Companies and individuals can mail donation checks to the Virgin Islands Children's Museum, P.O. Box 304457, St. Thomas, VI 00803, or call 643-0366 during operating hours to donate using a credit card.
Be sure to follow the VICM on social media networks for updates and information.
www.facebook.com/vichildrensmuseum