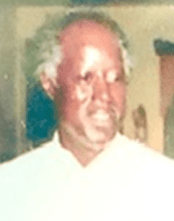 Leroy A. Henry, also known as "Dandy Babes," died on Oct. 7. He was 69 years old.
He was preceded in death by his spouse, Mary Carty Henry; parents: Iona Henry and Aldolphus Henry; and brother, Leslie A. Howard.
He is survived by his daughters: Jola Henry-Warden, Hilda Henry-Phillip, Markia Henry and Iona "Sunshine" Henry; son, Elijah "Shaka" Henry; grandchildren: Dante' Henry, Jahmanie, Jahmarie, Jazaraha, Janiaha and Jahmarley Warden, Shawniqua, Shawniya and Shaquan Phillip; sisters: Lilia A. "Lydia" Hendricks, Merna Henry-Krauser, Joan Henry- Petersen and Claudette Henry-Vanterpool; and brothers: Lesmore, Roy, Richard and Kenneth Howard.
He is also survived by nieces: Barbara D. Howard, Tisean T. Hendricks, Laurene Krauser Jacobs, Janelle Petersen, Lydia Howard- Payne, Keisha Vanterpool, Valencia Brown, and Sasha, Peya and Nneka Howard; nephews: Floyd "Bomba" Howard, Major Retired Leslie A. Howard Jr., Dexter L., Kacy A. Hendricks, Deron, Raymon, Ronald, Richard Krauser, Mario A. Petersen Jr., Denise Vanterpool Jr. and Leon Howard Sr.; as well as other relatives and friends too numerous to mention.
The viewing will take place at 9 a.m. followed by a funeral service at 10 a.m., Wednesday, Oct. 28, at Turnbull Funeral Home. Interment will follow at Western Cemetery.
The family respectfully requests that attendees wear a face mask and adhere to the social distancing requirements.