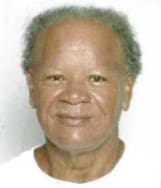 Ishmael Hodge, better known as "Ish," died on Oct. 2 at Roy L. Schneider Regional Hospital on St. Croix.
He was survived by his wife, Patricia Hodge; daughters: LuAnne Hodge and Tamara Hodge-Wells; grandchildren: Jelani Donovan, Aasha Wells, Molefi Donovan, Rayna Wells and Senay Wells; brothers: Alfredo Delville, Ira Delville and Earl "Bob" Hodge; sisters: Ivy Baker, Beulah Hodge, Dorothy Malone, Antoinette Hendrickson, Thelma Smalls and Adina Williams.
He was proceeded in death by his father, Otto Hodge; mother, LucyAnn Delville-Hodge; sister, Ena Hodge; and brother, Glanville Hodge.
Ish also leaves to mourn a host of nieces, nephews, family and friends too numerous to mention.
The viewing will be held from 3-5 p.m., Tuesday, Oct. 20. The funeral service will take place at 10 a.m. on Wednesday, Oct. 21, at Turnbull's Funeral Home.