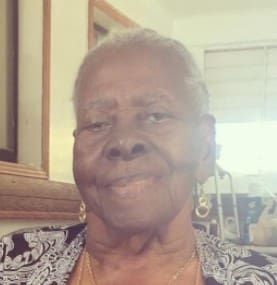 Our family is deeply saddened to announce the death of our beloved mother, Ione Chinnery, on Sept. 24.
Ione was born on Nov. 12, 1924, to Exzeria Malone Hedrington and Herbert Hedrington. She was preceded in death by her husband, Oliver Chinnery; son, Elroy George; daughters: Phylis George, Karen Raumo and daughter-like, Edris Evans.
She is survived by her daughters: Beryl Venzen, Doris Brown and Selene Evans; her sons: Dale George, David George, Byron Evans, Ivan Evans and David Chinnery. Her brothers: Clarence Hedrington and Leslie Hedrington; daughters-in-law: Beulah George and Victoria George; special friends: Florentine Woods, Blanche Mills, Adina Dore and Edna Greaux; special godchildren: Ralph Fahie, Hayley Rodriguez and Carolyn Hodge; 35 grandchildren; 79 great-grandchildren; as well as numerous nieces, nephews and cousins.
There will be a viewing from 9-10 a.m., Saturday, Oct. 24, at Turnbull Chapel, St. Thomas.  The Celebration of Life will commence immediately after at 10 a.m. also at the chapel.   Interment will take place at Eastern Cemetery, Smith Bay.