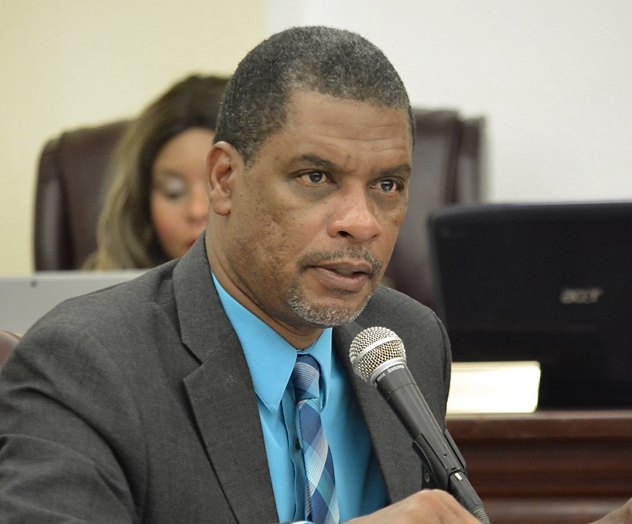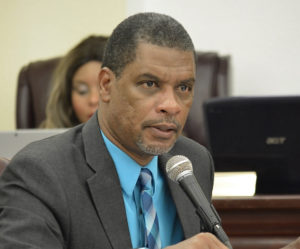 The Source asked every senatorial candidate ten questions, to fairly give every candidate an opportunity to tell our readers about themselves where they stand on some of the most pressing issues of the day. You can see all the candidates' responses and more election news here.
Sen. Kurt Vialet is an incumbent senator representing St. Croix, running for reelection on the Democratic Party ticket. Born and raised on St. Croix, he has a bachelor's in mathematics and a master's in administration and supervision, both from the University of the Virgin Islands. Before public office, Vialet was a teacher then school administrator, serving as principal of St. Croix Educational Complex and Arthur A. Richards Junior High School. Vialet has served three terms in the Legislature, starting in 2015.
Here are Vialet's responses:
What will be your top priority as a legislator and why?
Vialet: As a legislator, my top priority has been to produce a balanced budget for the Government of the Virgin Islands, and to ensure that our expenditures are aligned with our revenues.
The V.I. government had ongoing deficits before the pandemic hit and now faces a sharp loss in revenue due to a significant decrease in tourism. How can the territory avoid a fiscal shortfall that could force cuts to services and government layoffs in order to pay creditors first?
Vialet: As I reflect on the years gone by and the ongoing deficits of this government, wasteful spending in the various departments continue to be a problem. As chair of the Finance Committee, I have been taking an in-depth look at each department within the central government's budget. Together with the committee members, we are trying to reduce the number of contracts, leases and unnecessary management positions. I have offered several impactful, meaningful legislation geared towards economic development, hopefully, they can be implemented to avoid a fiscal shortfall. I will continue to offer and support legislation to expand economic development.
How will you help make government more transparent?
Vialet: Transparency! It is like a promise many are still learning how to keep! It is my fervent hope that each time the heads of every department come before the Legislature that they would do their due diligence of accurately explaining how monies allocated to their departments are spent. As chairman of the Finance Committee, with a keen eye, I focus in on the expenditures of each department's budget, analyzing prior year expenses and new year fiscal year projections to determine if there is a balance and make the necessary connections.
The V.I. Legislature has on many occasions enacted unfunded mandates, from mandatory swimming classes or the unfunded Durant Tower project in Frederiksted, that never occur due to the lack of funding. Will you vote for mandates that government officials have testified require funding that is not provided in the legislation?
Vialet: Unfunded mandates are a major issue with legislation drafted. It would be fiscally irresponsible of me to support or vote for any mandate that is not connected with a funding source. I have served for the past five years and nine months and within this time frame, I have never supported a bill that does not have a funding source. Hence, I do not intend on doing this if reelected.
The territory has around 120 boards and commissions at present, most of which are unable to make quorums and many, like the Civil Rights Commission, the Maritime Academy Board, the Commission on Caribbean Cooperation and the V.I. Wage Board, have not operated in many years. Would you ever vote to create another board or commission and if so, under what circumstances?
Vialet: It is imperative that we conduct an in-depth analysis of all boards and commissions and decide as to the functionality of these various boards and commissions. This would then result in recommendations for merges, dissolvement of or, addition of boards.
What would you propose to address the collapse of GERS in light of the $3 billion-plus shortfall and projected exhaustion of all funds between 2020 and 2024?
Vialet: Interestingly enough, one of the very first legislation I drafted when I got elected was to address some of the unfunded mandates for GERS. Since my first term to present, I have continued to create, to sponsor legislation that addresses GERS. These measures are an attempt to close the gap and to provide additional funding for the system. I am currently drafting legislation to create a line item in the budget which allocates funding for GERS.
Where do you stand on medicinal marijuana and what is the Senate's role in getting it on the market and generating tax revenue?
Vialet: The legislative branch of government has already passed a medicinal marijuana bill that was signed into law in January of 2019. It is the responsibility of the executive branch of government to implement the law, market it and hopefully it should generate tax revenue.
What fuels violent crime in the territory and what should the government, nonprofit organizations and residents do to help alleviate it?
Vialet: Gun violence is a direct result of a community that has lost its moral compass. The trans-shipment of drugs throughout the Virgin Islands has resulted in drug organizations that sadly, have no respect for life. A partnership between the federal government and the local government to create a gang interdiction unit is necessary to prevent gun violence and gang-related activities. Nonprofit organizations can assist by making sure that the youth in our community have positive ways to spend their spare time, through organized recreation, tutoring programs, part-time employment and volunteer opportunities. Residents can work with the Virgin Islands Police Department to set up a neighborhood watch or a community patrol to focus on solving the problems. Residents can also hold rallies, marches and, in this pandemic, perhaps motorcades and other group activities to show that as residents we are determined to drive out crime and drugs.
Climate change is a growing threat to Virgin Islanders with a myriad of effects ranging from an increase in tropical storms to more severe health issues as a result of warming temperatures. What types of policies will you support to educate the community on the risks of climate change and to increase the territory's preparation and mitigation efforts?
Vialet: When Act No. 7938 was implemented in January of 2017 (which banned the use of plastic bags), this was the beginning of the educational component for our community to learn about or hone in on climate change. I would support legislation which permits for the Virgin Islands Waste Management Authority to begin a reduce, reuse, recycle, source separation campaign as a step towards addressing the effects of climate change. Recycling helps to reduce greenhouse gas emissions by reducing energy consumption. I have included as a line item in the budget for the Department of Planning and Natural Resources monies for monitoring equipment and professional staff to monitor emissions at the soon to open Limetree Bay Oil Refinery.
Why do you want to be a Virgin Islands legislator and why should voters choose you over other candidates?
Vialet: I have humbly served the Virgin Islands for the past six years and have provided a strong voice for the island of St. Croix and the Virgin Islands as a whole. I am committed to this community and I am dedicated to progress. I have made a commitment to communicate with my constituents about how I evaluate issues and arrive to decisions. This allows me to not only represent by listening, but also to represent by leading, by shaping opinions.