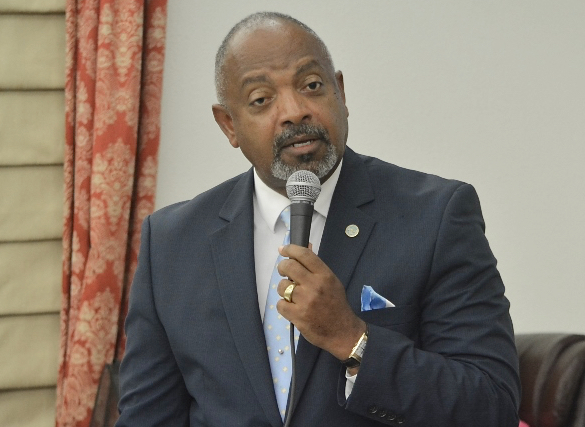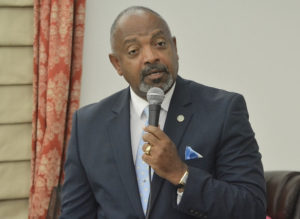 In a visit to the Fort Mylner Shopping Center this morning, Lt. Gov. Tregenza A. Roach Esq. met with Virgin Islands Fire Services Director Daryl A. George Sr. for a status update on the fire that destroyed the home of several businesses on the East End of St. Thomas. Lieutenant Governor Roach also spoke with business owners who were on-site to see the extent of the damage caused by the fire.
"Fort Mylner has been a vital element in our East End business community for as long as I can remember, going back to my childhood days. It is surreal to witness the destruction of the entire property from one end to the other, and to feel the impact on business owners, some of whom have been in business at Fort Mylner for decades, and for others just a few months," said Roach.
"This incident is a tragic loss that has impacted the lives of so many small business owners and employees who are already battling the ongoing effects of COVID-19 on their businesses. I am saddened by the devastation caused by the fire and express my heartfelt support to those employees and owners who will experience an interruption in their livelihood. We must support them in the challenge to rebuild their businesses, and reconstruct the complex," said the lieutenant governor.
"I would like to publicly thank our courageous firefighters who have been on the scene to combat the fire since the wee hours of the morning, the Virgin Islands Water and Power Authority for its assistance with water supply in the area, and all other agencies who responded and assisted to salvage the situation. The efforts of all involved are commended, and we thank you for your service," Roach said.