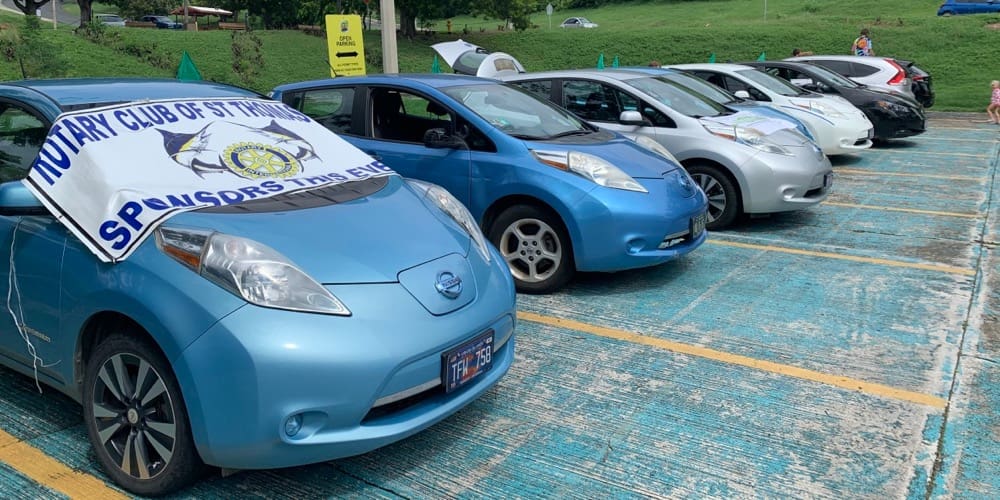 Fifteen Nissan Leaf electric cars took part in the second annual St. Thomas Drives Electric road rally on Saturday, sponsored by the Virgin Islands Electric Vehicle Association North to promote reducing the territory's carbon footprint and raise awareness about electric vehicle technologies.
VIEVAN's event was supported by Drive Green VI and the Virgin Islands Energy Office. National sponsors included Plug In America, Sierra Club and Electric Auto Association.
VIEVAN leader Robert Upson, Drive Green VI owner Adrien Austin and representative Justin Workman and Virgin Islands Energy Office Director Kyle Fleming spearheaded the event and were the main drivers behind the event, speaking at different points during the rally.
But Workman said it was the electric vehicle owners of St. Thomas themselves who are "the best salesmen," referring to their ability to spread awareness en masse. They made their presence known.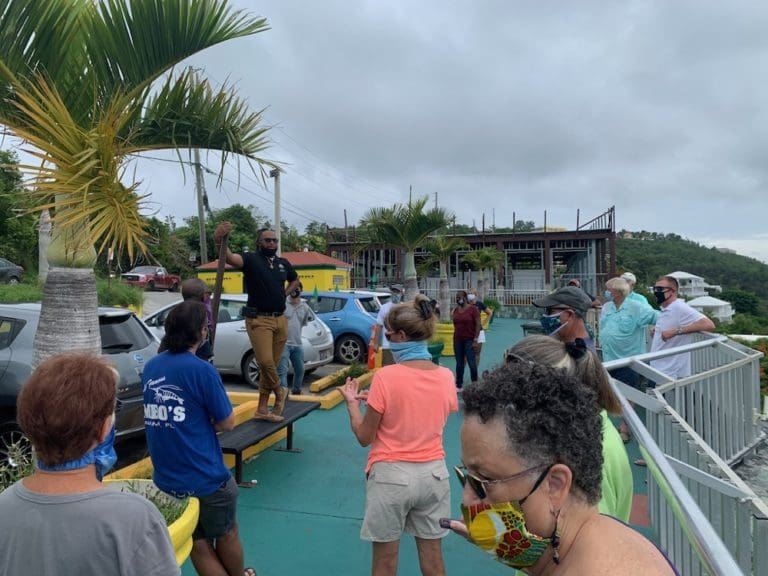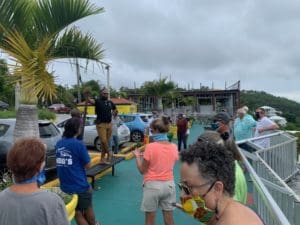 The Nissan Leaf is the most common and most affordable electric vehicle available in the USVI, with roughly 20 participants, the organizers said. The enthusiast envoy and "beLeafers," as participant William Howe put it, convened at Market Square East for a briefing before proceeding in unison westerly to Brewers Bay via Skyline Drive, Veterans Drive and Julian Jackson Drive. There were two checkpoint stops, the Mafolie Lookout and the UVI Wellness Center.
At the UVI checkpoint, other green tech promoters got in on the action for their respective organizations. Greg Guannel, of UVI's Caribbean Green Technology Center, informed the crowd on how to literally power through a blackout and Corrine Van Rensselaer, of the Rotary Club St. Thomas East Eco, provided instruction on how to use a Sawyer water filtration device in the case of hurricanes or other emergencies that negatively affect potable water.
The event concluded with fun and games, with a parking contest held in the Wellness Center parking lot. Navigating in reverse via the Leaf's rearview camera technology, a number of "Leafers" backed into a designated parking space, competing for the fastest time and closest proximity between the back bumper and the parking space terminus. Among a cheering crowd, the winner took home a $500 gift certificate.
A brief history of electric vehicles on St. Thomas, their benefits and myths are online here and here.
The event organizers, VIEVAN, can be reached by email at NDEWSTT@gmail.com, by phone at 340-693-6014 and on Facebook. Drive Green VI is online here.