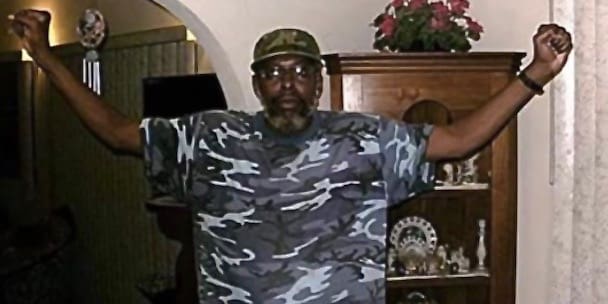 A few days after St. Thomas writer, historian and entertainer Wayne Adams died from the novel coronavirus, the loss of life to the same disease was approaching one million people worldwide since March.
That made Adams one in a million in death. But for those who knew him, Wayne "Facts Man" Adams, 57, lived an extraordinary life that could also be seen as one in a million.
Born on July 12, 1963, Adams credited his mother's gift of a book on U.S. presidents for sparking an early interest in history. When he was interviewed for an Island Profile in the Virgin Islands Source in 2005, Adams could still recite the names of those presidents, in order, from memory. By the 1980s the young history buff was calling local radio stations to share historical notes he gathered.
"I was the one who gave him the name Facts Man. When he used to call, we would call him Wayne Adams with the facts," said Legislature Media Supervisor Reginald Martin. Back in the 1980s, Martin was on the air as the popular deejay Ras Regg.
One day, after hearing Adams' take on history, Martin declared from then on, the caller would be named "Facts Man," because when he called, he brought the audience so many facts.
The radio was just one of the ways Adams shared his love of Virgin Islands history, Caribbean history and the history of the African diaspora. He also produced pamphlets and posters on the lives of local notables – Gov. Cyril E. King and broadcasters Ulric Ferrari and Irvin Brown.
Adams also indulged his musical side as a featured performer in an annual calypso tent called "Boy Ah Boy, Big Man a Big Man." Show producer Osbert Potter called Adams' act "fun."
"He had performed on my show about 18, 19 times. He always looked forward to that. The audience always enjoyed that. It was always fun with Facts Man," Potter said.
His music – like his pursuit of history – also had a serious side. At the time of his death, Adams had two selections appearing on a major music streaming service – "New World Order" and "Changing Times."
A Poem for 'Facts Man' by DaraMonifah Cooper
Street deejay Glen Mason recalled the enterprising side of Adams, who sold his pamphlets, books and posters to the public as he traveled by bus and on foot through St. Thomas and St. John.
"It was how he made his money," Mason said.
Adams also traveled to neighboring islands to speak with and listen to regional leaders.
"Facts Man traveled to Johannesburg [South Africa]. Facts Man traveled halfway around the world and talked to all these leaders," Martin said.
Many of those discussions he would share with radio audiences upon his return to the Virgin Islands. It may have also inspired his bids for elected office, running as a candidate for the Legislature five times. At the time of his death, Adams was on the ballot for a Senate seat in the November General Election.
All of these things were the works of a lifetime for a man who freely spoke about the diagnosis of bipolar disorder and manic depression at the age of 15. In spite of that, Adams completed his education at Charlotte Amalie High School, attended the College of the Virgin Islands and later Jacksonville University in Florida.
His ailment was at first hard to accept, he said in the 2005 interview, but with support from his parents and relying on his faith, Adams said he followed a treatment regimen and got on with his life.
His passing on the evening of Sept. 25 caused leaders in the U.S. and the British Virgin Islands to pause.
Gov. Albert Bryan Jr. extended condolences. British Virgin Islands Premier Ralph Fahie called Adams an old friend from their days together in college. Senate President Novelle Francis Jr. remembered him as, "smart, talented and truly one of a kind."
Tributes were also raised at a Government House news conference on Monday where a spokesman noted the nature of Adams' death from coronavirus.
And on a poignant note, Adams left this life on the day that his mother, Doreen Christalia Thomas Adams, was laid to rest after she passed away on Sept. 3.
They are both survived by father and husband Mario Adams, children and siblings, Dale and Vickilyn; Doreen's siblings and Wayne's uncles and aunts Earline Thomas Smith, Ludrik Thomas, Stanford Thomas, Mayrose Thomas Adams and Janet Thomas Doeh.
They are also both survived by other relatives too numerous to mention.
Funeral services will be live streamed and shown here from the Wesley Methodist Church Facebook Page on Friday, October 23, 2020.
9:00 a.m. – 10:00 a.m. Pre-service tributes
Wesley Methodist Church in Tutu
10:00 a.m. – 11:00 a.m. Service
Wesley Methodist Church in Tutu
12:00 p.m. Internment
Smith Bay Eastern Cemetery
Due to the health crises and adhering to government guidelines, face coverings must be worn and attendance is limited to a maximum of 50 people.
To learn more about Adams, please visit: http://www.daramonifah.com/factsman/.