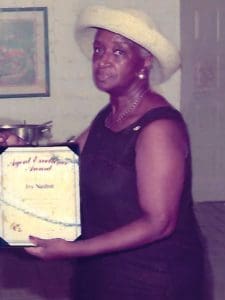 Ivy E. Nesbitt, also known as "Liz" or "Beth," of plot 98 Williams Delight, Frederiksted, died Sept. 15. She was 78 years old.
She was preceded in death by her mother, Eva Barry-Nesbitt; and father, Hezekiah Nesbitt.
She is survived by her children: Michael G. Moorehead, Jane E. William and Verin A. Nesbitt Wescott; grandchildren: Jasmin M. Moorehead, Omarion B. Nesbitt Wescott and Janiya S. Smith; adopted kids: Francis Augustin, Rosie Leyakatalie (deceased) and Franklin Delsol; sisters: Evagaline L. Nesbitt Jackson and Ann Marie Nesbitt; and brothers: Gerard Nesbitt, Bernard Nesbitt, Clement Nesbitt and Stephen Nesbitt.
She is also survived by nieces: Theresa Lucas, Shirley James-Byron, Cindy Jackson, Rosie Benjamin, Jean Matthews, Christaley Nesbitt, Sissy Teague and Sapherina Davis; nephews; Jerry Jackson, Evan Jackson, Steve Jackson, Darrin Jackson Calvin Jackson, Dale Jackson, Clemence Nesbitt, Bernard Nesbitt, Michael Nesbitt, Tyler Nesbitt and Joseph Nesbitt; great nieces and nephews too numerous to mention; and aunts: Miriam Barry-Taylor, Ann Barry-Henley, Thelma Barry-Clarke and Ivy M. Barry-Boyce (all deceased).
Other survivors include daughter-in-law, Rachelle Nearn-Moorehead; special friends: Raymond Matthews, Titus Leonard, Christine Thomas, Bodil Simmonds, Anita Christian (deceased), Julie Thomas, Mary Abbott, Mrs. Henry, and too many more mention; godsisters; Josephine and Marie Hector; as well as cousins and other relatives: the Barry, Bastisan, Boyce, Claxton, Clarke, Clenedin, Estrada, Farrelly, Harvey, Henley, Heyliger, Hodge, Jackson, King, Knight, Melbourne, Menta, Moorehead, Nearn, Neptune, Prentice, Phipps, Thomas, William, Wescott and Venetis families and too many others to mention.
She will be greatly missed and forever remembered.
The family appreciates your support and condolences; however, due to the current status around the world, we are doing cremation and memorial services. Service will be held at 9 a.m. at St. Ann's Church, Barrenspot Hill on Oct. 6. The family requests that those in attendance wear festive or pastel colors. Please be advised that mask-wearing and social distancing are required.
Cremation arrangements are entrusted to Schuster's Crematorium LLC.